Published 01-27-20
Submitted by Comerica Bank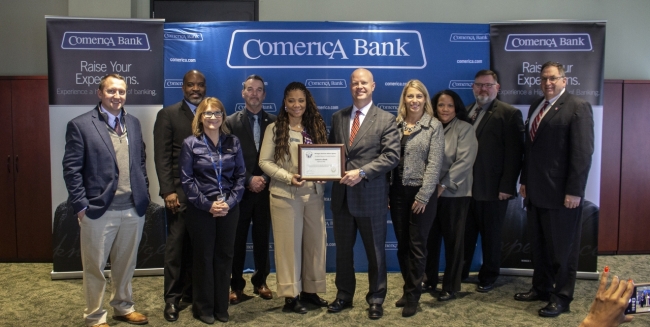 Comerica Bank has just become just the 11th Gold-Level Veteran-Friendly Employer certified in Michigan for its extensive efforts to recruit, train and retain military veterans, the Michigan Veterans Affairs Agency (MVAA) announced today.
Comerica is the first bank recognized by the MVAA as a Gold-Level Veteran-Friendly Employer.
Whether participating in veteran recruiting and outreach events across Michigan and nationwide, supporting National Guard and Reserve hiring initiatives or offering veteran-focused employee groups that conduct professional development, Comerica has set itself apart, MVAA Director Zaneta Adams said.
MVAA, the state's central coordinating agency for Michigan's 600,000 veterans, launched the Veteran-Friendly Employer (VFE) program in 2014.
"Comerica has demonstrated that it belongs in our prestigious group of Gold-Level Veteran-Friendly Employers by going above and beyond in its support of Michigan's patriots," Adams said. "We consider Comerica a true partner in our efforts to break down the barriers veterans face in employment."
Comerica was first recognized as a Bronze-Level Veteran-Friendly Employer in March 2017 and advanced to Silver a year later. Bronze VFEs must commit to hiring a certain number of veterans, among other requirements, while Silver VFEs must meet all Bronze-Level requirements and implement a certain number of veteran-friendly programs such as on-the-job training.
Gold-Level VFEs must meet all Bronze and Silver requirements, show that they retain 75 percent of their veterans over a 12-month period and implement a set number of veteran-centric programs.
Comerica's efforts include:
Offering an employee resource group called the Veteran Leadership Network, which conducts professional development and community outreach and serves as a resource to Comerica on topics of interest to military and veteran customers.

Serving as one of just 10 companies in the MVAA's Guard and Reserve Interview Promise (GRIP), a pilot program in which employers promise to interview Guard and Reserve members whose military occupational qualifications meet appropriate job classifications.

Participating in 10 veteran-centered recruiting and outreach events in Michigan, California and Texas.
"We appreciate the passionate support and advocacy the Michigan Veterans Affairs Agency dedicates to improving the lives of our veterans and their families," said Michael T. Ritchie, Comerica Bank Michigan market president. "Members of the military have served a higher purpose in protecting our country. That sense of purpose and commitment continues when they join our workforce and improves our relationships with customers and communities which we serve.
"Receiving this recognition is quite a humbling honor, and we look forward to continuing working alongside the MVAA to help make Michigan a great place to work and live."
The VFE program, which started with 10 companies in 2014, has grown to include 359 employers – 11 Gold, 32 Silver and 316 Bronze.
###
About the Michigan Veterans Affairs Agency: Created by Executive Order in 2013, MVAA's mission is to be the central coordinating agency, providing support, care, advocacy and service to veterans and their families. The agency works with the U.S. Department of Veterans Affairs, state departments, county agencies, and community and veterans service organizations throughout the state. The agency operates the Michigan Veteran Resource Service Center, a 24/7/365 call center in partnership with Michigan 211. By calling 800-MICH-VET (800-642-4838) veterans, family members and service providers can get information and access a comprehensive network of resources and services. Learn more at MichiganVeterans.com.
About Comerica Bank: Comerica Bank, a subsidiary of Comerica Incorporated, has served Michigan longer than any other bank with a continuous presence dating back 170 years to its Detroit founding in 1849. It is the largest bank employer in metro Detroit and has more than 4,700 employees (FTE) statewide. With one of the largest banking center networks in Michigan, Comerica nurtures lifelong relationships with unwavering integrity and financial prudence. Comerica positively impacts the lives of Michigan residents by helping customers be successful, providing financial support that assists hundreds of charitable organizations, and actively participating in Detroit's downtown revitalization. Comerica Incorporated (NYSE: CMA) is a financial services company strategically aligned by three business segments: The Business Bank, The Retail Bank, and Wealth Management. Follow on Facebook: www.facebook.com/Comerica, Twitter: @ComericaBank and Instagram: @comerica_bank.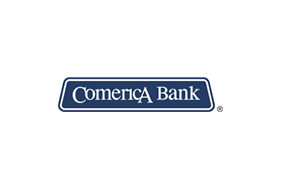 Comerica Bank
Comerica Bank
Comerica Incorporated (NYSE: CMA) is a financial services company headquartered in Dallas, Texas, and strategically aligned by three business segments: The Commercial Bank, The Retail Bank, and Wealth Management. Comerica focuses on relationships, and helping people and businesses be successful. In addition to Texas, Comerica Bank locations can be found in Arizona, California, Florida and Michigan, with select businesses operating in several other states, as well as in Canada and Mexico. 
More from Comerica Bank