Published 01-27-20
Submitted by Moody's Corporation
Moody's Corporation (NYSE: MCO) today announced that it has again received a score of 100 percent on the Human Rights Campaign Foundation's 2020 Corporate Equality Index (CEI), marking the ninth consecutive year the company has earned a top ranking. The CEI, a national benchmarking survey and report on corporate policies and practices related to LGBTQ workplace equality, has also designated Moody's as a Best Place to Work for LGBTQ Equality.
"I'm proud that Moody's is being recognized for our ongoing commitment to equal rights and employee equity," said DK Bartley, Global Head of Diversity & Inclusion at Moody's Corporation. "Achieving a top score on HRC's 2020 Corporate Equality Index for the ninth consecutive year speaks volumes about Moody's longstanding reputation for championing LGBTQ equality in the workplace and beyond."
Moody's top CEI score showcases its continued strong commitment to promoting LGBTQ-friendly workplace policies in the US, as well as helping to advance the cause of LGBTQ inclusion in its workplaces abroad. This includes non-discrimination workplace protections, domestic partner benefits, transgender-inclusive health care benefits, competency programs, and public engagement with the LGBTQ community. In addition, Moody's Lesbian, Gay, Bisexual, Transgender & Allies Employee Resource Group (ERG), which is active in several Moody's offices worldwide, serves a key role in promoting workplace equality for LGBTQ employees.
"The impact of the Human Rights Campaign's Corporate Equality Index over its 18-year history is profound. In this time, the corporate community has worked with us to adopt LGBTQ-inclusive policies, practices and benefits, establishing the Corporate Equality Index as a primary driving force for LGBTQ workplace inclusion in America and across the globe," said HRC President Alphonso David. "These companies know that protecting their LGBTQ employees and customers from discrimination is not just the right thing to do -- it is also the best business decision. In addition, many of these leaders are also advocating for the LGBTQ community and equality under the law in the public square. From supporting LGBTQ civil rights protections in the US through HRC's Business Coalition for the Equality Act, to featuring transgender and non-binary people in an ad in Argentina, to advocating for marriage equality in Taiwan -- businesses understand their LGBTQ employees and customers deserve to be seen, valued and respected not only at work, but in every aspect of daily life."
For more information on the 2020 Corporate Equality Index, or to download a copy of the report, visit www.hrc.org/cei.
ABOUT MOODY'S CORPORATION
Moody's is an essential component of the global capital markets, providing credit ratings, research, tools and analysis that contribute to transparent and integrated financial markets. Moody's Corporation (NYSE:MCO) is the parent company of Moody's Investors Service, which provides credit ratings and research covering debt instruments and securities, and Moody's Analytics, which offers leading-edge software, advisory services and research for credit and economic analysis and financial risk management. The corporation, which reported revenue of $4.4 billion in 2018, employs approximately 10,900 people worldwide and maintains a presence in 44 countries. Further information is available at www.moodys.com.
SHIVANI KAK
Investor Relations
212.553.0298
shivani.kak@moodys.com 
JORDAN BRUECKNER
Communications
+1 212-553-7931
jordan.brueckner@moodys.com   
Source: Moody's Corporation Investor Relations
###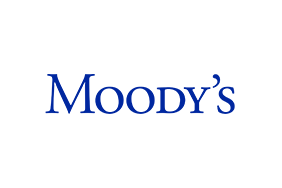 Moody's Corporation