Published 01-22-20
Submitted by Shared Value Initiative
A new report titled "Advancing Frontline Employees of Color: Innovating for Competitive Advantage in America's Frontline Workforce" was released today as a resource and call to action for employers to support the advancement of frontline employees of color. The report produced in partnership by FSG, a mission-driven consulting firm, and PolicyLink, a national research and action institute, through support from Walmart, shows that companies that are successful in advancing racial equity go beyond traditional diversity and inclusion efforts by shifting their management and HR practices and transforming their company cultures. These leading companies implement evidence-based practices and policies that fall under three strategic opportunity areas: 1)building internal capacity for an inclusive, understanding, and adaptive culture; 2)strengthening management and HR systems, policies, and practices; and 3)intentionally investing in the development of frontline employees of color.
People of color are predicted to be the majority of the U.S. population by 2044, with purchasing power exceeding $3.4 trillion according U.S. Census Bureau and Nielsen projections. Changing demographics, impending automation, and consumer demand for companies to address societal issues create enormous opportunities for employers to generate business value by advancing frontline employees of color. The report reveals that employers who do this experience significant business benefits, including a management talent pipeline that mirrors their evolving customer base; a more productive, loyal workforce that boosts their bottom line; and enhanced brand equity with customers and communities.
"At a time when there are rising societal expectations for companies to embrace a more active role in society and lead with an ambitious corporate purpose, employers of frontline employees of color face an unprecedented opportunity to advance racial equity as a source of competitive advantage by intentionally finding ways to advance the careers and enhance the experience of those employees," says Fay Hanleybrown, managing director at FSG. "Our goal for this report is to not only demonstrate the business case for strategically supporting the advancement of employees of color, but to provide immediate, actionable steps to reduce the challenges  these employees face. "
"In the US today, there are 100 million people—a majority of whom are people of color—living at or near poverty," said PolicyLink President and CEO Michael McAfee. "Many in that number are—or could be—frontline workers as well as consumers of products created by businesses like Walmart, Sodexo, and Starbucks.  As the nation's shifting demographics point towards a growing majority people of color," he continued, "it behooves us to understand how building cultures that value the contributions of all, creating equitable outcomes for everyone,  and investing in the development, recognition, and promotion of more frontline employees of color is a foundational step toward creating an equitable economy for everyone."
The research surfaces 23 evidence-based practices and policies, which, when implemented for all employees, can create a disproportionately positive impact for employees of color and their advancement. These range from evaluating managers on diversity, equity and inclusion efforts; extending health insurance to part-time workers; creating flexible scheduling policies; and cross training and reskilling employees to succeed in new roles.
Walmart, Sodexo and Starbucks are employers featured in the report that have successfully implemented a range of these best practices to achieve the desired outcome of increasing the promotion rate for employees of color to management positions.
Working toward greater racial equity is an ongoing and iterative process that requires active commitment and changes in culture and practice. Executives, HR professionals, Diversity, Equity and Inclusion leaders, and local managers all play critical roles in the ongoing, evolving process of improving workplace culture and practice toward racial equity. The report also identifies five practical steps companies can take to accelerate meaningful action towards implementing the evidence-based practices:
Develop an understanding of internal and external factors that contribute to historical and present-day race-specific inequity at their organization.

Collect and disaggregate data on employees by race, gender, and other identity factors—both company-wide and at the store/location level—to understand the company's existing talent base and inequities within it.

Assess the company's current efforts to uncover and interrupt hidden institutional and individual biases affecting frontline employees of color.

Pilot the evidence-based practices, paying close attention to whether they are meeting the needs of frontline employees of color.

Measure, adapt, and share lessons learned from implementation of these practices.
"At Walmart, we've accelerated our enterprise-wide commitment to foster a more inclusive and equitable workplace," says Ben Hasan, Senior Vice President and Chief Global Culture, Diversity & Inclusion Officer for Walmart Inc. "Collectively, we are seeing indications that our strategies and initiatives are resulting in positive change as Walmart realized a 5 percent increase in hourly-to-management promotions for people of color from FY18 to FY19 and saw overall hourly representation for people of color in the U.S. increase from 44.42% to 45.16% over the same period."
"Over the past two decades Sodexo has continuously adapted and evolved its practices in order to support our Frontline Employees of Colors", says Gerri Mason Hall, Chief Diversity & Social Responsibility Officer for Sodexo Americas. "By articulating and communicating a clear business case for DEI investments, we have seen a 36% increase in the representation of people of color in manager roles."
The report findings are based on extensive interviews with companies, experts, and frontline employees of color, a secondary research scan, and a rigorous statistical analysis of HR practices affecting 2.6 million U.S. retail employees over a 30-year time period conducted by experts at Harvard University and Tel Aviv University.
To read the full report, "Advancing Frontline Employees of Color: Innovating for Competitive Advantage in America's Frontline Workforce," visit https://www.fsg.org/publications/advancing-frontline-employees-color
###
About FSG: FSG is a mission-driven consulting firm supporting leaders in creating large-scale, lasting social change. Through customized consulting services, innovative thought leadership, and support for learning communities, we help foundations, businesses, nonprofits, and governments around the world accelerate progress by reimagining social change. Learn more at www.fsg.org.   
About PolicyLink: PolicyLink is a national research and action institute advancing racial and economic equity by Lifting Up What Works®. Engaging the wisdom, voice, and experience of people in local communities, PolicyLink has found, is essential to finding solutions to the nation's challenges. Learn more about PolicyLink at www.policylink.org.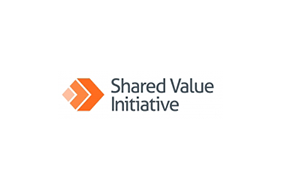 Shared Value Initiative
Shared Value Initiative
Guided by FSG and a global network of funders, the Shared Value Initiative was created in 2012 to drive the adoption and implementation of shared value strategies by organizations around the world. FSG is a nonprofit strategy consulting firm co-founded in 1999 by Mark Kramer and Michael E. Porter, authors of "Creating Shared Value" (Harvard Business Review; 2011). Join our global community of practice at www.sharedvalue.org.
More from Shared Value Initiative