Published 01-16-20
Submitted by Sensata Technologies Foundation
The Sensata Technologies Foundation, launched in November 2017, announced its second annual grant award recipients for funding year 2020. Community organizations in California, Massachusetts, Michigan, Minnesota and Rhode Island were among the thirty-two recipients.  Award criteria was based on alignment with employee feedback including level of impact; STEM and Community priorities; population served and applicant's demonstrable track record of success.
The 2020 funding of $250,000 provides support for STEM learning, programs for children, domestic issues, literacy and special needs. For a complete list of grant winners, please visit  www.sensatafoundation.org.
The Foundation also announced that the grant application for the 2020-2021 grant cycle is now available on the Sensata Foundation website and will close on Tuesday, June 30, 2020.  The Sensata Foundation's annual grants are 12-month grants for new or existing projects related to one or more of the Foundation's priorities of STEM and Community. Unrestricted general operations are not eligible for funding in this grant cycle. The Foundation looks forward to another successful grant cycle, and hopes that many qualifying organizations will seek funding.
About the Sensata Technologies Foundation
The Sensata Technologies Foundation, Inc., is a non-profit organization dedicated to supporting communities where Sensata has operations and fostering a passion for STEM (Science, Technology, Engineering and Mathematics) subjects and all that they can make possible in the 21st century. The Foundation will achieve these objectives by making strategic grants, forging strong community partnerships and fostering innovation through financial support and employee volunteerism. For more information, please visit the Sensata Foundation's website at www.sensatafoundation.org.
About Sensata Technologies
Sensata Technologies is one of the world's leading suppliers of sensing, electrical protection, control and power management solutions with operations and business centers in 11 countries. Sensata's products improve safety, efficiency and comfort for millions of people every day in automotive, appliance, aircraft, industrial, military, heavy vehicle, heating, ventilation, and air conditioning, data, telecommunications, recreational vehicle and marine applications. For more information, please visit Sensata's website at www.sensata.com.
# # #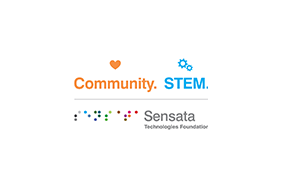 Sensata Technologies Foundation
Sensata Technologies Foundation
The Foundation is a non-profit organization dedicated to empowering the next generation of engineers, and supporting communities where we live and work. Through its corporate matching gifts and employee volunteer programs, Sensata provides funding and volunteer hours to qualifying charitable entities that support the Company's core initiatives, to promote STEM education and support our communities globally.
More from Sensata Technologies Foundation