Published 12-20-19
Submitted by Broughton Consulting, LLC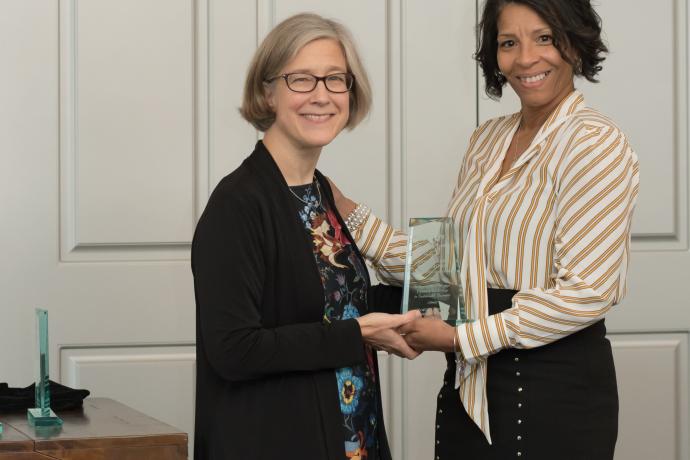 Left to right: Anne-Claire Broughton of Broughton Consulting and Vicki Lee Parker of the North Carolina Business Council
 Broughton Consulting, LLC, a Certified B Corporation, has been recognized on the state and national levels for its work improving the lives of frontline workers through employee ownership and open book management. As part of its annual recognition program, B Lab named Broughton Consulting one of the Best for the World for customers. Shortly afterwards, the North Carolina Business Council (NCBC) presented Principal Anne-Claire Broughton the 2019 Visionary Leadership award in honor of her commitment to sustainable business practices.
"This was a great year for moving our impact forward," says Broughton Consulting Principal Anne-Claire Broughton. "We worked to empower hundreds of frontline workers at employee-owned firms through open book management and financial literacy training."
Broughton Consulting achieved B Corp Certification in June 2017 and has since pushed to increase its impact each year. To be recognized as Best for the World, the firm had to rank in the top 10 percent of all 3,000 B Corps for its positive impact on customers.
The North Carolina Business Council is a statewide non-profit business association whose mission is to build a vibrant economy that sustains local communities, protects natural resources, and benefits all North Carolinians. Each year, the NCBC recognizes businesses and leaders that are focusing on the triple-bottom line of people, planet, and profit. Broughton Consulting has been a member since May 2018. 
In 2019, Principal Anne-Claire Broughton also worked with a group of partners to launch the North Carolina Employee Ownership Center (NCEOC) to provide extensive statewide education for business owners and their advisors around employee ownership as a strong exit option that preserves jobs and community impacts. Dedicated to increasing community wealth and creating a more vibrant, inclusive economy, NCEOC has a particular focus on preserving minority businesses through employee ownership.
"This is a critical moment with many Baby Boomer business owners retiring," says Broughton. "The creation of the North Carolina Employee Ownership Center will enable our state to preserve thousands of jobs and significant community impacts." 
Broughton Consulting works to align the interests of businesses and employees so both can prosper. It does this by providing three services: business succession through employee ownership, open book management coaching via the Great Game of Business, and employee engagement case studies and curricula. For more information, visit www.broughton-consulting.com.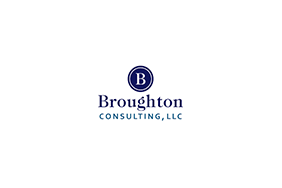 Broughton Consulting, LLC
Broughton Consulting, LLC
Broughton Consulting helps businesses and their employees at all levels thrive through employee ownership and open book management.
More from Broughton Consulting, LLC