Published 12-18-19
Submitted by CECP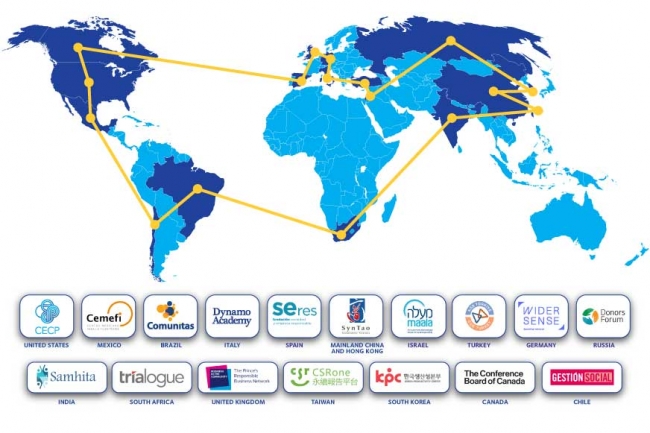 Global Exchange Map
  Chief Executives for Corporate Purpose's (CECP) Global Exchange continues to unite country-based, mission-driven corporate engagement organizations to advance business as a force for good around the world with the addition of three new nonprofits to the group, representing Chile, Israel, and the United Kingdom. At 17 organizations strong, the Global Exchange (GX) collectively represents over 50% of the world's population and over 60% of the world's GDP.
The GX provides an invaluable forum for GX country partners' affiliated companies to advance their work and tap into a thriving and collaborative network by:
Leveraging country-specific resources, local insights, and global trends to support companies' strategy decisions.
Accessing the GX networks' research and standardization efforts related to corporate social engagement around the world.
Forging peer connections with GX country partners and the companies within their corporate network.
Receiving global strategic counsel on specific questions or topics.
GX-affiliated companies can also benefit from the network's insights, trends, research, event information, conference invitations, and a shared public voice on how companies and CEOs can be a force for good in society globally.
Founded nearly 40 years ago, Business in the Community (BITC) is the oldest and largest business-led membership organization dedicated to responsible business in the United Kingdom. BITC was created by HRH The Prince of Wales to champion responsible business. BITC mobilizes its members' collective strength as a force for good in society to create a skilled and inclusive workforce today and for the future; build thriving communities in which to live and work and innovate to sustain and repair our planet. Today, BITC has a vibrant membership of hundreds of businesses, large and small, connected by the conviction that their success is inextricably linked to society's prosperity.
"We are thrilled to be a partner of the Global Exchange. We are all more aware than ever of the urgency to act on the social and environmental problems that are threatening the very survival of humanity as we understand it today. We also know these problems are extremely complex and require high levels of collaboration across systems. Businesses are an essential part of the solution," said Maria Jose Subiela, Director of Global Goals at BITC. "We are confident that working with our partners in the Global Exchange and their business members, we will accelerate action to address these problems and meet the Global Goals by 2030."
BITC uses its expertise and network of business leaders to help employers implement change and tackle some of the biggest issues in society. Making best practice and learning accessible through BITC's network of businesses is also a priority. To this end, and with the Sustainable Development Goals (SDGs) being intrinsically linked with business, BITC recently launched its latest campaign and toolkit 'Own the conversation. Drive the change'. This asks senior business leaders to inspire action to meet the SDGs by having a conversation with their colleagues and business partners to identify what to change and how to act. It also fosters a far deeper level of engagement and action in response to the SDGs than the current level from business.
Gestión Social is a sustainability consultant office with the most experience in Chile, specialized on sustainability assessment. With a multidisciplinary team, Gestión Social seeks to deliver a service according to the reality and need of each company to which they advise, integrating sustainability in the center of decision making. Gestión Social has five lines of work, ranging from the development of strategies and management control to measure results, to the design and implementation of projects, with a focus on community management, corporate integrity, and organizational transformation of their clients.
"The Global Exchange is a network that gives us the opportunity to understand what is happening in other regions and thus strengthen our mission to transform the social strategies of companies in our country to change the world - through interventions that aim to make visible the shared value generated by the companies, with respect to the surrounding environment and all the relevant stakeholder groups," said Matías Canelo, General Manager at Gestión Social.
Gestión Social has led different projects focused on community relations with companies of the sanitary, real estate and retail industries, promoting permanent and systematic communication that seeks to integrate the communities' needs. Gestión Social took part in the first study of sexual diversity in the world of work carried out by the Iguales Foundation and the Ministry of Labor. The full report is available here.
Maala is a non-profit corporate membership organization promoting corporate social responsibility (CSR) in Israel. Founded in 1998, Maala is considered as the CSR standards-setting organization in Israel. Presently, the membership organization is comprised of some 110 members, Israel's largest companies.
"We are extremely happy to have joined the global community that CECP hosts. As the cycle of our works consists of adaptation of global CSR values to local Israeli priorities and business culture, and then connecting back to an ongoing global discussion, the GX provides an extremely valuable platform to boast our work," said Momo Mahadav, Chief Executive Officer of Maala.
To support their members' day-to-day work and long-term strategies, Maala annually publishes the Maala ESG index on the Tel Aviv Stock Exchange and the Maala GlobeScan Radar, which studies the public expectations from businesses, and helps in defining their social license to operate. Maala annually hosts a leading conference, this year will be the 4th edition of Maala's International CSR Con(fair)ence: Innovation for Good Life to facilitate dynamic community discourse on CSR issues and responsible investments in Israel. Over the course of two days in Tel Aviv, the 2019 con(fair)ence focused on leveraging business impact to address social issues and inequality, releasing a new publication on 'Business Impact on Inclusive Growth.
# # #
ABOUT CHIEF EXECUTIVES FOR CORPORATE PURPOSE (CECP)
CECP is a CEO-led coalition that believes that a company's social strategy — how it engages with key stakeholders including employees, communities, investors, and customers —determines company success. Founded in 1999 by actor and philanthropist Paul Newman and other business leaders to create a better world through business, CECP has grown to a movement of more than 200 of the world's largest companies that represent $6.6 trillion in revenues, $21.2 billion in social investment, 14 million employees, 23 million hours of employee engagement, and $15 trillion in assets under management. CECP helps companies transform their social strategy by providing customized connections and networking, counsel and support, benchmarking and trends, and awareness building and recognition.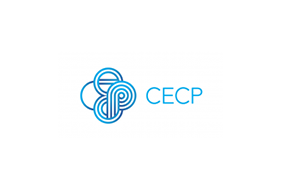 CECP
CECP
The Committee Encouraging Corporate Philanthropy (CECP) is the only international forum of business leaders focused on increasing the level and quality of corporate philanthropy. Membership includes more than 180 global CEOs and chairpersons of companies that collectively account for more than 40% of reported corporate giving in the United States. Membership is by invitation and is renewed annually.
CECP provides member companies with peer-to-peer executive convenings, premier networking events for corporate giving industry professionals, cutting-edge research publications, a proprietary, on-demand benchmarking system of corporate philanthropy data, and exclusive media opportunities.
Founded in 1999 by actor and philanthropist Paul Newman, together with John Whitehead, Peter Malkin, and other business leaders, CECP continues to inspire and challenge leaders in the private sector to find innovative ways to fulfill unmet social needs and to lead the way towards better alignment of business and social strategies.
Join CECP on Facebook, Twitter, Flickr and YouTube.
More from CECP