Published 12-16-19
Submitted by Ørsted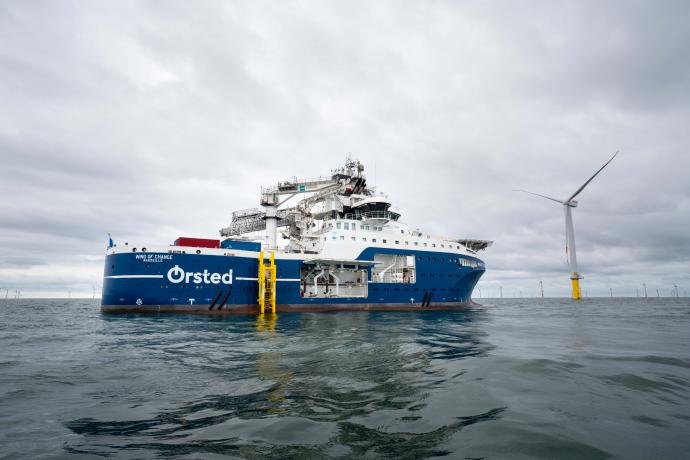 By filtering seawater for drinking, the Wind of Change vessel saves up to 8,000 plastic bottles per trip made to service Ørsted's offshore wind farms in Germany (Photo credit: Nicolas Job)
Around 80 technicians and crew members live and work on Wind of change, a service operation vessel that maintains the 230 wind turbines installed at Ørsted's offshore wind farms in northern Germany. 
They need clean drinking water to survive and do their jobs, which means stocking up to 5,400 plastic half-liter bottles of water for the average four-week long service trip that the vessel makes. 
"Normally, we would buy pallets of half-liter plastic bottles of water that are handed out to the technicians and crew. But not only does that create a lot of plastic garbage, it's not easy to find a place to store all those bottles on board the vessel," says Andreas Luikenga, Contractor Specialist at Ørsted.
It tastes like normal water
A smarter system was needed, so Ørsted worked with the vessel supplier that built Wind of Change to set up a custom-built onboard system for desalinating and filtering seawater. The system is powered by the vessel's hybrid electric-diesel engine and produces up to 40 cubic meters of potable water from North Sea seawater every day, helping complement the vessel's many sustainable features (see below).
"It tastes like normal water and you will feel no difference. The water is available chilled on tap in the mess room, and at several other points in the vessel. You can fill up your own water bottle as many times as you want," Luikenga says. 
The vessel also uses filtered seawater to produce carbonated water and soft drinks from concentrates, which further avoids plastic waste from soft drink packaging. In all, Ørsted avoids using up to 8,000 plastic bottles per service trip.
Bottles stay on board the vessel
Nowadays, when technicians check in on board Wind of change, they get either four or six empty plastic bottles and must register the number of bottles collected. They hand the bottles back when they check out, ensuring no bottles leave the vessel. 
"The bottles are designed to be reusable and withstand high winds and rough weather. The half-liter size makes it easier to handle in offshore situations than one-liter bottles," Luikenga explains. 
To ensure quality control, samples of the filtered drinking water are sent for inspection to the German port authorities at regular intervals. 
Wind of Change's sustainable features
Built at the Cemre shipyard in Turkey for French shipowner Louis Dreyfus Armateurs, the Wind of Change was commissioned in May 2019 and chartered by Ørsted. It is the company's first customized service operations vessel and ranks among the most sustainable service operations vessels today with features including:
Hybrid diesel-electric engine that reduces the amount of fossil fuel needed to run the vessel and regulates the power needed to perform functions including desalination. The engine increases fuel efficiency and reduces system wear and tear.

Hybrid Dynamic positioning system that makes it easier to approach the offshore wind turbines, also in rough weather.

Special hull shape that enables the vessel to navigate between wind turbines by moving forwards and backwards at the same pace and avoid fuel-intense rotation.

Custom-built "shelves" for storage below deck to reduce risk of tripping and falling while increasing warehouse space. 
About Ørsted
The Ørsted vision is a world that runs entirely on green energy. Ørsted develops, constructs and operates offshore and onshore wind farms, solar and bioenergy plants, and provides energy products to customers.
Carbon intensity of the company's energy generation decreased by 83% in mid-2019, as compared with 2006 levels. By 2025, Ørsted will have reduced its emissions by 98% making the company's energy production virtually carbon free.

83% of Ørsted's energy generation was from renewable sources by September 2019. The target is 99% in 2025.

The company is committed to reducing carbon emissions from end use of its products and in its supply chain by 50 percent by 2032, as compared to 2018.

Ørsted is ranked the world's most sustainable energy company and fourth most sustainable company overall in the 2019 Global100 index.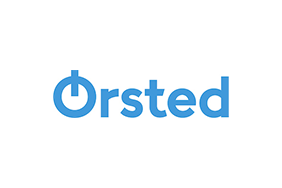 Ørsted
Ørsted
The Ørsted vision is a world that runs entirely on green energy. Ørsted develops, constructs and operates offshore and onshore wind farms, solar farms, energy storage facilities, and bioenergy plants, and provides energy products to its customers. Ørsted ranks #1 in Corporate Knights' 2020 index of the Global 100 most sustainable corporations in the world and is recognised on the CDP Climate Change A List as a global leader on climate action. Headquartered in Denmark, Ørsted employs 6,600 people. Ørsted's shares are listed on Nasdaq Copenhagen (Orsted). In 2019, the group's revenue was DKK 67.8 billion (EUR 9.1 billion).
More from Ørsted