Published 12-16-19
Submitted by 3Degrees
3Degrees has been named the 2019 Best Trading Company in Renewable Energy Certificates (REC) – North America for the sixth year in a row by Environmental Finance. This is the 20th anniversary of the Environmental Finance Annual Marketing Rankings, the largest and most closely watched survey of the world's environmental markets. 
"Receiving this award once again is incredibly meaningful to our team, who works hard every day to meet the needs of our partners and customers, and deliver an exceptional quality of service," said Scott Eidson, vice president of environmental markets. "It's extremely rewarding to be a part of an industry that's doing such important work in the fight against climate change."
For over 15 years, 3Degrees has provided tailored renewable energy, transportation, and emission reduction solutions to our clients, and helped them source high-quality, country-specific renewable energy products around the globe.  An award-winning B Corp, 3Degrees has delivered more than 170 million RECs and GOs to clients, and supported more than 2,000 facilities. 
This is the ninth time the company has earned a top designation by Environmental Finance readers in this category. Learn more at 3Degrees.com.
###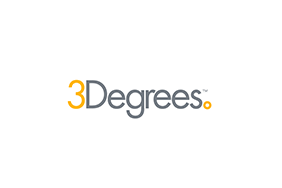 3Degrees
3Degrees
3Degrees exists for one simple reason - to make it possible for businesses and their customers to take urgent action on climate change. As a certified B Corporation, we provide renewable energy and emission reduction solutions to global Fortune 500 companies, utilities and other organizations that want to join the fight against climate change. The 3Degrees team has deep expertise in sustainability consulting, environmental markets, renewable energy and carbon project development, and utility renewable energy programs. Together with our customers, 3Degrees helps develop and implement creative solutions that ensure environmental integrity and make good business sense.
Since 2002, 3Degrees has worked with over 400 clients in 60 countries and has been widely recognized for our industry leadership and award-winning programs for clients. The company is headquartered in San Francisco, with offices in Portland, Oregon, Seattle, Washington and Richmond, Virginia. Learn more at 3degreesinc.com.
More from 3Degrees