Published 12-12-19
Submitted by Arrow Electronics, Inc.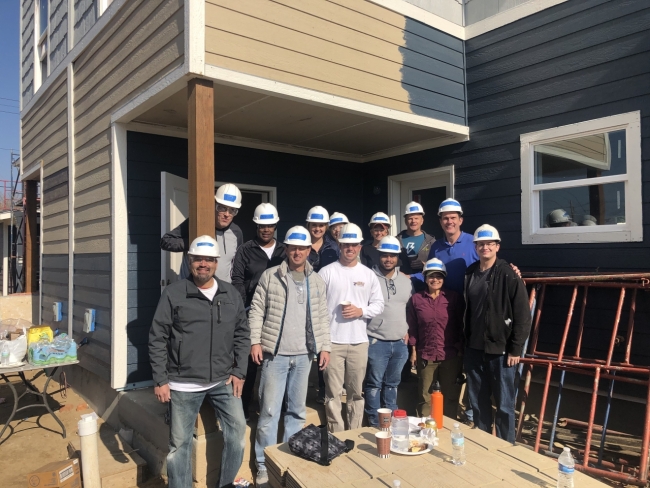 Employees from Arrow Electronics and Salesforce traded keyboards for floorboards when they participated in a Habitat for Humanity charitable home build on Nov. 6. This marks the second consecutive year the two companies have extended their business relationship into broader efforts to serve the community.
In 2018, volunteers from Arrow and Salesforce sorted, packed and loaded 70,000 pounds of food distributed throughout Colorado by Food Bank of the Rockies. 
This year, the two companies worked together to help build houses in the Swansea Homes development, a 32-unit neighborhood being constructed by Habitat of Humanity of Metro Denver near downtown Denver. Located conveniently near the city's light rail line, the three-and four-bedroom duplexes will provide housing for more than 144 adults and children.
"Our work is deeply rooted in improving the quality of life for as many as possible," said Sean Kerins, president of Arrow's global enterprise computing solutions business. "Doing that well requires a connection not just to our suppliers and customers, but also to the communities in which we operate."
Arrow employees also earned matching funds for Habit for Humanity through Arrow's Dollars for Doers program. Habitat for Humanity has been building affordable homes in metro Denver for almost 40 years, serving more than 900 families to date. Learn more at: www.habitatmetrodenver.org.
About Arrow Electronics
Arrow Electronics (NYSE:ARW) guides innovation forward for over 200,000 leading technology manufacturers and service providers. With 2018 sales of $30 billion, Arrow develops technology solutions that improve business and daily life. Learn more at FiveYearsOut.com.
###

Arrow Electronics, Inc.
Arrow Electronics, Inc.
Arrow Electronics is a global provider of products, services and solutions to industrial and commercial users of electronic components and enterprise computing solutions. Arrow serves as a supply channel partner for more than 150,000 original equipment manufacturers, value-added resellers, contract manufacturers, and commercial customers through a global network. The company maintains over 300 sales facilities and 45 distribution and value-added centers, serving over 80 countries. Learn more at www.fiveyearsout.com.
More from Arrow Electronics, Inc.