Published 12-09-19
Submitted by Aramark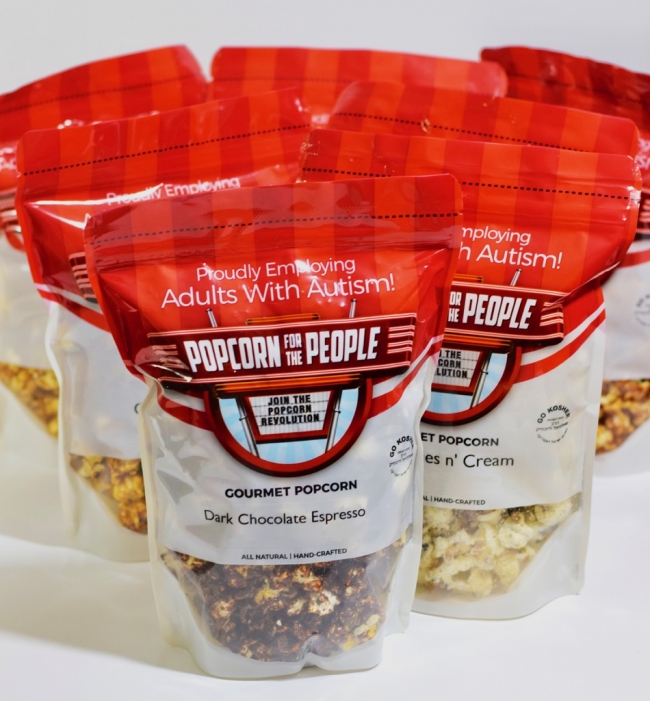 To help combat the unemployment rate in the autism community, the Eagles Autism Foundation and Aramark, the Philadelphia Eagles food and beverage partner at Lincoln Financial Field, have teamed up with Popcorn for the People, a non-profit organization dedicated to creating meaningful employment for those with autism and developmental disabilities. Popcorn for the People trains and hires adults with autism to create, cook, package and sell uniquely flavored gourmet popcorn. The organization's artisan flavors will now be served at Lincoln Financial Field behind Section 119, in the Hyundai Club and Tork Club markets, as well as HeadHouse Plaza.
A portion of the proceeds will support the Eagles Autism Foundation – the Philadelphia Eagles' signature community platform – while the remaining proceeds will go towards Popcorn for the People and their mission to employ adults with autism. The Eagles are the first pro sports team to partner with Popcorn for the People.
"We are proud to align ourselves with Popcorn for the People and Aramark, two organizations that equally support an inclusive workplace and employment opportunities for adults with autism," said Ryan Hammond, Executive Director, Eagles Autism Foundation. "Individuals with developmental disabilities are qualified, hard-working members of society who offer a wide range of unique skills and experiences. As an organization that embraces a culture of inclusivity, we congratulate Popcorn for the People for serving as changemakers in our society, and we look forward to offering some of their most popular flavors to our fans at Lincoln Financial Field."
According to research, eight out of 10 individuals with autism are currently unemployed. Popcorn for the People has created a sustainable business model that hires and trains individuals on the autism spectrum in a supportive and nurturing environment. When fulfilled and empowered, individuals become more responsible, thrive creatively, take on bigger risks, and are able to embrace accountability.
"We are proud to support organizations in the communities where we live and work that are making a significant impact to help individuals and families," said Brent Hardin, Vice President-East Region, Aramark's Sports & Entertainment division. "As a longtime partner of the Philadelphia Eagles and premier partner of the Eagles Autism Challenge, we're excited to team up with the Eagles Autism Foundation and Popcorn for the People to offer a quality product that not only tastes great and enhances the menu at Lincoln Financial Field, but benefits an important cause."
Popcorn for the People was founded in 2015 by Dr. Steven Bier and Dr. Barbie Zimmerman-Bier who, at the time, were searching for a job for their 24-year-old son, Sam, a high functioning adult with autism. They decided to combine America's favorite snack with their son's passion and determination to find his rightful place in the workforce.
"At Popcorn for the People, we look for innovative organizations like the Philadelphia Eagles and Aramark that are willing to disrupt the endless cycle of unemployment in the autism community," said Dr. Steven Bier, Founder, Popcorn for the People. "When you buy a bag of popcorn from Popcorn for the People at a Philadelphia Eagles game, you know that the popcorn was hand-cooked and bagged by a worker with autism."
NSF certified and hand-crafted to perfection, Popcorn for the People's assorted flavors are made with the finest Non-GMO kernels, Non-GMO sunflower oil and all-natural ingredients to deliver and maintain only the highest quality. Flavors include: chocolate caramel, cookies n' cream, french toast, salt and vinegar, white cheddar and dark chocolate espresso, among others.
Popcorn for the People is an extension of Let's Work For Good, a 501(c)(3) non-profit social enterprise with a mission to provide meaningful and lasting employment for adults with autism and developmental disabilities.
About Eagles Autism Foundation
The Eagles Autism Foundation is dedicated to raising funds for innovative autism research and programs. By providing the necessary resources to doctors and scientists at leading institutions, we will be able to assist those currently affected by autism as well as future generations. Our event aims to inspire and engage the community, so together, we can provide much needed support to make a lasting impact in the field of autism. Please visit www.EaglesAutismFoundation.org.
About Aramark
Aramark (NYSE:ARMK) proudly serves Fortune 500 companies, world champion sports teams, state-of-the-art healthcare providers, the world's leading educational institutions, iconic destinations and cultural attractions, and numerous municipalities in 19 countries around the world. Our 280,000 team members deliver experiences that enrich and nourish millions of lives every day through innovative services in food, facilities management and uniforms. We work to put our sustainability goals into action by focusing on initiatives that engage our employees, empower healthy living, preserve our planet and build local communities. Aramark is recognized as one of the World's Most Admired Companies by FORTUNE, as well as an employer of choice by the Human Rights Campaign and DiversityInc. Learn more at www.aramark.com or connect with us on Facebook and Twitter.
About Popcorn for the People
Popcorn for the People is a non-profit, social enterprise dedicated to creating meaningful and sustainable employment for workers with autism and other developmental disabilities. Workers hand cook, label and package bags of popcorn at a 4,000-square foot cooking and processing center in Piscataway, NJ. Workers sell the popcorn at numerous high profile locations including Harry Potter at the Lyric Theater on Broadway, Rutgers University Big Ten Football & Basketball, HMSHost Travel Plazas, Goldman Sachs HQ, and Barclays HQ. Please visit www.PopcornForThePeople.com.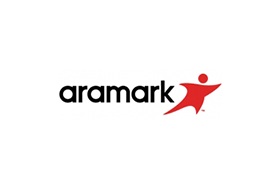 Aramark
Aramark
ARAMARK is a leader in professional services, providing award-winning food services, facilities management, and uniform and career apparel to health care institutions, universities and school districts, stadiums and arenas, parks and destinations and businesses around the world.
The company is recognized as one of the "World's Most Ethical Companies" by the Ethisphere Institute, one of the "World's Most Admired Companies" by FORTUNE magazine and one of America's Largest Private Companies by both FORTUNE and Forbes magazines.
ARAMARK seeks to responsibly address issues that matter to its clients, customers, employees and communities by focusing on employee advocacy, environmental stewardship, health and wellness, and community involvement. Headquartered in Philadelphia, ARAMARK has approximately 250,000 employees serving clients in 22 countries. Learn more at www.twitter.com/aramarknews.
More from Aramark