Published 12-05-19
Submitted by Taproot Foundation
 Taproot Foundation announces today a significant milestone for the organization—surpassing $200 million worth of pro bono services provided to the social sector through its programs. These services are available to nonprofits and social good organizations around the world, free of charge.
"This is a milestone not only for the Taproot Foundation, but the social sector as a whole," says Lindsay Gruber, President and CEO of Taproot. "By infusing $200 million worth of valuable pro bono services into the sector—critical services like marketing, HR planning, and strategy consulting that most organizations would otherwise simply not have access to—we're making certain that the organizations tasked with improving society have access to the support they need to thrive in a sustainable way."
Taproot Foundation was founded in 2001 by Aaron Hurst to redefine volunteering by leveraging the valuable skills and expertise of professionals. "When I started Taproot, I saw the need for more than just pro bono legal support in the nonprofit sector," says Hurst, now the CEO of Imperative, a purpose-powered peer-coaching platform. "Professionals were hungry to do volunteering that was truly meaningful and met the greatest need in the nonprofit sector—building scalable and sustainable organizations. Our incredible 20,000+ volunteers have created a movement that's not only generated this support for nonprofits but inspired nearly every Fortune 500 company to raise the bar for their volunteering programs."
In the past 18 years, Taproot has directly served more than 7,500 organizations by linking them with over 21,000 business professionals who have collectively volunteered over 1.7 million hours of pro bono services. Over $20 million worth of services have been delivered through Taproot Plus, the organization's online platform, which launched in 2014. In October of this year, Taproot announced that the hourly value of pro bono service has increased to $195.
PeerForward is one such organization that has received pro bono support through Taproot. "We turned to Taproot to get help from a branding expert and a project manager," notes Reagan Walker, Managing Director of Marketing and Communications at PeerForward. "The volunteers were brilliant, and our rebrand went very smoothly, elevating brand awareness of PeerForward and supporting a larger organization shift to a new model and reach even more students. It simply could not have happened without Taproot!"
"Historically, traditional philanthropy has often excluded support for key organizational needs," notes Gruber. "But by adding an additional $200 million of resources into the sector in these essential but overlooked areas, we're changing the way the organizations serving our communities are able to operate. We are inspired by the enormous potential for pro bono service to truly lift up organizations who are working to transform our communities and are looking forward to working across sectors to deliver the next $200+ million in critical pro bono support."
About Taproot Foundation
Taproot Foundation, a national nonprofit, connects nonprofits and social change organizations with passionate, skilled volunteers who share their expertise pro bono. Taproot is creating a world where organizations dedicated to social change have full access—through pro bono service—to the marketing, strategy, HR, and IT resources they need to be most effective. Since 2001, Taproot's network of skilled volunteers has served over 7,500 social change organizations providing more than 1.7 million hours of work worth over $200 million in value. Taproot has offices in New York City, Chicago, San Francisco, and Los Angeles, and founded a network of global pro bono providers in over 30 countries around the world. www.taprootfoundation.org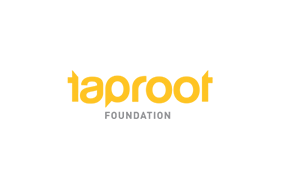 Taproot Foundation
Taproot Foundation
The Taproot Foundation is the provider of pro bono services to the nonprofit sector. It works to engage the country's millions of business professionals in pro bono service, building the infrastructure of organizations we rely on to strengthen and support our communities. Their pro bono model leverages the best practices of leading professional services companies to deliver reliable and quality marketing, human resources and technology services using corporate employees. Since 2002, the Taproot Foundation has recruited over 3,500 business professionals to awarded over $12 million in pro bono services to nonprofits in New York, Chicago and the San Francisco Bay Area.
More from Taproot Foundation