Published 11-25-19
Submitted by YouGiveGoods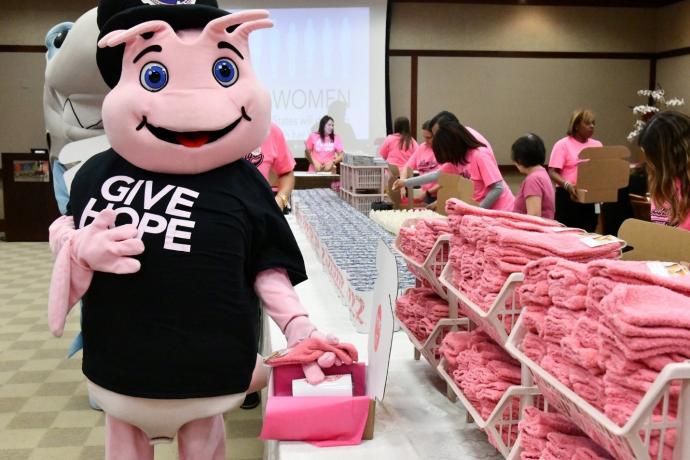 Landry's employee packing event compiling Hope Kits for cancer survivors
 Landry's, Inc. one of America's leading dining, hospitality, gaming, and entertainment groups based in Houston, partnered with e-commerce company YouGiveGoods, to initiate an employee giving program raising most-needed items for local communities.
Through YouGiveGoods, an innovative e-commerce company that connects tangible giving to community needs through its free giving platform, Landry's employees used its convenient online services to raise food, supplies and gifts that benefitted the local community.
In Spring 2019, Landry's employees created a friendly company-wide competition to donate nearly 6,000 juice boxes for Kids Meals Inc, a nonprofit organization who supplies nutritious meals for children in need in Houston.
Due to the company's overwhelming response for Kids Meals donations, Landry's continued its philanthropic efforts with YouGiveGoods on a national level. Throughout October's Breast Cancer Awareness month, more than 60 Landry's restaurants nationwide scheduled local packing events compiling gifts of comfort and hope for breast cancer patients through the National Breast Cancer Foundation's Hope Kits Program. In Houston, local employees put together Hope Kits containing items purchased through their online event including cozy socks, lip balm, tea, and moisturizer.  
CSR and workplace giving programs are imperative to attracting and retaining the best talent. One survey by Americas Charities revealed that working for an employer with a culture supportive of giving and volunteering is very important to 71% of employees surveyed.  Successful CSR programs can make employees more productive and ultimately translate into a stronger bottom line.
So, what was a company like Landry's to do when programs were established but they wanted to increase employee engagement, simplify the event execution and maximize their participation?  They did what recent studies have shown to be effective, they provided choices in how employees could help and utilized today's technology to make program execution more convenient and more inclusive, and they were sure to create meaningful, long term partnerships with the nonprofit organizations being supported. Together with YouGiveGoods, Landry's was able to improve their workplace giving program and have a greater impact on kids in need and cancer survivors.
About YouGiveGoods
YouGiveGoods, LLC. is an innovative e-commerce company that connects tangible giving to community needs through our free giving platform.  Support any cause when you raise food, disaster relief supplies, toys, school supplies, socks, diapers, blankets – any goods your selected charity may need, all brand-new and delivered to their door.  YouGiveGoods' technology enables corporations, groups and individuals to create unique giving experiences with custom designed drive pages.   Specializing in workplace giving, YouGiveGoods events maximize employee engagement while meeting the needs of the nonprofit and the corporation. A YouGiveGoods online drive is a simple, efficient, measurable activity that makes a real difference in your community.
For more information
Contact:
Diane Frain
1-877-526-4483 x107
diane.frain@yougivegoods.com>
About Landry's, Inc
Landry's, Inc., wholly owned by Tilman J. Fertitta, is a multinational, diversified restaurant, hospitality, gaming and entertainment company based in Houston, Texas. The company operates more than 600 high-end and casual dining establishments around the world, including well-known concepts such as Mastro's Restaurants, Morton's The Steakhouse, a group of signature high end restaurants, including Vic & Anthony's, Strip House, The Oceanaire, Chart House, Willie G's McCormick & Schmick's and Brenner's Steak House, plus casual dining brands including Landry's Seafood, Bubba Gump Shrimp Co., Rainforest Cafe, Mitchell's Fish Market Restaurants, and Saltgrass Steak House, along with popular New York BR Guest Restaurants such as Dos Caminos and Bill's Bar & Burger. In October 2019, Landry's acquired Del Frisco's Double Eagle Steakhouses and Del Frisco's Grille as well as Restaurants Unlimited with fine dining and casual concepts such as Portland City Grill, Henry's Tavern, Kincaid's and more. Landry's gaming division includes the renowned Golden Nugget Hotel and Casino concept, with locations in Las Vegas and Laughlin, Nev.; Atlantic City, N.J.; Biloxi, Miss.; and Lake Charles, La. Landry's entertainment and hospitality divisions encompass popular destinations including the Galveston Island Historic Pleasure Pier, Kemah Boardwalk, Aquarium Restaurants and other exciting attractions, coupled with deluxe accommodations throughout the Houston and Galveston area, including the luxurious San Luis Resort, Spa & Conference Center on Galveston Island and the Post Oak Hotel in Houston, Texas.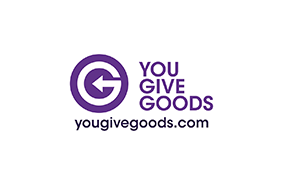 YouGiveGoods
YouGiveGoods
YouGiveGoods makes charitable giving easy and completely transparent with our free, innovative giving platform. A personalized YGG giving event enables individuals, companies, schools and groups to make a tangible impact in local communities by raising new, needed goods for charities.
More from YouGiveGoods