Published 11-20-19
Submitted by Arrow Electronics, Inc.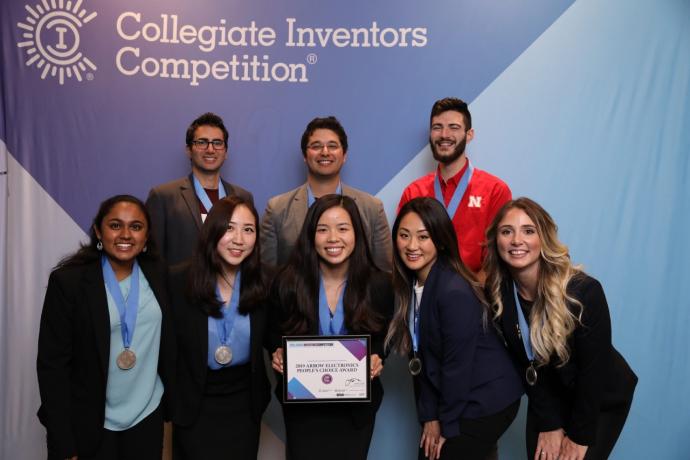 A technology to reduce the infection risks associated with kidney dialysis has won an annual innovation prize sponsored by Arrow Electronics and the Collegiate Inventors Competition.®
The Johns Hopkins University student team won the Arrow Electronics People's Choice Award for developing PeritoneX, which uses a syringe-based mechanism to disinfect peritoneal dialysis systems. 
End-stage renal disease can be fatal, and kidney transplants are limited. Consequently, hundreds of thousands of patients rely on dialysis treatment. Home-based treatment can be less expensive and more convenient but is also plagued by higher rates of infection. PeritoneX is designed to be an easy-to-use disinfection system that caregivers can use at home.
For the sixth consecutive year, Arrow Electronics served as a lead sponsor for the annual national contest that rewards innovations, discoveries and research by college and university students and their faculty advisors. Ten graduate and undergraduate teams representing 11 colleges and universities from across the nation competed at the event, held last month at the United States Patent and Trademark Office in Alexandria, Va.
The teams presented their inventions to judges from the National Inventors Hall of Fame® and the USPTO.  
"The ideas represented in this room – and the bright minds behind them – are the future of American innovation," USPTO Deputy Director Laura Peter told the student teams.
The winner in the undergraduate category was Ethan Brush from the University of Nebraska- Lincoln. His invention, PE-IVT (Positively Engaged, Infinitely Variable Transmission Using Split Helical Gears), is a new type of transmission for electric vehicles which increases efficiency and reduces energy losses. 
The Johns Hopkins team was named runner-up in the undergraduate category, in addition to winning the Arrow People's Choice Award.
The Massachusetts Institute of Technology won the graduate student category; Maher Damak and Karim Khalil prototyped a system called Infinite Cooling, which ionizes water from power plant cooling towers, so it may be reused for industrial use, and even drinking water.
Winners received $15,000 prizes for their inventions, while runners-up were awarded $5,000 each. The Arrow People's Choice Award also carried a $1,500 prize. Since 1990, the National Inventors Hall of Fame and its sponsors have awarded more than $1 million to students to help them take their inventions to the next level.
About Arrow Electronics
Arrow Electronics (NYSE:ARW) guides innovation forward for over 200,000 leading technology manufacturers and service providers. With 2018 sales of $30 billion, Arrow develops technology solutions that improve business and daily life. Learn more at FiveYearsOut.com.
About the Collegiate Inventors Competition 
The Collegiate Inventors Competition encourages and drives innovation and entrepreneurship at the collegiate level. A program of the National Inventors Hall of Fame, this competition recognizes and rewards the research, innovations and discoveries by college students and their advisers for projects leading to inventions that have the potential of receiving patent protection. Introduced in 1990, the competition has awarded more than $1 million to students for their innovative work and scientific achievement through the help of its sponsors. For more information, visit invent.org/events/cic-event. 

Arrow Electronics, Inc.
Arrow Electronics, Inc.
Arrow Electronics is a global provider of products, services and solutions to industrial and commercial users of electronic components and enterprise computing solutions. Arrow serves as a supply channel partner for more than 150,000 original equipment manufacturers, value-added resellers, contract manufacturers, and commercial customers through a global network. The company maintains over 300 sales facilities and 45 distribution and value-added centers, serving over 80 countries. Learn more at www.fiveyearsout.com.
More from Arrow Electronics, Inc.