Published 11-14-19
Submitted by Spence-Chapin Services to Families and Children
Darryl "DMC" McDaniels performs at Spence-Chapin 2019 Gala
Spence-Chapin Services to Families and Children held their Annual "Welcome Home" Gala last Tuesday evening, November 5, 2019 at Current at Chelsea Piers, raising over $300,000. More than 250 guests gathered to help celebrate adoption and to "welcome home" many of the children, women, and families who make up SpenceChapin's rich legacy. The event was chaired by Spencer and Stephanie Acker and Sammy Chadwick.
It was a program full of revelry, from a wall-to-wall cocktail hour to the closing performance of the night by Darryl "DMC" McDaniels of the pioneering hip-hop group Run-DMC. DMC performed an original song about his own adoption story along with well-known hits such as "Walk this Way" and "It's Tricky." The evening was hosted by Dave Price from NBC-4 New York. Ian Rowe, Spence-Chapin Board Chair, presented the Spence and Chapin Awards for Excellence to Curtis Welling and Mary White, M.D., both adoptive parents, former chairs of the Spence-Chapin Board of Directors, and Honorary Directors.
Jacqueline Hunt, a birth mother and an adoptive parent, told her story of reconnecting with her son while holding her two-year-old daughter on the stage. The night also featured a short film on the organization's founding from the perspective of Martha Ulman, granddaughter of Spence-Chapin co-founder, Clara Spence. And after dinner, the audience saw a glimpse of Spence-Chapin's vision for the next century in a film about Spence-Chapin's Granny Program and partnership with Jo'burg Child Welfare in South Africa. The film pulled at the heartstrings of attendees.
One of the most touching parts of the program was when The Spence-Chapin Second Century Humanitarian Award was presented to Siya Madikane by two children adopted from South Africa through Spence-Chapin. Madikane is a philanthropist dedicated to helping disadvantaged children. He was born in Soweto, South Africa, and lived in an orphanage there until the age of ten.
Kate Trambitskya, Chief Executive Officer of Spence-Chapin said, "proceeds from the Gala will help Spence-Chapin continue to provide key domestic and international programs which build families through adoption and to offer comprehensive services and support for women unsure about parenting, children living in orphanages, and other members of the adoption constellation seeking guidance and community."
Major sponsors included: J.P. Morgan, U.S. Bank, The Acker Family, The Boisi Family, Michael Mellody and Denise Capati, Mary H. White, M.D., Mary and John Brock, Sheldon F. Kasowitz, Gerald Lodge, The Welling Family, Anna-Maria and Stephen Kellen Foundation, Denise Kellen, Ian and Sylvia Rowe, and Jonathan Witmer and Izumi Nakamura.
For photos from the Spence-Chapin Gala and to learn more, go to http://www.spencechapin.org/event-photos.
###
About Spence-Chapin Services to Families & Children
Spence-Chapin has been offering exceptional adoption and family services for more than 100 years. Its mission is to help find loving families for children whatever their needs or circumstances and provide counseling and lifelong support for all children and families to whom they have been born or entrusted. Spence-Chapin's roots date back to the early 1900s with the pioneering work of Ms. Clara Spence and Dr. and Mrs. Henry Chapin, who established nurseries for infants abandoned on the streets of New York City, led humanitarian efforts, and created families through adoption. Spence-Chapin has since expanded to include other comprehensive support programs. The organization's award-winning efforts have served more than 25,000 women, children, and families through domestic, international and special needs adoption, post-adoption support, and humanitarian aid programs such as the Granny Program. Find out more at spence-chapin.org.
Contact:
Rose M. Crichton Director,
Marketing & Communications
Phone: 212-360-0214
Email: rcrichton@spence-chapin.org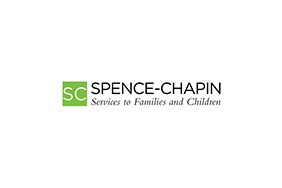 Spence-Chapin Services to Families and Children
Spence-Chapin Services to Families and Children
SPENCE-CHAPIN IS AN ACCREDITED NONPROFIT ORGANIZATION THAT HAS BEEN OFFERING QUALITY ADOPTION SERVICES FOR MORE THAN 100 YEARS. Our mission is to help find loving families for children whatever their needs or circumstances, and provide counseling and support for all children and the families to whom they have been born or entrusted. Our mission is driven by the simple belief that every child deserves a family.
Spence-Chapin focuses on finding adoptive homes for children who need families; promoting the understanding of adoption through counseling and public education; and improving adoption's image and practice. Through our Modern Family Center we are helping each family member navigate their individual adoption stories with clarity and confidence. Spence-Chapin's roots can be traced to the early 1900s and the pioneering work of Clara Spence, and Dr. and Mrs. Henry Chapin, who independently established nurseries out of concern for homeless infants abandoned in hospitals and shelters.
Today, Spence-Chapin is proud of our role as a prominent voice and leading advocate for adoption, and of our commitment to the wellbeing of all members of the adoption triad: birth parents, adoptive parents, and their children.