Published 11-12-19
Submitted by Arrow Electronics, Inc.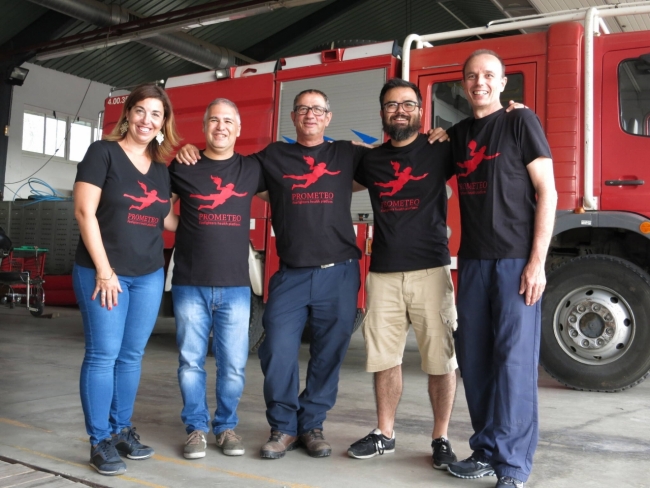 On October 12, IBM announced that Team Prometeo was the winner of the Call for Code 2019 Global Challenge for creating a personal safety hardware-software solution that will help protect firefighters.
For the second consecutive year, Arrow Electronics supported the competition that encourages software developers and other technologists to create applications for natural disaster preparedness and relief. After a global competition that saw participation from 165 nations, Prometeo was selected from a field of 32 finalists by a global panel of eminent judges, and representatives from the United Nations, the Linux Foundation and other organizations.
 
The Barcelona-based Team Prometeo included a nurse, a firefighter and three solution architects who created a wearable device to help safeguard the health of firefighters while they battle fires. It is about the size of a mobile phone and straps to a firefighter's arm, with multiple sensors that measure key health variables, such as temperature, humidity, and smoke concentration. 
Using IBM Watson-based machine learning and multiple cloud-based platforms, the device then distills that data into a simple, color-coded health status that fire command centers can monitor in real time to determine when responders are in immediate danger. The system also determines when individuals approach long-term exposure to various toxic substances.
"Using technology to keep firefighters safe in dangerous conditions is exactly the kind of innovation Arrow aims to encourage and support. We are proud to work with IBM to help inspire new solutions to protect those who protect us," said Dan Shea, vice president of sales for Arrow's Enterprise Computing Solutions business.
The Prometeo team won a $200,000 prize and will receive implementation support from IBM's Code and Response initiative, and open source support from The Linux Foundation. 
The award will help the team begin field tests with firefighters in Catalonia, Spain to refine the device, the software, and firefighter safety protocols.
More than 180,000 people from 165 nations participated in the Call for Code and Code and Response initiatives this year. 
About Call for Code
Developers have revolutionized the way people live and interact with virtually everyone and everything. Where most people see challenges, developers see possibilities. That's why David Clark Cause launched Call for Code in 2018 alongside Founding Partner IBM. This five-year, $30 million global initiative is a rallying cry to developers to use their skills and mastery of the latest technologies, and to create new ones, to drive positive and long-lasting change across the world with their code. Call for Code global winning solutions, among others, are further developed and deployed via IBM's Code and Response initiative.
With the support of industry leaders like Arrow Electronics, the initiative continues to grow.
About Arrow Electronics
Arrow Electronics (NYSE:ARW) guides innovation forward for over 200,000 leading technology manufacturers and service providers. With 2018 sales of $30 billion, Arrow develops technology solutions that improve business and daily life. Learn more at FiveYearsOut.com.
About IBM
For more information, please visit: https://www.ibm.com
####

Arrow Electronics, Inc.
Arrow Electronics, Inc.
Arrow Electronics is a global provider of products, services and solutions to industrial and commercial users of electronic components and enterprise computing solutions. Arrow serves as a supply channel partner for more than 150,000 original equipment manufacturers, value-added resellers, contract manufacturers, and commercial customers through a global network. The company maintains over 300 sales facilities and 45 distribution and value-added centers, serving over 80 countries. Learn more at www.fiveyearsout.com.
More from Arrow Electronics, Inc.