Published 11-12-19
Submitted by Maven House Press

Download Our FREE E-book
Maven House Press is soliciting book manuscripts that inspire people to use business as a force for good. We are looking for books on sustainability, climate change, corporate social responsibility, careers/social impact, social entrepreneurship, ESG/responsible investing, diversity and inclusivity, or related topics.
Recent and forthcoming titles from Maven House include:
Beyond Sizzle: The Next Evolution of Branding by Mona Amadeo, who was inspired by her Ph.D. research with Ray C. Anderson and the folks at Interface.

Bravespace Workplace: Making Your Company Fit for Human Life by Moe Carrick, founder of the B Corp Moementum and contributor to Conscious Company magazine.

Humans Are Not Robots: Why We All Need Work Flexibility and What Company Leaders Can Do About It by Robert Hawkins, consultant with The FlexAgility Group, author at FlexJobs, Remote.co, and 1 Million for Work Flexibility, and a Flexible Working Day ambassador.

Team Medicine: Coaching Your Team to Success with Native American Wisdom by Michelle Epiphany Prosser, a coach and workshop leader on Native American philosophies who works for the nonprofit Virginia Housing Development Authority.

How to Think Strategically by Greg Githens, a strategic thinking coach who has helped hundreds of executives and leaders improve their strategic thinking capability and organizations develop and execute effective strategies
For more information on publishing with Maven House, potential authors should check out the author page on the Maven House website (http://mavenhousepress.com/for-authors/) or email jim@mavenhousepress.com.
Free e-Book Available
Maven House is offering a free e-book that features excerpts from bestselling books that will inspire readers to be better leaders and unleash their potential to change the world. Download at http://bit.ly/ForceforGood2ed.
About Maven House
Maven House publishes four to six books a year, which are distributed worldwide by Publishers Group West (PGW)/Ingram. Exam copies for academics are available through Ingram Academic. Rights licensing (for translations, book clubs, audiobooks, etc.) is handled by RussoRights.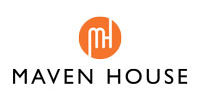 Maven House Press
Maven House Press
Maven House is an independent publisher of books that inspire people to use business as a force for good - books that challenge conventional thinking, introduce new ideas, offer practical advice, and illuminate paths to greatness.
More from Maven House Press