Published 11-01-19
Submitted by JetBlue Airways
JetBlue (Nasdaq: JBLU) put good on the map with its previous 'Destination Good' surprise volunteer experience, and this November is celebrating another milestone. Over the past eight years, JetBlue crewmembers have volunteered more than one million hours of caring in their local communities. This JetBlue For Good Month, the airline is inviting its customers, crewmembers, and community partners to "Share Your Good" for an opportunity to win a year's worth of flights (12 pairs of roundtrip JetBlue travel certificates) to travel and do good throughout JetBlue's network.*
Those interested in traveling to spread good can enter at jetblueforgood.com through November 30, 2019, by submitting a short essay to be eligible for the grand prize. Three customers, three nonprofits, and three crewmembers will each win a year's worth of flights to spread good throughout 2020. JetBlue will also offer weekly prizes to do-gooders who upload a photo at jetblueforgood.com, showing them doing good in their local communities.*
Weekly prizes will include:
Pairs of roundtrip travel certificates (subject to blackout dates and terms and conditions)
Nonprofits that participate will be entered for a chance to win one of 20 grants, each valued at $1,000 to help the organizations continue doing good
JetBlue is donating $20,000 to Global Giving, a nonprofit that connects donors with grassroots projects around the world. Random participants will receive special codes to allocate $50 increments, covered by JetBlue, to their favorite projects available in the Global Giving platform.
"As one of the founding members of JetBlue, I've seen us grow to 22,000 crewmembers who have volunteered more than one million hours to make our local communities better places. Over the past 19 years, one thing has remained the same – our unique culture," said Icema Gibbs, director of corporate social responsibility, JetBlue. "Service is in our DNA, and it's our crewmembers who bring our mission of inspiring humanity to life every day. This JetBlue for Good Month, we're celebrating our customers and partners who help in making a powerful impact. Good can be big or small, anywhere and at any time – in the air, on the ground, and in your local communities."
Taking Inspiring Humanity® to new heights – JetBlue For Good focuses on three pillars: youth and education, community, and the environment. JetBlue is so dedicated to service that the airline even have an aircraft dedicated to good. The JetBlue For Good plane celebrates the one million hours crewmembers have dedicated to giving back and was designed to inspire everyone who sees it to help make their community a better place. The livery depicts JetBlue crewmembers peeling back a curtain to give a peek at some of the causes JetBlue customers and crewmember are passionate about, as well as the airline's unique culture.
Sharing Our Good – A sampling of JetBlue For Good's efforts and volunteerism:
Community Connection – JetBlue crewmembers give back to a variety of causes and nonprofits throughout JetBlue's 100+ cities in the U.S., Latin America and the Caribbean. In 2018 alone, crewmembers logged more than 199,000 volunteer hours.

Swing For Good funds raised for three youth-focused charities – Through this year's Swing for Good fundraising campaign, JetBlue will distribute more than $1 million to three youth and education-focused charities – DoSomething.org, First Book and the JetBlue Foundation. Funds were raised in October by JetBlue's business partners, customers and crewmembers. Since 2008, JetBlue's Swing for Good initiative has raised nearly $8 million to benefit a variety of youth and education nonprofits.

Encouraging STEM Education with the JetBlue Foundation – This year, the JetBlue Foundation helped fuel 13 education programs with nearly $250,000 in grants to benefit their science, technology, engineering and mathematics (STEM) and aviation initiatives. This round of grants is supporting initiatives focused on mentorship and technical education training, with the goal of adding more diversity within STEM and the aviation industry.

Helping communities in need following the devastation of Hurricane Dorian – Following the recent hurricane in the Bahamas, JetBlue activated its internal Community Relief and Recovery Fund. JetBlue crewmembers have donated more than $26,000 to support relief efforts in the Bahamas, and the airline provided a $25,000 company match. Additionally, JetBlue provided support for students from the University of the Bahamas-North Campus as the school sustained extensive damage. While the school's administration plans to rebuild, there was no way for classes to continue this semester. JetBlue collaborated with Head and Heart Philanthropy to fly nearly 50 students to Hampton University in Virginia. The school is covering tuition and other costs for the semester so these students can stay on track with their education.

Providing access to safe playspaces – JetBlue and KaBOOM! have worked together for more than 10 years to build 30 playgrounds, reintroducing play to nearly 300,000 children and families. Last summer in Boston, JetBlue, GreenRoots, Vine Street Community Center, and the local community joined KaBOOM! to transform two empty sites into a kid-designed, state-of-the-art playground and a multi-sport court. Play is an important part of a child's development affecting their physical, creative, cognitive, social and emotional skills.
Want to get in on the good? – If you would like to join JetBlue in doing good, TrueBlue loyalty members can donate their points to a variety of charities and causes through the TrueBlue Points Donation Platform. Join JetBlue in supporting causes and nonprofits such as DoSomething.org, KaBOOM!, the JetBlue Foundation and Make-A-Wish. When members donate points, they go directly to the selected charity, and each charity may use the points for travel for their organization. For example, since 2012, JetBlue and its customers have donated more than 23 million TrueBlue points to Make-A-Wish to help create life-changing wishes for children battling critical illnesses. For more information or to donate points visit jetblue.com/donate.
Giving back is part of JetBlue's DNA and is core to its mission of inspiring humanity® – Centered around volunteerism and service, JetBlue For Good focuses on the areas that are most important to the airline's customers and crewmembers - Community, Youth/Education and the Environment. JetBlue's core programs and partnerships directly impact the areas where its customers and crewmembers live and work by enhancing education and providing access to those that are traditionally underserved. Signature programs include the award-winning Soar with Reading initiative, which has provided more than $3.75 million worth of books to kids who need them most and Blue Horizons For Autism, which helps introduce air travel in a realistic environment to families and children affected by autism. Join the #JetBlueForGood conversation on Twitter, Instagram and Facebook, check for regular updates, and get involved.
ABOUT JETBLUE
JetBlue is New York's Hometown Airline®, and a leading carrier in Boston, Fort Lauderdale-Hollywood, Los Angeles (Long Beach), Orlando, and San Juan. JetBlue carries more than 42 million customers a year to 100+ cities in the U.S., Caribbean, and Latin America with an average of more than 1,000 daily flights. For more information, please visit jetblue.com.
*NO PURCHASE NECESSARY. Ends 11:59 p.m. ET 11/30/19. Open 50 US/DC/PR 18+ Rules/Eligibility at http://bit.ly/ShareOfficialRules. Void where prohibited.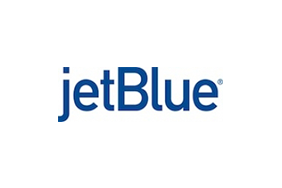 JetBlue Airways
JetBlue Airways
JetBlue is New York's Hometown Airline, and a leading carrier in Boston, Fort Lauderdale/Hollywood, Los Angeles (Long Beach), Orlando and San Juan. JetBlue carries more than 30 million customers a year to 87 cities in the U.S., Caribbean, and Latin America with an average of 825 daily flights. For more information please visit JetBlue.com.
More from JetBlue Airways