Published 10-30-19
Submitted by CECP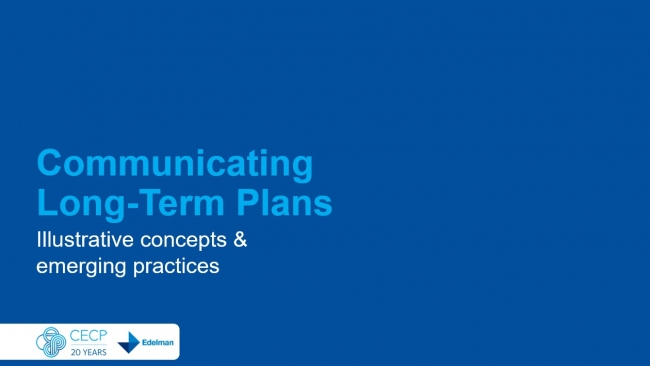 Bringing together their respective areas of expertise, Edelman and the Strategic Investor Initiative (SII) at Chief Executives for Corporate Purpose (CECP) have partnered to release an overview of emerging practices in disclosures of long-term plans made at CEO Investor Forums.
The report, available for download on CECP's website, presents illustrative concepts and emerging practices supported by research from both Edelman and CECP. The contents draw from long-term plan presentations by listed companies across sectors representing in excess of $2 trillion in market capitalization.
"Investor expectations for comprehensive, forward-looking disclosures continue to increase," said Daryl Brewster, CEO, CECP. "And more purpose-driven companies are declaring their commitment to sustainable value creation. The guidance from CECP and Edelman marries theory and practice into a plan for CEOs and investors to operationalize the calls for long-term plans."
According to the Edelman Trust Barometer Special Report on Institutional Investors, 96% of investors say long-term guidance on financial performance has an impact on trust of a company they are considering for investment. The Method of Production of Long-Term Plans, a white paper released by SII, identified the opportunity to decrease the information asymmetry between corporations and investors by increasing the amount and quality of long-term focused disclosures.
"Investors are looking beyond financial metrics to make an assessment of companies in which they invest for the long-term," said Lex Suvanto, Global Managing Director, Edelman Financial Communications and Capital Markets. "Companies and their management teams now have a mandate to engage on a new set of investment criteria and we are proud to partner with CECP in an effort to help guide executives on this initiative."
While the existing marketplace for investor information is oriented to the short-term, buy-side investors want to understand a company's goals, metrics, and milestones for creating value over the long-term, for shareholders and other stakeholders.
"Companies are under pressure from institutional investors to disclose more about their ESG performance and long-term sustainability," said Brian Tomlinson, Research Director, Strategic Investor Initiative, CECP. "Our template provides guidance and examples from leading CEOs to help companies reorient their disclosures toward the long-term"
Edelman and CECP will co-host a webinar to review the content in the presentation on November 7, 2019, from 12:00 PM ET – 1:00 PM ET. The webinar will cover how to put together a Long-Term Plan, the capital markets benefits of doing so, key themes for taking a long-term approach to investing, and principles and examples of successful long-term disclosures. Register here: https://cecp.me/2JwYFOI.
As part of its suite of services, the Strategic Investor Initiative offers a five-step process for companies interested in developing and presenting their Long-Term Plans to like-minded investors. The approach includes CEO engagement, an in-depth briefing for internal stakeholders, framework and template development, presentation at a CEO Investor Forum, and collecting feedback from investors for CEOs.
SII's Investor Letter served as the basis of SII's Long-Term Plan framework. The letter, issued in 2018, was signed by nine leading investors from SII's Advisory Board, including Bill McNabb.
The CEO Investor Forums are a new platform for senior business leaders from the world's leading companies to present long-term plans to long-term oriented institutional investors. The eighth CEO Investor Forum will take place on February 24th, 2020 in New York City with presentations from Scott G. Stephenson, Chairman, President & CEO, Verisk Analytics; Stanley Bergman, Chairman & CEO, Henry Schein, Inc; André Calantzopoulos, CEO, Philip Morris International; and Thomas J. DeRosa Chairman and CEO; Welltower.
More information about SII, the CEO Investor Forums, original research, and recent publications be found at: https://www.cecp.co/SII. Companies interested in presenting their Long-Term Plan can contact SII@cecp.co.
The Edelman Trust Barometer Special Report: Institutional Investors reveals new criteria for evaluating investments as well as insights on what drives institutional investor trust in companies. The second annual special report finds that investment criteria are evolving to target areas beyond financial metrics, with a strong focus on corporate culture, Environmental, Social and Governance (ESG) investing, and companies' roles within broader society.
The research surveyed more than 500 chief investment officers, portfolio managers, and buy-side analysts in five countries (U.S., Canada, UK, Germany and Japan), representing firms that collectively manage over $4.5 trillion in assets. The report is a supplement to the Edelman Trust Barometer launched annually in January at the World Economic Forum. More information can be found at https://www.edelman.com/research/trust-barometer-institutional-investors
Media Contacts:
Jackie Albano, CECP
jalbano@cecp.co
646-863-1926
Julia Sahin, Edelman
julia.sahin@edelman.com
212-738-6131
ABOUT CHIEF EXECUTIVES FOR CORPORATE PURPOSE (CECP)           
CECP is a CEO-led coalition that believes that a company's social strategy — how it engages with key stakeholders including employees, communities, investors, and customers —determines company success. Founded in 1999 by actor and philanthropist Paul Newman and other business leaders to create a better world through business, CECP has grown to a movement of more than 200 of the world's largest companies that represent $11.3 trillion in revenues, $23.8 billion in societal investment, 17.4 million employees, and $15 trillion in assets under management. CECP helps companies transform their social strategy by providing customized connections and networking, counsel and support, benchmarking and trends, and awareness building and recognition. 
ABOUT THE STRATEGIC INVESTOR INITIATIVE
The Strategic Investor Initiative is a coalition of thought leaders committed to the long-term movement. Collectively, SII is developing a new platform for leading companies to create, convey, and deliver long-term plans to long-term investors. SII's vision is to spark the movement of trillions of dollars of capital to companies demonstrating performance excellence over the long-term. SII provides tools and resources designed to introduce and support market behaviors that ultimately deliver sustained long-term value for all stakeholders.
ABOUT EDELMAN
Edelman is a global communications firm that partners with businesses and organizations to evolve, promote and protect their brands and reputations. Our 6,000 people in more than 60 offices deliver communications strategies that give our clients the confidence to lead and act with certainty, earning the trust of their stakeholders. Our honors include the Cannes Lions Grand Prix for PR; Advertising Age's 2019 A-List; the Holmes Report's 2018 Global Digital Agency of the Year; and, five times, Glassdoor's Best Places to Work. Since our founding in 1952, we have remained an independent, family-run business. Edelman owns specialty companies Edelman Intelligence (research) and United Entertainment Group (entertainment, sports, lifestyle). For more information please visit: www.edelman.com
# # #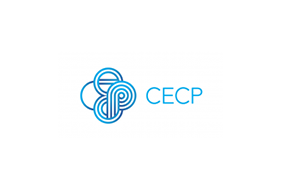 CECP
CECP
The Committee Encouraging Corporate Philanthropy (CECP) is the only international forum of business leaders focused on increasing the level and quality of corporate philanthropy. Membership includes more than 180 global CEOs and chairpersons of companies that collectively account for more than 40% of reported corporate giving in the United States. Membership is by invitation and is renewed annually.
CECP provides member companies with peer-to-peer executive convenings, premier networking events for corporate giving industry professionals, cutting-edge research publications, a proprietary, on-demand benchmarking system of corporate philanthropy data, and exclusive media opportunities.
Founded in 1999 by actor and philanthropist Paul Newman, together with John Whitehead, Peter Malkin, and other business leaders, CECP continues to inspire and challenge leaders in the private sector to find innovative ways to fulfill unmet social needs and to lead the way towards better alignment of business and social strategies.
Join CECP on Facebook, Twitter, Flickr and YouTube.
More from CECP