Published 10-29-19
Submitted by Rebuilding Together, Inc.
Rebuilding Together, the leading national nonprofit organization providing critical home repairs and revitalizing our communities, today announced it is teaming up for the 12th consecutive year with Sears on the retailer's Heroes at Home initiative. Sears Heroes at Home is a collaborative partnership that benefits veterans and their families by making critical repairs to homes nationwide. Sears associates will work with Rebuilding Together affiliates to complete repair projects this fall, bringing tangible assistance and aid to veterans, active duty military and their families.
Through the Heroes at Home Program, service recipients will be able to age in place and live safer in their home for years to come. Over time, neglect of maintenance can lead to crumbling foundations, dangerously sagging roofs and windows and doors that cannot be securely shut.
"Sears has a long tradition and commitment of supporting the military," said Peter Boutros, President of Kenmore, Craftsman and DieHard brands and Chief Brand Officer at Sears and Kmart. "The goal of Heroes at Home is to ensure these veterans have safe, accessible and secure housing. We look forward to working with Rebuilding Together to provide critical home repairs for those who served our country."
In collaboration with Rebuilding Together, the Sears Heroes at Home program served 5,380 veterans in 2018 and more than 20,000 since 2007. Sears and Rebuilding Together have raised millions of dollars for veterans and military families in need, providing better access to quality community resources, like Veterans of Foreign Wars posts, American Legion posts and restoring pride and hope across the nation.
Sears Heroes at Home program by the numbers over the last 12 years:
$25.5 million          Funds raised to rebuild veteran, military family homes and centers

20,310                   Veterans served

1,799                     Rebuild projects completed

45,003                   Sears employee volunteers

345,103                 Hours donated
"We are grateful for Sears' commitment to address the urgent housing challenges faced by our nation's veterans. The Heroes at Home program is restoring pride and hope in the lives of our veteran homeowners and their families," said Caroline Blakely, president and CEO of Rebuilding Together.
Nearly four dozen projects are scheduled for 2019-2020. Among the highlights:
Washington, D.C. – A signature event project will be held at the U.S. Vets community space that provides transitional housing for approximately 85 veterans. Volunteers, joined by former NFL Pro-Bowler DeMarcus Ware, will upgrade the kitchen with new appliances, make accessibility and safety improvements in the bathrooms and install garden beds, among various other repairs.

Acadiana, La. – Repairs will be provided for two veterans. The homes are located in Freetown, a neighborhood that is gentrifying at a rapid pace. The work includes a kitchen renovation, gutting and reconstructing a safer, more accessible bathroom and repairing a ceiling and roof that were damaged from a storm two years ago.

Chicago, Ill. – Volunteers will repair the home of an army veteran and his wife who have lived in their home for more than 20 years. Work to be done includes repairing their front porch, painting and patching the kitchen, two bathrooms and three bedrooms and upgrading appliances in the kitchen and fixtures throughout the house. Additionally, the Montford Point Marines Association community center will undergo renovations as part of the project. For more than 50 years, it has served as a community meeting space, resource center and haven for veterans. The community center was founded by Montford Point Marines, the first African Americans to serve in the Marine Corps.

Denver, Colo. – Two homeowners who live on a fixed income will receive repairs to homes they have lived and raised families in since the 60s and early 70s. They will benefit from various accessibility and safety improvements and mold remediation efforts, among other repairs.

Miami, Fla. – In addition to providing repairs for two veteran homeowners, volunteers will renovate VFW Post 471. The Post sustained significant damage as a result of Hurricane Irma last year and is need of total renovation. Repairs include removing damaged drywall, wood paneling and carpeting, replacing the storm damaged roof, power washing and painting the exterior of the building and installing new kitchen cabinets.
Sears honors military personnel every day, reminding them that they can get 20 percent off regular priced (five percent off sale priced items) tools, lawn and garden, fine jewelry and work boots.*
For more information about Heroes at Home, to make a donation or volunteer, visit sears.com/heroesathome and follow #HeroesAtHome on social media.
*In store only. Must be active, reserve, or retired military personnel and present valid military ID. Not combinable with any other coupons, discounts, or during Family and Friends or Member events. Excludes Patio, Grills, Sears Hometown, Outlet, Appliance Showroom and Hardware stores.
About Sears
Sears is a leading integrated retailer providing a wide range of home merchandise, apparel and automotive products and services through Sears-branded and affiliated full-line and specialty retail stores, as well as through Sears.com. Home to some of the most trusted and preferred brands in the U.S., Sears' product offering includes Kenmore, Craftsman and DieHard. Sears is part of Shop Your Way, a social shopping program where members can earn points and receive benefits both in stores and online. Sears is a proud corporate partner of St. Jude Children's Research Hospital. For more information, visit the Sears website at www.sears.com. For more information, visit the Sears website at www.sears.com.
About Rebuilding Together
Rebuilding Together is a leading national nonprofit organization with a mission to repair the homes of people in need and revitalize our communities. Each year, Rebuilding Together affiliates and nearly 100,000 volunteers complete about 10,000 rebuild projects. Learn more and get involved at rebuildingtogether.org.
###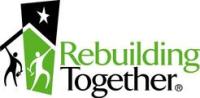 Rebuilding Together, Inc.
Rebuilding Together, Inc.
Rebuilding Together is the nation's largest non-profit organization whose mission is to preserve and revitalize houses and communities to assure that low-income homeowners, particularly those who are elderly and disabled, live in warmth, safety and independence. Through 2005 Rebuilding Together has rehabilitated over 96,120 houses, utilizing 2.5 million volunteers for a market value of $905 million.
More from Rebuilding Together, Inc.