Published 10-28-19
Submitted by Rebuilding Together, Inc.
 Rebuilding Together and Lowe's kicked off the annual Building a Healthy Neighborhood program this week as hundreds of volunteers performed critical home repairs and expanded an urban community garden in Seattle's historic Central District. The partners' next stops include community projects in Atlanta, Ga. and Houston, Texas in early November. 
"The Building a Healthy Neighborhood initiative aims to address the safe and affordable housing crisis impacting many communities across the country," said Jide Falaki, Lowe's vice president of corporate planning and treasury and national board member for Rebuilding Together. "Through purposeful partnerships and willing volunteers, we know we can revitalize neighborhoods and make a lasting impact for our communities in need."
Since 2011, Building a Healthy Neighborhood has brought volunteers from around the country to rebuild homes and revitalize neighborhoods through community engagement. To date, Rebuilding Together and Lowe's have completed hundreds of projects nationwide, engaging more than 4,000 volunteers.
"Building a Healthy Neighborhood exemplifies our mission to solve the urgent need for healthy homes and communities throughout the country," said Caroline Blakely, President and CEO of Rebuilding Together. "The connection between health and housing is a very important one and partnering with Lowe's has allowed us to reach even more neighbors who should be given the opportunity to live in safe and healthy environments."
Neighbors in Seattle's historic Central District received critical health and safety repairs performed by volunteers from Rebuilding Together, Lowe's, CBRE and local organizations, including new flooring, wall repairs, ventilation installation, fresh interior/exterior paint, a wheelchair ramp and other accessibility modifications.
"We have been blessed with the gifts of so many volunteers who have made our home safe, and we are grateful for their sacrifices, commitment and work ethic," said Central District homeowner Uvernia. "Thanks to their kindness, I know I'll be able to leave this legacy—our family home my sister and I purchased 40 years ago—for the next generation."
In addition to helping with home repairs, volunteers rolled up their sleeves at YES Farms, a Central District community farm dedicated to the development of sustainable food systems production and community engagement. Volunteers assisted in building a greenhouse and clearing land for future expansion. Residents will now be able to utilize a community garden and equipment in an area where healthy foods can be scarce or difficult to come by.
Rebuilding Together and Lowe's will continue in partnership to help neighbors in need through the Building a Healthy Neighborhood initiative and other programs.
For more information about Building a Healthy Neighborhood, visit https://rebuildingtogether.org/bahn.
###
LINK TO ELECTRONIC PRESS KIT:
Rebuilding Together Electronic Press Kit
Media Contacts:
Anna-Marshall Wilson
annamarshall@eandvgroup.com
252-230-3008
Chelsea Estes, Rebuilding Together
202-518-3110
About Rebuilding Together
Rebuilding Together is the leading national nonprofit organization with a mission to repair the homes of people in need and revitalize our communities. Each year, Rebuilding Together affiliates and nearly 100,000 volunteers complete about 10,000 rebuild projects. Learn more and get involved at rebuildingtogether.org.
About Lowe's in the Community
Lowe's has supported the communities where its associates live and work for more than 70 years. As a FORTUNE® 50 home improvement company, Lowe's is committed to creating safe, affordable housing and helping to develop the next generation of skilled trade experts through nonprofit partnerships. Across every community we serve, Lowe's associates donate their time and expertise through the Lowe's Heroes volunteer program. For the latest news, visit Newsroom.Lowes.com or follow @LowesMedia on Twitter.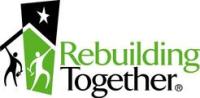 Rebuilding Together, Inc.
Rebuilding Together, Inc.
Rebuilding Together is the nation's largest non-profit organization whose mission is to preserve and revitalize houses and communities to assure that low-income homeowners, particularly those who are elderly and disabled, live in warmth, safety and independence. Through 2005 Rebuilding Together has rehabilitated over 96,120 houses, utilizing 2.5 million volunteers for a market value of $905 million.
More from Rebuilding Together, Inc.