Published 10-24-19
Submitted by Porter Novelli/Cone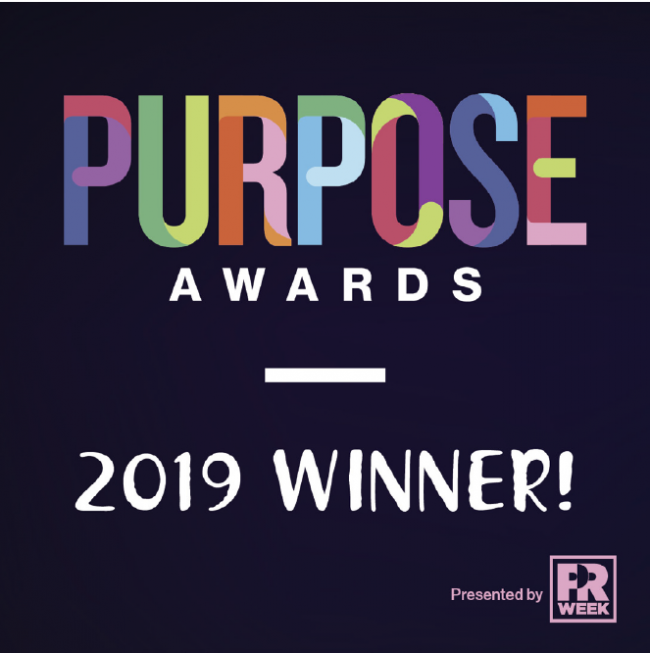 Porter Novelli was awarded top honor as Agency of the Year at the inaugural PRWeek Purpose Awards at Marshall's Landing on October 16, 2019.
The agency was praised for its firm belief that communication can advance society and its goal to seek out clients with a shared ambition of making a positive impact. Its aim to help organizations find, live and tell their purpose has helped the agency effectively motivate action, secure loyalty and encourage advocacy for its partners for over 45 years.
"This is a wonderful moment for Porter Novelli. I am so proud of our organization's journey – from the launch of our Purpose practice to our transformation to a global Purpose communications consultancy – we have worked tirelessly to make a positive impact for our people, clients and the world," said Brad MacAfee, CEO, Porter Novelli. "This recognition is a direct reflection of those efforts. Our hard work and expertise in Purpose is resonating, and we look forward to celebrating this important milestone as a team."
PRWeek U.S. launched The Purpose Awards to recognize activations that use creative ideas to further positive causes and to acknowledge the organizations and individuals behind them. The awards celebrate agencies, brands, public sector bodies, nonprofits and NGOs. Consumers and potential staffers increasingly insist on the brands they engage with and organizations they work for communicating what they believe in and standing up publicly for those values. Winning a Purpose Award honors authenticity in this crucial area.
"From Larry Fink's CEO letter at Blackrock to the Business Roundtable statement to Levi's petition on gun safety, purpose is front and center for the modern corporation," said Steve Barrett, VP, editorial director of PRWeek. "The winners of PRWeek's inaugural Purpose Awards represent the best practice case studies all enterprises should aspire to emulating."
For more information about the 2019 PRWeek Purpose Awards, please visit https://www.prweekpurposeawards.com/.
About Porter Novelli
Porter Novelli is a global public relations agency born from the idea that the art of communication can advance society. More than 45 years ago, we opened our doors – and people's eyes and minds – for brands driven to make a positive impact. Today, we believe that organizations must find, live and tell their Purpose in order to thrive. Those companies will motivate action, secure loyalty and encourage advocacy — all in service to a healthier bottom line. For additional information, please visit www.porternovelli.com/. Porter Novelli is a part of the Omnicom Public Relations Group.
About Omnicom Public Relations Group
Omnicom Public Relations Group is a global collective of three of the top global public relations agencies worldwide and specialist agencies in areas including public affairs, marketing to women, global health strategy and corporate social responsibility. It encompasses more than 6,300 public relations professionals in more than 370 offices worldwide who provide their expertise to companies, government agencies, NGOs and nonprofits across a wide range of industries. Omnicom Public Relations Group delivers for clients through a relentless focus on talent, continuous pursuit of innovation and a culture steeped in collaboration. Omnicom Public Relations Group is part of the DAS Group of Companies, a division of Omnicom Group Inc. (NYSE: OMC) that includes more than 200 companies in a wide range of marketing disciplines including advertising, public relations, healthcare, customer relationship management, events, promotional marketing, branding and research.

Porter Novelli/Cone