Published 10-22-19
Submitted by Arrow Electronics, Inc.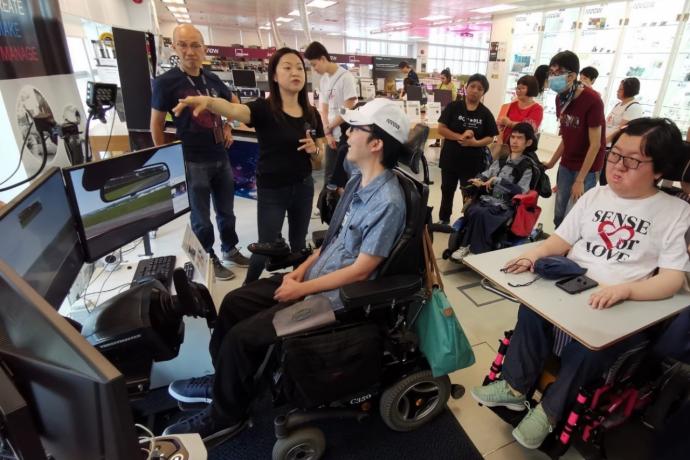 Arrow Electronics hosted members of the Families of SMA (Spinal Muscular Atrophy) Charitable Trust at the Arrow Open Lab at Hong Kong Science Park. The trust offers innovative direct-help programs including outings for SMA patients and their families to promote support and understanding of spinal muscular atrophy, a genetic disease that causes muscles to become weak and shrink. 
Arrow employees provided tours and showcased technologies the company is developing to improve people's daily lives and expand accessibility, including the SAM Car, designed to allow Sam Schmidt, a quadriplegic former IndyCar racer, to drive using only the motions of his head. 
"Special thanks to Arrow for inviting our SMA patients to the laboratory and office in Science Park for a very informative visit and review of high-tech devices," said Dr Mei Ling Fok, founder and chairman of FSMA. "All SMA friends and families had an amazing day."
Arrow believes that purposeful community engagement makes for happier employees and a stronger company and invites employees to share their unique skills and perspectives in service to others.
"This was a meaningful event for us," said Vivian Kwok, vice president of human resources for Arrow. "It provided an invaluable opportunity for members of the trust to step out of their homes and visit the Science Park, while also giving them the chance to exchange information and connect with each other."
About Arrow Electronics
Arrow Electronics (NYSE:ARW) guides innovation forward for over 200,000 leading technology manufacturers and service providers. With 2018 sales of $30 billion, Arrow develops technology solutions that improve business and daily life. Learn more at FiveYearsOut.com.
###

Arrow Electronics, Inc.
Arrow Electronics, Inc.
Arrow Electronics is a global provider of products, services and solutions to industrial and commercial users of electronic components and enterprise computing solutions. Arrow serves as a supply channel partner for more than 150,000 original equipment manufacturers, value-added resellers, contract manufacturers, and commercial customers through a global network. The company maintains over 300 sales facilities and 45 distribution and value-added centers, serving over 80 countries. Learn more at www.fiveyearsout.com.
More from Arrow Electronics, Inc.