Published 10-22-19
Submitted by CSRHub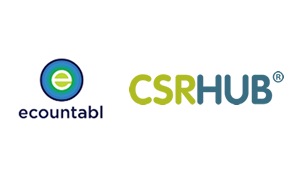 ecountabl, Inc., the technology company that helps Americans live up to their values in daily life, and CSRHub, a leading provider of corporate social responsibility (CSR) information, announced they have signed a license agreement that facilitates the use of CSRHub's best-in-class CSR information in ecountabl's groundbreaking consumer financial technology platform.
"ecountabl is pleased to be working with CSRHub to make corporate social and environmental information accessible and shareable for American consumers," said Cody Taylor, ecountabl co-founder. "CSRHub offers an incredible database of independent and trustworthy information that we can use to help individuals make purchasing decisions that align with their values."
ecountabl will use CSRHub data as an input to its revolutionary ecountabl Score, a consumer metric that helps individuals identify companies and brands that share their personal values in areas like climate protection, gender equality, racial diversity, human rights, and fair worker treatment. The ecountabl Score connects directly with users' personal financial accounts through the ecountabl mobile app.
"CSRHub is delighted to provide information to ecountabl's great service to drive more socially responsible consumer decisions," said Cynthia Figge, CSRHub Co-Founder and CEO.
About CSRHub
CSRHub, a New York-based certified B Corporation, provides access to one of the world's broadest and most consistent set of Environment, Social, Governance (ESG) ratings and information on 18,000 companies in 141 countries. Its Big Data algorithm combines millions of data points on ESG performance from hundreds of sources, including leading ESG analyst raters, to produce consensus scores on all aspects of corporate social responsibility and sustainability. CSRHub products are also available through partners including Bloomberg's App Store and Open:FactSet.
About ecountabl
ecountabl is a purpose-driven technology company that makes the social and environmental performance of companies accessible and shareable for ordinary Americans. Founded in 2019, we make independent data on thousands of companies available in our mobile app, connectable to personal financial accounts, and shareable on social media. We are a public benefit corporation with a mission to help people live up to their values in daily life. For more information, visit www.ecountabl.com.
Press Contact: info@ecountabl.com
Press Contact: csrhub.news@csrhub.com
Source: ecountabl Inc. and CSRHub
###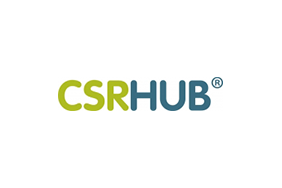 CSRHub
CSRHub
CSRHub provides access to the world's largest corporate social responsibility and sustainability ratings and information, covering over 13,700+ companies from 135 industries in 127 countries. By aggregating and normalizing the information from 370 data sources, CSRHub has created a broad, consistent rating system and a searchable database that links millions of rating elements back to their source. Managers, researchers and activists use CSRHub to benchmark company performance, learn how stakeholders evaluate company CSR practices, and seek ways to improve corporate sustainability performance.
CSRHub is a B Corporation, an Organizational Stakeholder (OS) with the Global Reporting Initiative (GRI), a silver partner with CDP (Carbon Disclosure Project), and an Advisory Council Member of Sustainability Accounting Standards Board (SASB).
More from CSRHub