Published 10-22-19
Submitted by Moody's Corporation
Village Capital announced today that two financial health startups, Monetus and ArriendoAsegurado, were selected by their peers as "most investment-ready" at the conclusion of Finance Forward: Latin America 2019, an accelerator to support financial health startups in Latin America. Each will receive USD $50,000 from MetLife Foundation, the proceeds of the grants will be used to strengthen and scale their operations.
The accelerator is part of the Finance Forward initiative, a multi-year, global coalition created by Village Capital with MetLife Foundation, PayPal, and regional support from local partners (including Moody's Corporation in Latin America) to support early-stage entrepreneurs building tech-enabled solutions around financial health on four continents.
The startups were selected as "most investment-ready" by their peers at the final workshop of the program of the Finance Forward Latin America 2019 program in Mexico City last week, in a Village Capital process known as peer-selected investment. Monetus (Brazil) builds diversified investment portfolios for its clients and guides them towards achieving their financial goals through planning, good investments, and design. ArriendoAsegurado (Chile) is a startup that solves the issue of renting a property by accelerating and increasing the access to formal housing without the need for a guarantor or months in advance.
Two previous workshops took place in São Paulo, Brazil and Santiago, Chile, in August and September.  This is the first time that Village Capital's unique program was launched in three different Latin American countries, making it the only one of its kind in the region.
"The eleven startups in this program are solving some of the most important financial health challenges in Latin America," said Allie Burns, CEO at Village Capital. "Our Finance Forward initiative is building on our ten years of global experience supporting financial health entrepreneurs, and four previous financial health accelerators in Latin America, to back meaningful innovation."
"We have seen progress in financial inclusion in the region, but it's time to take a step further and focus on how technology is being used to tackle financial health issues and help small businesses and individuals prepare for their future," said Daniel Cossío, Latin American Programs and Partnerships Manager at Village Capital.
"At MetLife Foundation we are very excited for the two selected companies in the Village Capital acceleration program. This program allowed entrepreneurs to support each other to continue creating solid solutions that encourage financial health in Latin America. Families and small businesses should be able to take better care of their finances and face challenges, save for the short and long term, and consolidate their future," says Nalleli García, Corporate Social Responsibility Manager for MetLife Mexico.
"As a company driven by technology and committed to the democratization of financial services for both people and small businesses around the world, PayPal is a proud ally of Village Capital and its Finance Forward initiative. We hope this global effort for financial health ignites action and positive change in Latin America" says Julie Vennewitz-Pierce, Director at PayPal.
"Empowering people with financial knowledge, and the confidence to use it, helps open doors to a better future," said Arlene Isaacs-Lowe, Global Head, Moody's Corporate Social Responsibility. "We proudly support The Finance Forward initiative which enables start-ups across Latin America to help transform the financial health of the communities around them."
Finance Forward Latin America 2019 will close with a visit to Buenos Aires, Argentina in the last week of October where the peer-selected startups will meet local investors and VC funds. With this last event, Village Capital and their partners MetLife Foundation, PayPal and Moody's as a regional partner reaffirm their role as a coalition towards financial health in Latin America.
* * *
About Village Capital
Village Capital helps entrepreneurs bring big ideas from vision to scale. Our mission is to reinvent the system to back the entrepreneurs of the future. Our vision is a future where business creates equity and long-term prosperity. Since 2009, we have supported more than 1,000 early-stage entrepreneurs through our investment readiness programs. Our affiliated fund, VilCap Investments, has invested in more than 100 program graduates, including 9 early-stage Latin American companies like Fintual, ePesos and Mutuo Financiera.
Press Contact for Village Capital Latin America:
Daniela Guerrero | (+52) 55 3224 9557 | daniela.guerrero@vilcap.com
About MetLife Foundation
At MetLife Foundation, we believe financial health belongs to everyone. We bring together bold solutions, deep financial expertise and meaningful grants to build financial health for people and communities that are underserved and aspire for more. We partner with organizations around the world to create financial health solutions and build stronger communities, engaging MetLife employee volunteers to help drive impact. MetLife Foundation was created in 1976 to continue MetLife's long tradition of corporate contributions and community involvement. Since its founding through the end of 2018, MetLife Foundation provided $822 million in grants and $85 million in program-related investments to make a positive impact in the communities where MetLife operates. To date, our financial health work has reached 9.9 million low-income individuals in 42 countries. To learn more about MetLife Foundation, visit www.metlife.org
About PayPal
PayPal has remained at the forefront of the digital payment revolution for more than 20 years. By leveraging technology to make financial services and commerce more convenient, affordable, and secure, the PayPal platform is empowering more than 286 million consumers and merchants in more than 200 markets to join and thrive in the global economy. For more information on PayPal, visit https://www.paypal.com/about. For PayPal Holdings, Inc. financial information, visit https://investor.paypal-corp.com
Regional ally for Finance Forward: Latin America
Moody's Corporation
Moody's is an essential component of the global capital markets, providing credit ratings, research, tools and analysis that contribute to transparent and integrated financial markets. Moody's Corporation (NYSE: MCO) is the parent company of Moody's Investors Service, which provides credit ratings and research covering debt instruments and securities, and Moody's Analytics, which offers leading-edge software, advisory services and research for credit and economic analysis and financial risk management. The Corporation, which reported revenue of $4.4 billion in 2018, employs approximately 13,200 people worldwide and maintains a presence in 44 countries. Further information is available at www.moodys.com
Moody's believes in a world where more people have access to opportunity, and where everyone has what they need to grow and thrive. We are committed to opening the door to a better future through our global corporate social responsibility programs empowering people around the world with the knowledge, resources and confidence they need to succeed. For more information visit www.moodys.com/csr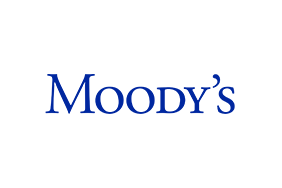 Moody's Corporation