Published 10-09-19
Submitted by onsemi
ON Semiconductor (Nasdaq: ON), driving energy efficient innovations, has been included in the Dow Jones Sustainability Index (DJSI) North America, recognizing companies with sustainable business practices. This is the second time the company has been included in the index.
The Dow Jones Sustainability Index jointly calculated by Standard & Poor's Dow Jones Index and Switzerland-based RobecoSAM, selects companies for their excellent sustainability through the assessment of numerous criteria such as corporate governance, customer relations, environmental policy, working conditions and social initiatives. The index serves as benchmark for those investors that seek to integrate sustainability considerations into their portfolios.
"As the company celebrates its 20 year milestone IPO year in 2020, it has transformed into a trusted, ethical supplier of choice for power, analog, sensor and connectivity solutions," said Keenan Evans, senior vice president of global quality, reliability, environmental health and safety and corporate social responsibility at ON Semiconductor. "This honor recognizes that highly ethical behavior, socially responsible programs and environmentally sustainable operations are deeply rooted in ON Semiconductor corporate culture and are supported by our core values of Respect, Integrity and Initiative."
"As sustainability becomes a much bigger focus for investors, this is an important designation for us in the global marketplace," said Theresa Haywood-McCarley, director of quality systems and corporate social responsibility at ON Semiconductor. "We benchmark our programs, policies and processes against global standards and best in class practitioners in order to continually improve our performance and be recognized as a world-class corporate citizen."
ON Semiconductor continues to be recognized for its commitment to environmentally sustainable operations and ethical business practices. A member of the Responsible Business Alliance, ON Semiconductor has been recognized as one of the World's Most Ethical Companies® four years in a row as well as being named Barron's 100 "Most Sustainable Companies" in 2017 and 2018, as well as ranking #485 on the 2019 Fortune 500, #13 on Forbes Digital 100 and #40 on the Fortune 100 Fastest Growing Companies. Click here to download the company's most recent Corporate Social Responsibility Report.
About ON Semiconductor
ON Semiconductor (Nasdaq: ON) is driving energy efficient innovations, empowering customers to reduce global energy use. The company is a leading supplier of semiconductor-based solutions, offering a comprehensive portfolio of energy efficient power management, analog, sensors, logic, timing, connectivity, discrete, SoC and custom devices. The company's products help engineers solve their unique design challenges in automotive, communications, computing, consumer, industrial, medical, aerospace and defense applications. ON Semiconductor operates a responsive, reliable, world-class supply chain and quality program, a robust compliance and ethics program, and a network of manufacturing facilities, sales offices and design centers in key markets throughout North America, Europe and the Asia Pacific regions. For more information, visit http://www.onsemi.com.
# # #
ON Semiconductor and the ON Semiconductor logo are registered trademarks of Semiconductor Components Industries, LLC. All other brand and product names appearing in this document are registered trademarks or trademarks of their respective holders. Although the company references its Web site in this news release, such information on the Web site is not to be incorporated herein.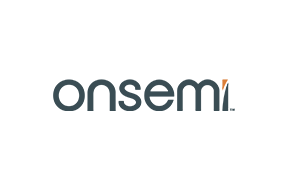 onsemi
onsemi
onsemi (Nasdaq: ON) is driving disruptive innovations to help build a better future. With a focus on automotive and industrial end-markets, the company is accelerating change in megatrends such as vehicle electrification and safety, sustainable energy grids, industrial automation and 5G and cloud infrastructure. With a highly differentiated and innovative product portfolio, onsemi creates intelligent power and sensing technologies that solve the world's most complex challenges and leads the way in creating a safer, cleaner and smarter world. Learn more about onsemi at www.onsemi.com.
Corporate Social Responsibility at onsemi: We believe in our people, culture and ability as good corporate citizens to address climate issues, sustainability and positively impact the communities where we work and live. Empowering the right people and partners creates long-term shared value to further our commitment to the triple bottom line of people, planet and profit. Since our first Corporate Social Responsibility (CSR) Statement of Commitment in 2008, our program has continually grown through innovation in our initiatives and strategic goals to deliver value to our stakeholders. Our philanthropic contributions, supporting nonprofits and educational institutions globally, and employee volunteer efforts target societal needs.
More from onsemi