Published 10-08-19
Submitted by Addison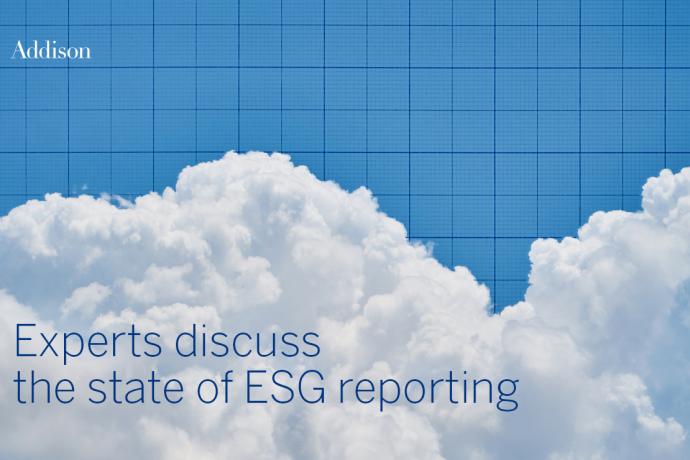 State of ESG Reporting--Addison | Click here to watch video
Wondering how Environmental, Social and Governance (ESG) reporting differs from CSR reporting? Trying to figure out what ESG information investors want? Curious to know what ESG trends are on the horizon? These topics and more are covered in Addison's latest podcast on the Current State of ESG Reporting. 
Judy Sandford, Managing Director of CSR and Sustainability for Addison, hosts experts Gail Glazerman, Sector Analyst for SASB, and Michael Kraten senior professor of accounting and finance at Houston Baptist University, and SILC Committee member, for a free-ranging conversation.
You'll learn:
Popular global frameworks for ESG reporting

Investors' preferred formats for receiving ESG information

Pros and cons of ESG transparency

Best practices for communicating ESG data authentically and effectively

Why it's important for companies to report ESG performance
Listen to this podcast on Addison.com.
# # #
Addison
Addison
Addison is a creative agency with over 100 award-winning thinkers, designers, content creators, digital storytellers, and developers. Our strength is strategic communication — brilliantly executed across all channels.
Established 10 years ago, our CSR and Sustainability practice offers some of the most comprehensive capabilities in our industry. We have produced more than 100 sustainability reports for our Fortune 500 clients and others. We have 50 years combined experience in the field and our entire team is GRI certified. One client was selected for the Dow Jones Sustainability Index (DJSI) for North America on the strength of its public report alone.
Services include materiality analysis, stakeholder engagement, goal and KPI development, CSR and sustainability reporting against major frameworks (GRI, SDG, SASB, etc.), report writing and production, communications planning, employee engagement, digital experiences, and social media campaigns.
More from Addison