Published 10-03-19
Submitted by 3BL Forum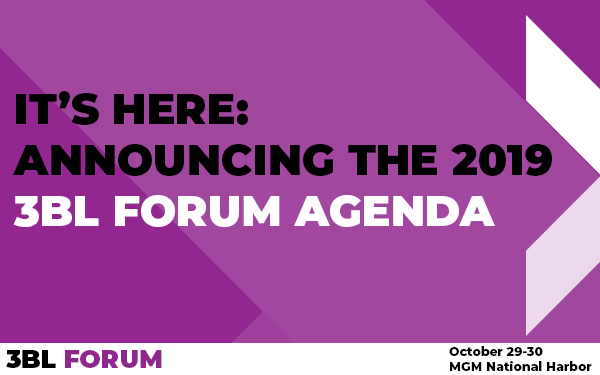 With less than a month before corporate responsibility, sustainability, HR, marketing and investor relations professionals take the main stage, we are excited to reveal the 2019 agenda for 3BL Forum! Check out the official agenda here for panel descriptions and speaker lineups.
SESSION SPOTLIGHT:
"Authenticity in the Age of Purpose-Washing" with Porter Novelli/Cone and CVS Health: More companies are choosing to lead with purpose. Yet, while some brands live and breathe their purpose, other efforts are only skin-deep. Let's take a look at the good and the bad of purpose and how a company "pulls purpose" through the entire brand experience – to authentically find, live and tell their purpose.
"Hiring from America's Most Overlooked Talent Pool: Formerly Incarcerated People" with M. Glover Capital, Greyston Bakery, Defy Ventures and All Broads Affordable Plumbing: With worker shortages on the rise, are you considering your company-wide hiring practices that might eliminate a broad swath of potential workers? For formerly incarcerated people, the opportunity for employment is the difference between a successful and stable reentry versus an unstable reentry and/or return to prison. What are your perceptions and biases about hiring people with criminal histories? Will you reexamine your company's hiring practices?
"A Call for Resiliency: What Disasters Tell Us About Climate Crisis" with The Guardian US, Arbor Day Foundation, The UPS Foundation, United Airlines and Good360: Disasters are the "canary in the coal mine" in the looming climate crisis. What do today's disasters tell us about what's coming (and it's only going to get worse)? How resilient are we? What MUST companies do to step it up?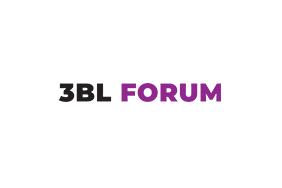 3BL Forum
3BL Forum
THE NEW YORK STAGE IS SET.
3BL Forum will continue its newly established tradition of bringing corporate leaders together on a fast-paced main stage, keenly focused on the 'why' and 'how' as business amplifies its leadership and elects to lead on environmental, social and governance issues.
Our main stage will feature legacy companies, sustainable businesses, NGOs and leading agencies. This 2-day conversation will be curated to bring forth new perspectives, nuances in thinking, candid insights, and revelations above and beyond the ordinary. 
3BL Forum is produced by 3BL Media, the world's leading communications partner for purpose-driven organizations.
More from 3BL Forum