Published 09-25-19
Submitted by Fair Trade USA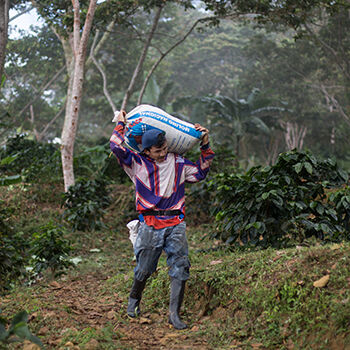 Above: Jose Contreras, 38, carries a full sack of recently harvested, organic, Fair Trade Certified coffee cherries.Below: "I have been working with Kagaari North Farmers Cooperative Society since 2010. In that time, members have increased their coffee
On International Coffee Day (Sunday, September 29, 2019), Fair Trade USA® is encouraging coffee drinkers to choose Fair Trade Certified™ options as part of its #JustOneCup campaign to help lift farmers across the world out of poverty.
Today, coffee producers (including farmers) are facing a critical crisis. Prices have collapsed below $1 per pound. The New York Coffee "C" Contract price—the benchmark for determining price between coffee producers and buyers—dropped from approximately $2 per pound in 2014 to merely $0.89 per pound in May 2019, more than a 50 percent drop and a 14-year low. At this price, farmers are unable to cover even the most basic costs associated with coffee production. In other words, coffee at its current price means that farmers lose money with every sale, debt piles up, and communities go hungry, even when many sell their beans to the world's best-known specialty coffee brands.
Fair Trade USA equips farmers to face these challenges as the only mainstream model that guarantees a minimum price for coffee. Despite market fluctuations, producers who sell on fair trade terms receive, at minimum, $1.40 per pound for their coffee. And this is just the baseline. Fair Trade USA goes further by delivering an additional $0.20 per pound through its Community Development Funds, which farmers decide together how to spend to serve community needs. In the past, for example, farmers at coffee-growing cooperatives in northern Nicaragua decided to use their Community Development Funds to purchase school supplies and invested in a scholarship program that benefits 80 children a year, reducing their community's dropout rate. In 2018 alone, producers of Fair Trade Certified coffee earned $35 million in additional income through these funds.
Americans drink more than 400 million cups of coffee per day and can spend up to $5-6 per coffee/latte at a specialty coffee shop. The Wall Street Journal reported last year that the price of specialty coffee purchased at retail rose to $23.87 per pound, even though the composite price for coffee purchased from farmers fell to just 99 cents per pound. If this pattern continues, we'll start to see fewer coffee-producing regions, and those specialty coffee shops will see less quality and diversity in the coffees they are able to access. If consumers instead opt for Trade Certified coffee and demand more brands purchase on fair trade terms, they'll help ensure producers earn at least $1.40 per pound (which is, at date of publish, 40 percent more than going market price). This vital income assurance helps them break the cycles of poverty currently crippling the industry.
"Right now is a pivotal moment for brands to make a positive impact through pledging certification of fair trade coffee," said ­­­­­­­­­­Danielle Jezienicki, Director of Corporate Social Responsibility, Williams Sonoma, Inc. "We're proud to expand our commitment to improve the livelihoods of coffee farmers and the environment through responsible sourcing. By the beginning of 2020, all of Williams Sonoma's branded coffee will be Fair Trade Certified."
Fair Trade USA's #JustOneCup campaign emphasizes the dire importance of the Fair Trade Minimum Price for producers during this current coffee crisis. The campaign challenges consumers to make their daily cup of coffee a Fair Trade Certified cup, to help farmers build sustainable livelihoods. The coffee crisis cannot be ignored. In addition to supporting a shift in coffee consumption, Fair Trade USA is also urging consumers to sign the Fair Trade Campaigns Change.org petition to hold coffee companies accountable for their role in ending this crisis by committing to minimum prices.
How to get involved:
Featured Fair Trade Certified coffee brand partners: Allegro, Laughing Man Coffee, Equator Coffee, Death Wish Coffee, Green Mountain Coffee Roasters, Brandless, Barrie House, Brooklyn Coffee.
To find all Fair Trade Certified coffee brands, see here.
Facebook: @Fairtradecertified
Instagram: @fairtradecertified
Twitter: @FairTradeCert
About Fair Trade USA
Fair Trade USA® is a tax-exempt 501(c)(3) nonprofit organization and the leading certifier of fair trade products in North America. Its trusted Fair Trade Certified™ seal on a product signifies that it was made according to rigorous fair trade standards that promote sustainable livelihoods and safe working conditions, protection of the environment, and strong, transparent supply chains. Rather than creating dependency on aid, Fair Trade USA's model empowers farmers, workers, and fishermen to fight poverty and earn additional money to improve their communities. Winner of Fast Company's Social Enterprise of the Year Award and recognized as a leading social venture by the Clinton Global Initiative, the Skoll Foundation, and Ashoka, Fair Trade USA also helps brands and retailers tell their stories of impact and educate consumers about the power of their purchase.
Contact: Kasi Martin, Fair Trade USA kmartin@fairtradeusa.org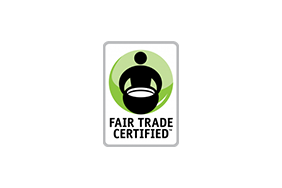 Fair Trade USA
Fair Trade USA
Fair Trade USA (previously TransFair USA), a nonprofit organization, is the leading third-party certifier of Fair Trade products in the United States. Fair Trade USA audits and certifies transactions between U.S. companies and their international suppliers to guarantee that the farmers and workers producing Fair Trade Certified goods were paid fair prices and wages, work in safe conditions, protect the environment, and receive community development funds to empower and uplift their communities. Fair Trade USA educates consumers, brings new manufacturers and retailers into the Fair Trade system, and provides farming communities with tools, training and resources to thrive as international businesspeople. Visit http://www.fairtradeusa.org for more information.
More from Fair Trade USA