Published 09-16-19
Submitted by Yum! Brands
Yum! Brands (NYSE: YUM) was once again named to the Dow Jones Sustainability North America Index (DJSI) for its continued commitment to sustainable business practices. This is the third consecutive year that the Company has been named to the DJSI, regarded as one of the leading sustainability benchmarks among both businesses and investors.
"Over the past year, Yum! has made significant progress when it comes to our responsible business practices from continuing to remove antibiotics important to human medicine in our supply chain to investing in sustainable packaging to expanding our deforestation commitments," said Jon Hixson, Yum! Brands vice president of global government affairs and sustainability. "I'm proud of the work we're doing in this space around the world, and being recognized by the Dow Jones Sustainability North America Index for the third consecutive year further supports our commitment to a more sustainable future."
Since launching in 1999, the DJSI has become a leading global index that tracks the sustainability performance of businesses. In collaboration with RobecoSAM, the index assesses and ranks the economic, environmental and social impact of around 3,500 publicly traded companies. View details about the 2019 DJSI here.
"We congratulate Yum! Brands for being included in the Dow Jones Sustainability North America Index. The SAM Corporate Sustainability Assessment has again raised the bar in identifying those companies best-positioned to address future sustainability challenges and opportunities," said Manjit Jus, Head of ESG Ratings, RobecoSAM. "This year – which marks the 20th anniversary of the DJSI – record corporate interest in the SAM CSA reflects the enduring relevance of the DJSI for measuring and advancing ESG practices."
Yum! Brands recently released its 2018 Global Citizenship & Sustainability Progress Update, highlighting the Company's progress and commitments around its food, planet and people, as it continues to partner with employees, franchise owners and suppliers, to serve more goodness and keep sustainability at the forefront of its business. 
Learn more about Yum!'s citizenship and sustainability efforts and progress against its commitments here.
About Yum! Brands, Inc.
Yum! Brands, Inc., based in Louisville, Kentucky, has over 48,000 restaurants in more than 145 countries and territories primarily operating the company's restaurant brands – KFC, Pizza Hut and Taco Bell – global leaders of the chicken, pizza and Mexican-style food categories. Worldwide, the Yum! Brands system opens over eight new restaurants per day on average, making it a leader in global retail development. In 2019, Yum! Brands was named to the Dow Jones Sustainability North America Index and ranked among the top 100 Best Corporate Citizens by Corporate Responsibility Magazine. In 2019, Yum! Brands was named to the Bloomberg Gender-Equality Index for the second consecutive year.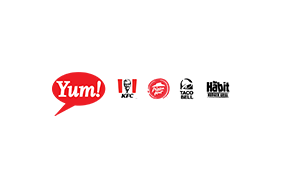 Yum! Brands
Yum! Brands
Yum! Brands, Inc., based in Louisville, Kentucky, has over 48,000 restaurants in more than 145 countries and territories primarily operating the company's restaurant brands - KFC, Pizza Hut and Taco Bell - global leaders of the chicken, pizza and Mexican-style food. Worldwide, the Yum! Brands system opens over eight new restaurants per day on average, making it a leader in global retail development. In 2018, Yum! Brands was named to the Dow Jones Sustainability North America Index and ranked among the top 100 Best Corporate Citizens by Corporate Responsibility Magazine. In 2019, Yum! Brands was named to the Bloomberg Gender-Equality Index for the second consecutive year. For more information on Yum! Brands, visit yum.com. Yum! Media Line: 502.874.8200
More from Yum! Brands