Published 09-13-19
Submitted by Arrow Electronics, Inc.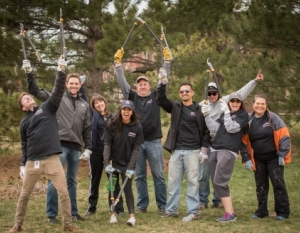 Arrow Electronics received a 2019 Corporate Social Responsibility Award from Ragan's PR Daily for its employee engagement platform, Arrow Charitable. The awards honor campaigns, programs and initiatives that are changing the world for the better. 
PR Daily recognized Arrow for expanding access to Arrow Charitable to employees across the  Americas and for making it easy for Arrow staff to contribute to their communities. In 2018, 24 percent of Arrow's employees used the platform to support 165 charities, logging nearly 6,000 volunteer hours at 747 events. 
"The importance of an organization's purpose has been on the rise for several years. Millennial employees (and prospects) in particular want to work for organizations that have a higher calling," said PR Daily in announcing Arrow's award. "Arrow Electronics recognizes this trend and believes that purposeful community engagement makes employees more engaged and the company stronger." 
Arrow's expansion of Arrow Charitable demonstrates a commitment to taking corporate social responsibility companywide. The company's goal is to increase employee giving and volunteering by 10 percent in 2019.
Arrow has earned five CSR awards from PR Daily over the last three years, including two for employee engagement, two for CSR reporting and one for education programs. To view the full list of this year's winners, visit: www.prdaily.com/awards/corporate-social-responsibility-awards/2019/winners/
About Arrow Electronics
Arrow Electronics (NYSE:ARW) guides innovation forward for over 200,000 leading technology manufacturers and service providers. With 2018 sales of $30 billion, Arrow develops technology solutions that improve business and daily life. Learn more at FiveYearsOut.com.
###

Arrow Electronics, Inc.
Arrow Electronics, Inc.
Arrow Electronics is a global provider of products, services and solutions to industrial and commercial users of electronic components and enterprise computing solutions. Arrow serves as a supply channel partner for more than 150,000 original equipment manufacturers, value-added resellers, contract manufacturers, and commercial customers through a global network. The company maintains over 300 sales facilities and 45 distribution and value-added centers, serving over 80 countries. Learn more at www.fiveyearsout.com.
More from Arrow Electronics, Inc.