Published 09-12-19
Submitted by SunTrust Bank
SunTrust Banks, Inc. (NYSE:STI) has announced it will give $250,000 to the American Red Cross for disaster relief and recovery efforts in support of the communities and businesses impacted by Hurricane Dorian and the global efforts of the Red Cross to help in the Bahamas. The SunTrust Bank donation is to aid first responders as they bring relief to people who've lost their homes and need food and shelter.
 
"We're committed to ensuring people get the assistance they need for their well-being as they begin to recover from the devastation of the storm," said Bill Rogers, chairman and CEO of SunTrust Bank.
 
SunTrust Bank will also accept financial donations for American Red Cross relief efforts in all branches through Oct. 18.
About SunTrust Banks, Inc.
SunTrust Banks, Inc. (NYSE: STI) is a purpose-driven company dedicated to Lighting the Way to Financial Well-Being for the people, businesses, and communities it serves. SunTrust leads onUp, a national movement inspiring Americans to build financial confidence. Headquartered in Atlanta, the Company has two business segments: Consumer and Wholesale. Its flagship subsidiary, SunTrust Bank, operates an extensive branch and ATM network throughout the high-growth Southeast and Mid-Atlantic states, along with 24-hour digital access. Certain business lines serve consumer, commercial, corporate, and institutional clients nationally. As of June 30, 2019, SunTrust had total assets of $222 billion and total deposits of $161 billion. The Company provides deposit, credit, trust, investment, mortgage, asset management, securities brokerage, and capital market services. Learn more at suntrust.com.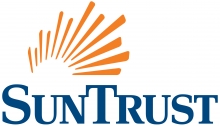 SunTrust Bank