Published 09-11-19
Submitted by North Carolina Employee Ownership Center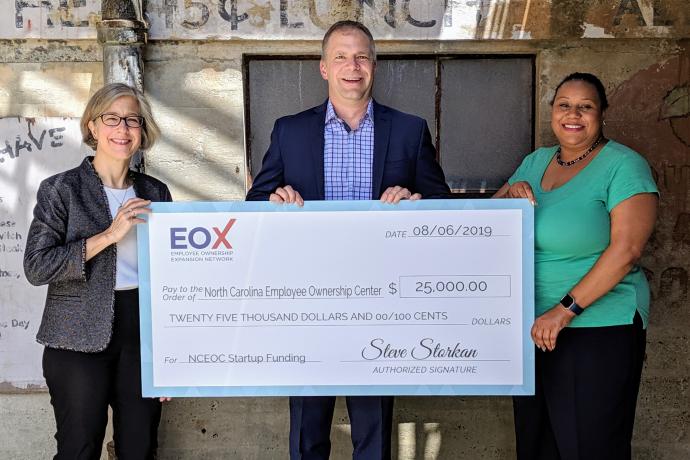 Left to right: Anne-Claire Broughton, Steve Storkan, and La-Tasha Best-Gaddy (Photo credit: Austin Amandolia)
As an entire generation of Baby Boomer business owners look towards retirement, a group of partners has launched a valuable new resource: the North Carolina Employee Ownership Center (NCEOC). The NCEOC provides education around Employee Stock Ownership Plans (ESOPs), worker cooperatives, and Employee Ownership Trusts (EOTs) as strong exit options that also preserve jobs and community impacts. Dedicated to increasing community wealth and creating a more vibrant, inclusive economy, NCEOC has a particular focus on preserving minority businesses through employee ownership. 
According to Down Home Capital, a report produced by NCEOC Board Secretary Patrick McHugh of the NC Budget and Tax Center, the population of North Carolinians reaching retirement age over the next 15 years is expected to grow by more than 200,000 to as many as 1.5 million by 2030. Small to medium-sized businesses often fail to plan for retirement, resulting in job losses that hurt communities – and that could be prevented. 
"This is a key moment in history with many private business owners retiring," says NCEOC Interim Executive Director Anne-Claire Broughton. "Those who don't have children ready to take the helm or a ready buyer are at risk of closing down. Exiting via employee ownership can provide an owner with excellent tax benefits while preserving their legacy, local jobs, and community impacts."
Bryan T. Hall, President & CEO of Graphic Visual Solutions in Greensboro, NC, is one such business owner. In 1985, Hall founded his business in partnership with his father Tom and grew it to five business divisions and more than 100 employees. A few years ago he and his wife Wendy transitioned the firm to 100% ESOP. "We explored many exit strategies but once we learned more about ESOPs, we realized that was the perfect option for us," he explains. "We have always been very mindful of our employees and were thrilled to give them the opportunity to carry the company's values, legacy, and sustainability forward for many years to come. It's great to see the establishment of a state center that will allow many more companies to learn about and experience the benefits of employee ownership." 
The North Carolina Employee Ownership Center is the first of many investments expected to be made by the Employee Ownership Expansion Network (EOX), a national nonprofit focused on increasing the number of employee-owned enterprises across the U.S. by seeding and supporting a network of state employee ownership centers using the pilot center in Pennsylvania started in 2016 by the National Center for Employee Ownership as a model. "Currently, the option to transfer ownership of a business to its employees is known by less than 10% of all baby boomer business owners," says Steve Storkan, EOX Executive Director and NCEOC Board member. "The education and outreach being done by the NCEOC and other state centers is a powerful tool to increase this number." And there are additional benefits to employee ownership, Storkan adds. "By educating businesses about employee ownership, we are offering a solution to the wealth inequality problem without needing to rely on legislation or government action."
Wealth inequality is particularly acute in historically underserved communities, adds Todd Leverette, Program Manager-Worker Cooperative Conversions at the Democracy at Work Institute (DAWI). "DAWI has provided initial support to NCEOC to begin outreach to business owners of color and those that employ more than 50% people of color in North Carolina in the hopes of converting many to democratic employee-owned businesses that will help preserve and anchor wealth amongst historically underserved populations," says Leverette.
In addition to EOX and DAWI, The Industrial Commons is also a founding sponsor of NCEOC, with part of its funds going to translating the NCEOC website into Spanish to better serve more North Carolina businesses.
NCEOC was founded by Interim Executive Director Anne-Claire Broughton (Principal of Broughton Consulting, LLC) and founding board members La-Tasha Best-Gaddy, NCEOC Co-Chair and Treasurer (Business Counselor at SBTDC at NCCU), Molly Hemstreet, NCEOC Co-Chair (Executive Co-director at The Industrial Commons), Patrick McHugh, NCEOC Secretary (Senior Public Policy Analyst at the NC Budget and Tax Center), and Steve Storkan (Executive Director at EOX).
The NCEOC will hold a convening on Tuesday, September 17 at 9:30 AM for employee-owned businesses, service providers, field builders, community leaders, public officials, and other interested parties to learn more about the NCEOC, provide input, and learn ways to support the expansion of employee ownership in North Carolina. For more information, contact Anne-Claire Broughton at acbroughton@nceoc.org. 
Contact:
Anne-Claire Broughton
Interim Executive Director, NCEOC
acbroughton@nceoc.org
919-306-2090
###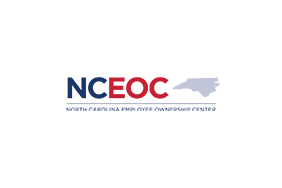 North Carolina Employee Ownership Center
North Carolina Employee Ownership Center
The North Carolina Employee Ownership Center (NCEOC) serves as the central hub for employee-owned businesses in North Carolina. Its primary mission is to educate business owners and their advisors (lawyers, bankers, accountants, wealth advisors) on the benefits of employee ownership via Employee Stock Ownership Plans (ESOPs), worker cooperatives, and Employee Ownership Trusts (EOTs). NCEOC provides resources, case studies and articles, and a list of service providers who can assist with employee ownership transitions. NCEOC serves the entire state of North Carolina, with a particular focus on outreach to minority-owned businesses.
More from North Carolina Employee Ownership Center