Published 09-04-19
Submitted by Ceres

The Trump administration's proposed rollback of federal methane regulations is "another dangerous, ill-advised maneuver that aims to sabotage climate action while flying in the face of investor concerns," said Andrew Logan, senior director of oil and gas at Ceres, adding that "all eyes are now squarely on the oil and gas companies to see where they stand on methane."
The proposal, announced yesterday by the U.S. Environmental Protection Agency administrator Andrew Wheeler, aims to roll back the common sense rule that would have required oil and gas companies to check for and reduce leaks of methane — a highly harmful greenhouse gas with 80 times the heating-trapping power of carbon dioxide. At the same time, methane is a valuable product for oil and gas companies and their investors, who see methane leaks as a waste of assets. The oil industry is the country's largest source of methane emissions. 
In a dynamic that has become common during President Trump's tenure, major companies including BP, ExxonMobil and Shell have voiced their support for federal regulation of methane — diverging from their trade associations and demonstrating an understanding of both the way stronger standards promote innovation and investment, as well as reduce emissions at a time when the world must rapidly decarbonize. Investors will be watching closely to see whether these companies and their peers act consistently with their previous statements by urging the EPA not to roll back these critical regulations during its public comment period.
Logan added:
"The methane rule serves as a put up or shut up moment for oil and gas companies. We've seen major players issue statements of support for the methane rule in the past, all while remaining tethered to trade associations like the American Petroleum Institute (API) that have actively lobbied for its elimination. Given the level of investor scrutiny on this issue, it won't be possible for companies to hide behind the API any longer. In the wake of this proposed rollback, you can expect investors to demand these companies decide, once and for all, where they stand."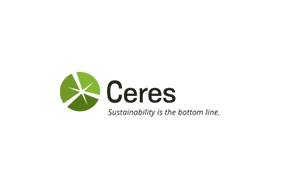 Ceres
Ceres
Ceres is a sustainability nonprofit organization working with the most influential investors and companies to build leadership and drive solutions throughout the economy. Through powerful networks and advocacy, Ceres tackles the world's biggest sustainability challenges, including climate change, water scarcity and pollution, and human rights abuses.
More from Ceres