Published 08-28-19
Submitted by Fair Trade USA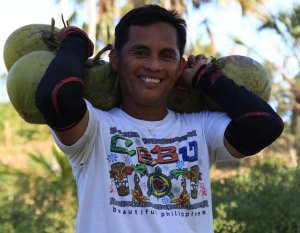 Industry leaders, companies, and innovators in the coconut community will gather for the 2nd World Coconut Congress this week in Manilla, Philippines. Fair Trade USA®, the leading certifier of fair trade products in North America, is pleased to announce that Molly Renaldo, Business Development Manager of the coconut program, will speak about the impact of Fair Trade Certification on a market dynamics panel Wednesday, August 28th at 4 p.m. local time.  
The event gathers professionals across all levels of the coconut value chain, from farmers to brands, and from all corners of the world.  The World Coconut Congress will cover topics ranging from Emerging Coconut Products, Supply and Value Chains, and Health & Wellness. 
In response to the explosion of coconut value-added products on the U.S. market from 2011-2013, Fair Trade USA launched its coconut certification program in late 2013. Since its inception, the company has partnered with many brand leaders in the sustainable coconut market such as Nutiva, cocokind, and Kroger's Simple Truth. The nonprofit organization's fair trade program currently benefits more than 12,000 coconut farmers and their families.  
Fair Trade USA's coconut program has also shown that smallholder farmers are ready to take a lead role in the sustainable development of their communities with only modest training and community organization support. Since 2013, almost $3.5 million in fair trade premiums have been directed towards coconut-producing communities, supporting impressive farmer-led projects such as micro-lending programs, agricultural extension, health expense support, and calamity insurance."¯In 2018, Fair Trade premiums grew 103% over the previous year, adding up to over $1.13 million reinvested into coconut farmers and their communities. 
In the past 15 years, the global demand for coconut has grown by more than 500% and despite the moderate slowing in some coconut by-products, Fair Trade Certified™ coconut sales continue to grow*.  This is evidenced by one upscale, national retailer who noted fair trade coconut water sales grew 34%, outpacing its conventional coconut water sales, which declined by 5 percent. 
Despite this market growth, the average coconut farmer in the Philippines lives below the poverty line on less than $1 per day. Without income to invest back into their crop, farmers"¯are defenseless against typhoons, pests,"¯aging trees"¯and other"¯environmental factors"¯that"¯wipe"¯out entire crops in"¯an instant."¯ 
"Coconut has graduated from the health-food aisle. It's not a craze, but a commodity that's here to stay," said Molly Renaldo, "Now our job now is to educate consumers and the market about the many challenges these farmers face and the need for the traceability provided by Fair Trade Certification. Just by seeking the seal, consumers can help change the circumstances for thousands of coconut farmers and ensure more equity in the supply chain." 
Fair Trade USA invites all those interested in supply chains, fair trade and coconut to attend Molly's session to learn about these topics in-depth.  
About Fair Trade USA   
Fair Trade USA® is a tax-exempt 501(c)(3) nonprofit organization and the leading certifier of fair trade products in North America. Its trusted Fair Trade Certified™ seal on a product signifies that it was made according to rigorous fair trade standards that promote sustainable livelihoods and safe working conditions, protection of the environment, and strong, transparent supply chains. Rather than creating dependency on aid, Fair Trade USA's model empowers farmers, workers, and fishermen to fight poverty and earn additional money to improve their communities. Winner of Fast Company's Social Enterprise of the Year Award and recognized as a leading social venture by the Clinton Global Initiative, the Skoll Foundation, and Ashoka, Fair Trade USA also helps brands and retailers tell their stories of impact and educates consumers about the power of their purchase. 
* Neilsen Data, Food Business News, "Choose the Best Sustainability Claim for your Products"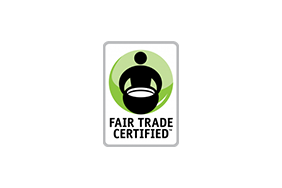 Fair Trade USA
Fair Trade USA
Fair Trade USA (previously TransFair USA), a nonprofit organization, is the leading third-party certifier of Fair Trade products in the United States. Fair Trade USA audits and certifies transactions between U.S. companies and their international suppliers to guarantee that the farmers and workers producing Fair Trade Certified goods were paid fair prices and wages, work in safe conditions, protect the environment, and receive community development funds to empower and uplift their communities. Fair Trade USA educates consumers, brings new manufacturers and retailers into the Fair Trade system, and provides farming communities with tools, training and resources to thrive as international businesspeople. Visit http://www.fairtradeusa.org for more information.
More from Fair Trade USA