Published 08-15-19
Submitted by Reputation Institute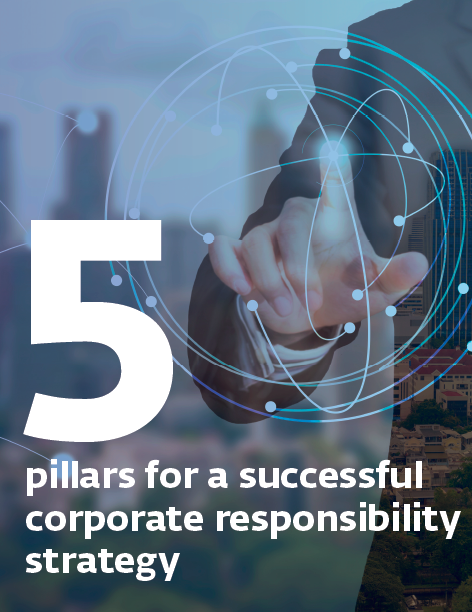 Corporate Responsibility (CR) is not a "nice to have". It cannot be a siloed programme isolated from the rest of a business. Reputation Institute (Ri) data shows that responsible business practices make people 9.4% more likely to purchase a firm's products or services, 8.1% more likely to work for that company and 7.7% more likely to invest in it.
Here are the five top things that make successful Corporate Responsibility programmes work:
Leadership is actively engaged. Gone are the days of a head of sustainability making a company feel good about itself by tacking a recycling initiative or charity partnership onto the serious business of making money. Behind the quality of its products or services, a company's corporate responsibility is the second biggest driver of its reputation, Reputation Institute research shows. Just as your company wouldn't (or at least, it shouldn't) push forward with launching a major new product without C-suite buy-in, so it shouldn't accept board indifference towards a CR strategy.


Alignment with brand purpose. There's nothing wrong with allowing staff to pursue favoured causes at an individual level. But for a company-wide responsibility initiative to work, it has to align in a meaningful way with the company's brand purpose. By doing so, you ensure responsibility permeates everything you do. This connection is most easily established through a link to a company's core products and services.


Action, not rhetoric. All talk, no action. That's exactly what business must avoid – be it in product delivery, employee engagement, or CR. It's one thing claiming to care about, for example, your industry's lack of social mobility – it's another thing entirely to tackle it and another still to achieve results. Companies need to actually take action, rather than have good intentions, to improve their reputations.
A driver of internal and external engagement. While the essence of responsibility is action rather than rhetoric, this certainly doesn't mean that a business talking proudly about its activities is a bad thing. A business shouldn't be ashamed of being keen to install responsible business practices as a means to improve its image – just as long as its authentic and transparent in its communications.
A focus on human and social interest. Yes, many CR programmes have global issues – climate change, global poverty, women's rights – at their core. But you can't generate engagement or create meaningful change for a company's reputation if they stay at the macro level. Instead, they need to be made relevant to individuals in a world where we're spoilt for choice with so many messages, pieces of content and ideas coming at us through multiple channels. Only then will they achieve cut-through.
Access the complete report for more information regarding each of the five pillars, and to learn which companies are succeeding in corporate responsibility.
About Reputation Institute 
Reputation Institute (Ri) is the leading data, analytics, and insights platform powering global companies to build credibility worldwide. Experts in the business for over 20 years, Ri helps leaders at the world's largest companies build credibility with the people that matter most to them by delivering data-driven insights about how they are truly perceived. Ri does this with RepTrak®, an unrivalled technology that provides actionable insights across industry, competitor, and company analysis.
Reputation Institute
Reputation Institute
Reputation Institute (RI) is the world's leading consulting and advisory firm for reputation. RI enables many of the world's leading companies to make more confident business decisions that build and protect reputation capital, analyze risk and sustainability topics, and drive competitive advantage. RI's most prominent management tool is the RepTrak® model for analyzing the reputations of companies and institutions — best known via the Global RepTrak® 100, the world's largest and most comprehensive study of corporate reputations, as well as Country RepTrak® and City RepTrak® studies that look at reputation across organizations within a given geography.
More from Reputation Institute