Published 08-14-19
Submitted by ON Semiconductor

ON Semiconductor (Nasdaq: ON), energy efficient innovations, announced a sponsorship to IEEE Empower a Billion Lives (EBL), an interdisciplinary, biennial global competition to identify and promote innovative solutions to energy poverty. EBL seeks solutions from innovators of all backgrounds that leverage cutting-edge technologies and are designed to scale.
Increasing energy demand and greenhouse gas emissions are driving global mandates for energy efficiency and reduced emissions, including the replacement of fossil fuels by clean energy sources. ON Semiconductor's comprehensive portfolio of power, analog and intelligent sensors, and connectivity products are intended to minimize power consumption and improve energy efficiency.
"ON Semiconductor prioritizes addressing the challenge of achieving a high level of performance and power efficiency to enable carbon footprint reductions. The solutions seeded by EBL are fundamental to scaling clean energy in a commercially viable way," said Ali Husain, senior manager, corporate marketing and strategy at ON Semiconductor. "We are excited to assist these novel and creative businesses which focus on providing energy access to all and look forward to the innovative technologies that might emerge."
"We hope Empower a Billion Lives will accomplish a lot of vetting and due diligence in the energy access market, and let investors and other interested parties identify great companies to work with," said Dr. Deepak Divan, Empower a Billion Live's Chair. "We also want to give innovative teams the resources and profile they need to succeed."
Twenty-three teams from around the world have been named Global Finalists in IEEE's Empower a Billion Lives, an innovation competition to identify and promote cutting-edge, high-impact solutions to extreme poverty and lack of access to energy in the developing world. Having succeeded in two previous stages of Empower a Billion Lives – including regional "pitch" competitions, the last of which was at IEEE Power Electronics Society's Decentralized Energy Access Solutions workshop in Atlanta – these teams will now undertake a field test to prove their solutions in advance of the Global Final in Baltimore in September of this year.
About ON Semiconductor
ON Semiconductor (Nasdaq: ON) is driving energy efficient innovations, empowering customers to reduce global energy use. The company is a leading supplier of semiconductor-based solutions, offering a comprehensive portfolio of energy efficient power management, analog, sensors, logic, timing, connectivity, discrete, SoC and custom devices. The company's products help engineers solve their unique design challenges in automotive, communications, computing, consumer, industrial, medical, aerospace and defense applications. ON Semiconductor operates a responsive, reliable, world-class supply chain and quality program, a robust compliance and ethics program, and a network of manufacturing facilities, sales offices and design centers in key markets throughout North America, Europe and the Asia Pacific regions. For more information, visit http://www.onsemi.com.
# # #
ON Semiconductor and the ON Semiconductor logo are registered trademarks of Semiconductor Components Industries, LLC. All other brand and product names appearing in this document are registered trademarks or trademarks of their respective holders. Although the company references its Web site in this news release, such information on the Web site is not to be incorporated herein.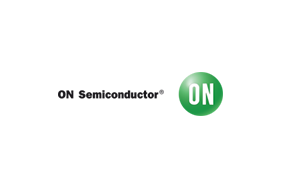 ON Semiconductor