Published 07-08-19
Submitted by HanesBrands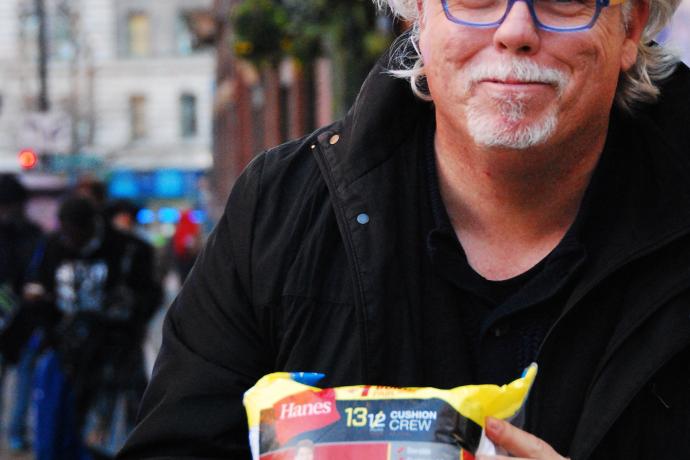 Mark Horvath, founder of Invisible People (Photo: Business Wire)
HanesBrands, which owns Hanes apparel and Champion athleticwear, and the Pac-12 are teaming up to care for those living homeless in Seattle during the athletic association's Sustainability Conference, being held June 25-26 at the University of Washington.
HanesBrands is today sponsoring a three-hour event that will help educate participants about homelessness in America and give them an opportunity to engage with and bring comfort to part of the local community who needs it most.
The "Day of Service" begins at the University of Washington's Husky Stadium with a presentation by Mark Horvath, founder of Invisible People and longtime HanesBrands partner, who will explain how the general public's perceptions of homelessness impacts the way our nation addresses the issue.
"Invisible People is dedicated to changing the narrative of homelessness in the United States by giving a voice to those who are too often overlooked," said Horvath, who has experienced homelessness himself. "Our inability to relate to homelessness – and to those who are experiencing it – is one of the biggest obstacles to ending it. For the past decade, HanesBrands has demonstrated a strong commitment to helping us raise awareness about the experience of homelessness in America."
Following the presentation, Horvath and volunteers from Seattle Homeless Outreach will lead 14 participants into the community to deliver Hanessocks. The team led by Seattle Homeless Outreach, a volunteer-run nonprofit organization that provides critical support to those experiencing homelessness in the Seattle-King County area, will restock its Box of Socks locations in Pioneer Square and near the Seattle Ferry Terminal. Fitting with the Pac-12 Sustainability Conference "green" theme, the donated socks are manufactured with recycled polyester fiber content.
"We appreciate the opportunity to team with the Pac-12 Sustainability Conference, introduce participants to Invisible People and Seattle Homeless Outreach, and make a tangible donation to those in need," said Chris Fox, vice president of corporate social responsibility for HanesBrands. "We know how much basic apparel items, such as socks, mean to those living without shelter, and we are pleased to participate in an effort that will meaningfully impact hundreds of lives in Seattle – and hopefully in other areas as participants travel home."
Those living homeless walk an average of 10 miles per day, putting more wear on their socks in one week than the average American does in one year. Access to something as basic as a clean, dry pair of socks is important because they can help prevent disease and save lives. During the past decade, Hanes has donated more than 2.5 million pairs of socks to nonprofit organizations that support those living without shelter across the United States through the Hanes National Sock Drive.
The Pac-12 is the first collegiate sports conference to convene a high-level symposium focused on the importance of integrating sustainability into college athletics and across college campuses. For more information, visit www.pac-12sustainabilityconference.com.
To learn more about or get involved in fighting homelessness, check out the Invisible People (www.invisiblepeople.tv) and Seattle Homeless Outreach (www.seattlehomeless.org) websites.
For more information about HanesBrands' corporate social responsibility program, visit www.hanesforgood.com and for additional detail on the Hanes National Sock Drive, log on to www.hanes.com/sockdrive.
HanesBrands
HanesBrands (NYSE: HBI) is a socially responsible leading marketer of everyday basic innerwear and activewear apparel in the Americas, Europe, Australia and Asia-Pacific. The company markets T-shirts, bras, panties, shapewear, underwear, socks, hosiery, and activewear under some of the world's strongest apparel brands, including Hanes, Champion, Bonds, Maidenform, DIM, Bali, Playtex, Bras N Things, Nur Die/Nur Der, Alternative, L'eggs, JMS/Just My Size, Lovable, Wonderbra, Berlei, and Gear for Sports. More information about the company and its award-winning corporate social responsibility initiatives may be found at www.Hanes.com/corporate. Visit our newsroom at https://newsroom.hanesbrands.com/. Connect with the company via social media: Twitter (@hanesbrands), Facebook (www.facebook.com/hanesbrandsinc), Instagram (@hanesbrands_careers), and LinkedIn (@Hanesbrandsinc).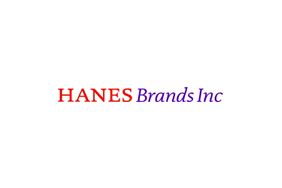 HanesBrands
HanesBrands
Hanesbrands Inc. is proud of its strong reputation for corporate social responsibility - conducting business around the world in a highly ethical and responsible manner. Our CSR commitments and efforts fall into two categories: 1) environmental responsibility, and 2)social responsibility, including being a responsible employer to our approximately 45,000 employees around the world.
More from HanesBrands