Published 06-27-19
Submitted by CSRHub
CSRHub, one of the world's broadest and most consistent sets of Environment, Social, and Governance (ESG) ratings, is pleased to offer ESG Business Intelligence data via the Open:FactSet Marketplace. It will be available for evaluation via FactSet's cloud-based Data Evaluation platform on June 27, 2019.
"Launching CSRHub's ESG Business Intelligence Data on the Open:FactSet Marketplace allows us to greatly expand our reach in keeping with our mission to empower stakeholders with easy to use consensus ratings to help improve sustainability performance worldwide," said Cynthia Figge, CEO and Co-founder of CSRHub.
"CSRHub is an excellent addition to the Open:FactSet Marketplace's network of providers," says Lauren Stevens, Senior Vice President, Open:FactSet Strategy, FactSet. "ESG data is in strong demand among investment managers, and this new offering gives our clients another dataset to leverage when managing risk and looking for new investment opportunities."
CSRHub data helps investors, corporations, and consumers integrate ESG and sustainability into their decision-making processes. Using a patented algorithm that aggregates and harmonizes disparate data from over 600 ESG sources, CSRHub generates a consensus score for the ESG performance of more than 18,000 companies from 136 industries in 141 countries. Data from CSRHub's big data process can be used to increase corporate market value, uncover portfolio opportunities and risks, and integrate ESG trends into other Business Intelligence data sets. For instance, CSRHub's ESG signal can:
Identify risks and opportunities. CSRHub ratings represent the consensus opinion of a company's ESG performance. Asset owners, portfolio managers, and investment analysts can compare their own assessment of a company against the CSRHub consensus and build alpha-creating strategies. CSRHub's score is also used for screening potential investments and for examining the social impact of an existing portfolio.

Benchmark corporate ESG performance. Companies can compare their CSRHub rating to those of their peers or competitors using CSRHub's broad industry and geographic coverage. Through these comparisons, managers can build strategies to improve upon existing practices, plan new sustainability-related programs and reporting, better manage their stakeholders' perception of corporate values and social impact, and evaluate their brand's CSR performance.

Backtest theories about ESG behavior. CSRHub offers monthly data back to 2008. Because CSRHub ratings are based on millions of data items drawn from hundreds of sources, they are stable, fit into a smooth distribution, and correlate well with other indicators. CSRHub ratings are used by hundreds of universities and have been cited in many publications.
CSRHub's ESG Business Intelligence data feed is now available as an evaluation feed on the Open:FactSet Marketplace (OFM).
For more information and to get started, see https://open.factset.com/products/csrhub-esg-business-intelligence/en-us.
About CSRHub
CSRHub offers one of the world's broadest and most consistent set of Environment, Social, and Governance (ESG) ratings, covering 18,000 companies. Its patented Big Data algorithm combines millions of data points on ESG performance from hundreds of sources, including leading ESG analyst raters, to produce consensus scores on all aspects of corporate social responsibility and sustainability. CSRHub ratings can be used to drive corporate, investor and consumer decisions.
CSRHub
Media: Cynthia Figge
cynthia@csrhub.com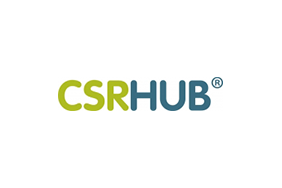 CSRHub
CSRHub
CSRHub provides access to the world's largest corporate social responsibility and sustainability ratings and information, covering over 13,700+ companies from 135 industries in 127 countries. By aggregating and normalizing the information from 370 data sources, CSRHub has created a broad, consistent rating system and a searchable database that links millions of rating elements back to their source. Managers, researchers and activists use CSRHub to benchmark company performance, learn how stakeholders evaluate company CSR practices, and seek ways to improve corporate sustainability performance.
CSRHub is a B Corporation, an Organizational Stakeholder (OS) with the Global Reporting Initiative (GRI), a silver partner with CDP (Carbon Disclosure Project), and an Advisory Council Member of Sustainability Accounting Standards Board (SASB).
More from CSRHub