Published 06-21-19
Submitted by CECP
As we approach Summer 2019, 2018 feels distant. With hindsight comes clarity, making now a great time to look back at the biggest trends and insights that defined the corporate social investment space last year.
Chief Executives for Corporate Purpose (CECP) launched Investing in Society last year with one overarching goal: to compile the industry's biggest trends and insights into one semiannual report.  Developed from CECP's original research, thought leadership, findings from the Giving in Numbers: 2018 Edition, thousands of discussions with more than 200 of the world's largest companies, and engagement with leading experts and practitioners, Investing in Society is a 360-degree view of the corporate sector's role in solving some of the world's most pressing issues. 
The all-digital and interactive report covers the five focus areas of Priorities, Performance, People, Planet, and Policies. This insights collection delves into what actions companies are taking to identify and effectively meet stakeholder needs, and how leading companies are striving to build a better world through business.
Continue reading on 3BL Media.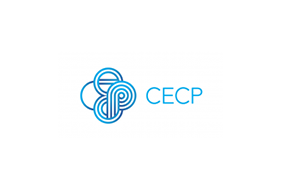 CECP
CECP
The Committee Encouraging Corporate Philanthropy (CECP) is the only international forum of business leaders focused on increasing the level and quality of corporate philanthropy. Membership includes more than 180 global CEOs and chairpersons of companies that collectively account for more than 40% of reported corporate giving in the United States. Membership is by invitation and is renewed annually.
CECP provides member companies with peer-to-peer executive convenings, premier networking events for corporate giving industry professionals, cutting-edge research publications, a proprietary, on-demand benchmarking system of corporate philanthropy data, and exclusive media opportunities.
Founded in 1999 by actor and philanthropist Paul Newman, together with John Whitehead, Peter Malkin, and other business leaders, CECP continues to inspire and challenge leaders in the private sector to find innovative ways to fulfill unmet social needs and to lead the way towards better alignment of business and social strategies.
Join CECP on Facebook, Twitter, Flickr and YouTube.
More from CECP