Published 06-20-19
Submitted by Duke Energy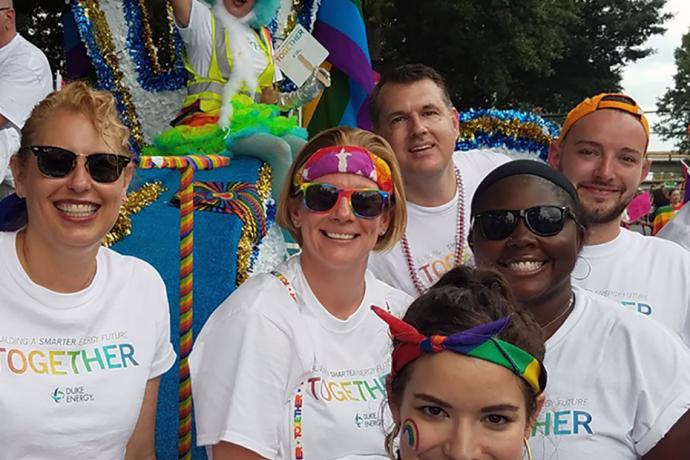 Below: Duke Energy employees at the Charlotte Pride parade. From left, back row: Andy Jones, Montana Johnson, middle row: Lara Nichols, Dawn Haley, Kamille Jones, front: Katie Perez
When a colleague told Keith Gifford about Duke Energy's employee resource group for LGBTQ individuals and straight allies, Gifford didn't hesitate to join. For him, being an ally comes from a personal place.
Gifford, a transmission project manager, still thinks about his high school friend who came out to him in college more than two decades ago. Gifford accepted his friend's revelation, but not everyone did.
"Being out wasn't fully accepted 25 or 30 years ago, so it was a difficult thing to do back then," Gifford said. "Ultimately, my friend took his own life. And while I don't know why, I can't help but think [the negative reactions] played a part."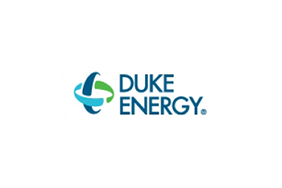 Duke Energy
Duke Energy
Duke Energy (NYSE: DUK), a Fortune 150 company headquartered in Charlotte, N.C., is one of the largest energy holding companies in the U.S. It employs 30,000 people and has an electric generating capacity of 51,000 megawatts through its regulated utilities and 3,000 megawatts through its nonregulated Duke Energy Renewables unit.
Duke Energy is transforming its customers' experience, modernizing the energy grid, generating cleaner energy and expanding natural gas infrastructure to create a smarter energy future for the people and communities it serves. The Electric Utilities and Infrastructure unit's regulated utilities serve approximately 7.7 million retail electric customers in six states – North Carolina, South Carolina, Florida, Indiana, Ohio and Kentucky. The Gas Utilities and Infrastructure unit distributes natural gas to more than 1.6 million customers in five states – North Carolina, South Carolina, Tennessee, Ohio and Kentucky. The Duke Energy Renewables unit operates wind and solar generation facilities across the U.S., as well as energy storage and microgrid projects.
Duke Energy was named to Fortune's 2019 "World's Most Admired Companies" list and Forbes' 2019 "America's Best Employers" list. More information about the company is available at duke-energy.com. The Duke Energy News Center contains news releases, fact sheets, photos, videos and other materials. Duke Energy's illumination features stories about people, innovations, community topics and environmental issues. 
More from Duke Energy