Published 06-20-19
Submitted by Comerica Bank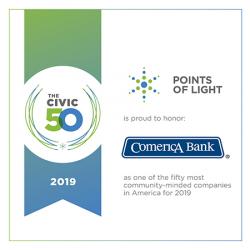 Comerica Incorporated (NYSE:CMA) received national recognition for its work in the communities, earning The Civic 50 by Points of Light award. The honor recognizes Comerica as one of the most community-minded companies in the United States.
The Civic 50 evaluates companies according to four dimensions that are at the core of its strategy to translate good intentions into sound business practices: investment, integration, institutionalization and impact.
"Comerica is proud to accept this honor. We have a long-standing history serving the communities in which we do business," said Curtis C. Farmer, president and chief executive officer of Comerica. "From awarding grants to colleagues volunteering their time to nonprofit organizations, Comerica and our colleagues are committed to serving as positive stewards in our local communities."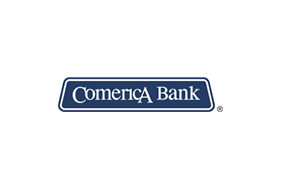 Comerica Bank
Comerica Bank
Comerica Incorporated (NYSE: CMA) is a financial services company headquartered in Dallas, Texas, and strategically aligned by three business segments: The Commercial Bank, The Retail Bank, and Wealth Management. Comerica focuses on relationships, and helping people and businesses be successful. In addition to Texas, Comerica Bank locations can be found in Arizona, California, Florida and Michigan, with select businesses operating in several other states, as well as in Canada and Mexico. 
More from Comerica Bank