Published 06-20-19
Submitted by Carol Cone ON PURPOSE
Aaron Horowitz, Sproutel; Carol Cone, Carol Cone ON PURPOSE; Catherine Blades, Aflac
The Cannes Lions Festival of Creativity awarded two Silver Lion awards to My Special Aflac Duck™, a social robot and comforting companion for children who have cancer. My Special Aflac Duck was awarded one Silver Lion for Corporate Image, Communications and Reputation Management and a second Silver Lion for Use of Technology that "pushes the boundaries of digital innovation." No Gold Lion was awarded in either category. The campaign also was shortlisted in Brand Voice & Strategic Storytelling at Cannes Lions, the world-premiere celebration of creativity and innovation in the marketing, advertising, and communications industries. 
"I'd like to thank Aflac for their willingness to take a risk on this bold new idea after 23 years of a consistent approach to the childhood cancer cause," said Carol Cone, CEO of Carol Cone ON PURPOSE, the world's most innovative boutique purpose consultancy. "It takes a brave and committed client to allow a multi-billion-dollar brand mascot to be infused with a new mission. The future of marketing is meaning, and carefully crafted purpose programs build brand meaning in a way ads and PR alone can't."
The campaign, conceptualized by Carol Cone ON PURPOSE and executed with a broad team, involved no advertising support, and was powered purely by social impact strategy and communications. Aflac reported that in less than one year, the program already had resulted in 15% U.S. awareness of My Special Aflac Duck; among those who know of the purpose program, 100% are more likely to buy an Aflac product.
Prior to the Cannes award for creativity, My Special Aflac Duck won three 2018 Consumer Electronics Show Best-in-Show awards for technology including Tech for a Better World, and best-in-show at SXSW for robotics and People's Choice. It was featured on Time Magazine's 2018 Best Inventions list.
Conceived of by Carol Cone, My Special Aflac Duck is a collaboration between Aflac, the supplemental insurance company; Sproutel, an R&D workshop; and Carol Cone ON PURPOSE, the idea agency behind Aflac's refreshed social impact program, the Aflac Childhood Cancer Campaign. Nation of Artists led on video storytelling.
"This year's Festival demonstrated that purpose is mainstream. Yet, depth and rigor are critical to avoid backlash and deliver lasting business and social results," said Carol Cone. "For more than 30 years, my team and I have been developing big, breakthrough ideas that stand the test of time. We consistently punch above our weight by matching enduring innovation with creative activation in a knock-out combination. We're proud to share the global stage with our partners and short-listed honorees, from Google to the WNBA to Copenhagen Pride."
Carol Cone also spoke at a Cannes session on the intersection of purpose, brand, and technology. A true pioneer of social purpose, Cone was called on for interviews and expert commentary throughout the week, emphasizing the imperative for marketers to infuse meaning in their work. "From beloved consumer brands to big B2B companies, smart purpose strategy wins awards and delivers measurable business and social impact," Cone said. "For this award-winning initiative, we built on our proprietary model for delivering lasting programs, from the Avon Breast Cancer Crusade to the American Heart Association's Go Red for Women, and now Aflac Childhood Cancer Campaign."
"While we are enormously honored by these awards, nothing is better than seeing a child experience a moment of delight during their cancer treatments," Cone said. "The impact sustains us. We do this because we care deeply." 
About Carol Cone ON PURPOSE
Carol Cone ON PURPOSE, is a pioneering consultancy that guides organizations to identify and accelerate their purpose, or reason for being beyond profits. The firm's initiatives, which have won hundreds of awards, garnered four Harvard Business Review Case Studies and sparked global movements, drive business and social impact, as well as corporate responsibility and sustainability initiatives. Committed to advancing the social impact field, the agency publishes a newsletter and podcast, Purpose 360, which features interviews with leaders in the fast-changing field.
###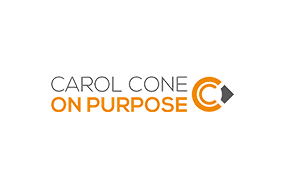 Carol Cone ON PURPOSE
Carol Cone ON PURPOSE
Carol Cone ON PURPOSE is a pioneering consultancy helping companies, brands, and organizations harness the power of social purpose to advance their business and social impact. CCOP's proven approach meets clients at any point on their  purpose journey to unlock opportunities to build reputation, inspire employees, exceed financial targets, and support the greater good. The consultancy is led by Carol Cone, regarded as one of the founders of the purpose movement in the early 1980s and has been internationally recognized for her work.
More from Carol Cone ON PURPOSE