Published 06-12-19
Submitted by CEF
CEF presented the 2019 C.K. Prahalad Award in two categories: leadership by a collaboration to TerraCycle's Loop Shopping Platform; and leadership by an individual executive to former Duke Energy CEO, Jim Rogers. The awards were announced at the 2019 CEF Annual Leadership Retreat, attended by senior executives representing CEF member companies with combined revenues of over $3 trillion. 
TERRACYCLE AND LOOP
"Loop" is being honored for forging a revolutionary, circular business model that dramatically reduces waste by transforming how companies package and deliver everyday staples. Loop offers an easy online shopping experience with a big plus: it also takes care of packaging collection and cleaning when the product has been used up, then refills and replenishes the customer's supply.  
A growing list of the world's biggest consumer brands are partnering on Loop. Household names including The Clorox Company, PepsiCo, Procter & Gamble, Unilever, Nestlé, Danone—together with retailers Walgreens and Kroger and global logistics powerhouse UPS — are banking on Loop to give customers the products they love while helping them avoid the hassles of trash and recycling. 
To start, Loop will offer about 150 well-known products — things like Tide detergent, Tropicana orange juice Häagen-Dazs ice cream and Clorox Disinfecting Wipes — all in reusable packaging, delivered right to the consumer's door. After using the products, customers put the empty containers in a specially designed Loop tote on their doorstep, where they are picked up by UPS, cleaned and refilled, then shipped back to consumers over and over. 
Participating companies have made significant investments in creating new stylish, durable packaging designs that can in some cases be reused a hundred times. If those investments prove out, they could lead to a dramatic decrease in single use plastic waste, reduce pressure on insufficient recycling infrastructure and markets, and enable recycling of certain products for the first time. 
Loop's rollout plan is aggressive. Soon after being announced at the World Economic Forum in January 2019, a pilot of the program began rolling out in Paris and New York, with plans to expand"¯into the London area in late 2019. Launches in Toronto, California and Tokyo are planned in conjunction with the 2020 Summer Olympics. With links to so many well-loved brands and a simple at-home collection interface, Loop can reach customers not traditionally drawn to so-called "green" commerce, leading to economies of scale that could really make a difference. Alan Jope, CEO of Unilever has described this among his company's reasons for joining Loop, saying the consumer product giant wants "to put an end to the current 'take-make-dispose' culture."  
CEF's Founder, MR Rangaswami praised TerraCycle and the leading companies who are part of Loop: "It takes courageous leadership to buck the status quo. Loop represents a bold experiment for the consumer goods industry, and we look forward to watching it unfold."
JIM ROGERS 
The jury for the CK Prahalad Award also honored the legacy of James E. Rogers Jr, former CEO of Duke Energy and a true champion of sustainability, who passed away unexpectedly in December of 2018.
Rogers led by asking those around him to envision a future they may not live to see. He famously applied what he called his "grandfather's test" – a way to ensure that his actions would have a positive impact on future generations. His life was guided by a philosophy he called "cathedral thinking," modeled on the builders of medieval churches who knew they would not live to see their work completed but nonetheless tirelessly devoted themselves to the legacy they were creating.  
Rogers translated these values into action every day of his 25 years as a CEO in the utility industry, leading Duke Energy with vision and courage, and growing shareholder value while demonstrating fervent support for sustainable energy. Rogers is perhaps best known for being at the forefront of the electric utility industry in publicly addressing the threat of climate change.  He presented Duke Energy's Board of Directors with a plan to "decarbonize" the company by 2050, and led Duke's work to reduce its reliance on coal well ahead of industry peers.
Rogers was one of the first American CEOs to boldly advocate for federal policy to cap the amount of carbon dioxide produced in the United States. To that end, he helped found the U.S. Climate Action Partnership in 2007—a historically important collaboration of leading businesses and environmental groups that laid the groundwork for Congress to consider federal legislation regulating greenhouse gas emissions for the very first time.
Rogers received innumerable industry awards and Newsweek named him one of the "50 Most Powerful People in the World." Yet as impressive as his many accomplishments were, what was especially notable was the way he wielded that power – with a view to the future, with a commitment to humanity, and with kindness and good humor always on display.
Even during his retirement he did not rest, instead turning his attention to those in need and focusing his efforts on providing rural people in low-income nations access to clean, sustainable electricity, as documented in his book, "Lighting the World: Transforming Our Energy Future by Bringing Electricity to Everyone."  
CEF Chair, P.J. Simmons, added "Jim Rogers inspired so many of us personally, and set the bar high for what exceptional sustainable private sector leadership looks like. We are honored to have the opportunity to shine a light on Jim's extraordinary life and legacy." 
VIDEOS PROFILING THE WINNERS 
Terracycle and Loop: https://youtu.be/Vg5Qg4aSdio
Jim Rogers: https://youtu.be/_b0W0Tmv9DU 
CONTACT: MR Rangaswami, Founder, Corporate Eco Forum 415-516-5857 mr@corporateecoforum.com 
ABOUT CEF 
CEF is an elite, invitation-only membership organization comprised mainly of Fortune and Global 500 companies from 18 industries with combined revenues of over $3 trillion. CEF provides a year-round safe, neutral space for influential executives to exchange best practice, collaborate, and innovate. Participants are almost exclusively VP and C-level executives across multiple business functions. The diversity of executives, coupled with the cross-industry nature of CEF, creates a world-class platform to accelerate sustainable business problem solving and innovation.
ABOUT THE C.K. PRAHALAD GLOBAL SUSTAINABILITY LEADERSHIP AWARD 
The C.K. Prahalad Global Sustainability Leadership Award, created in 2010 to honor founding CEF Advisory Board member C.K. Prahalad, recognizes exceptional, globally significant private-sector action—within or outside the CEF membership—that exemplifies the fundamental connection between sustainability, innovation and long-term business success in a globalizing world. C.K. Prahalad Award winners are determined through private votes cast by CEF's 24-member advisory board, which includes representatives from government, academia, nongovernmental organizations, and the private sector. The voters chose from a roster of finalists, selected following an open nominations process. Past award recipients include the following: 
• 2010: Walmart Brazil and CEO Hector Nuñez  • 2011: Coca-Cola and CEO Muhtar Kent  • 2012: Dow Chemical Corporate Vice President and CSO Officer Neil Hawkins; The Sustainable Apparel Coalition; and Unilever and CEO Paul Polman • 2013: FEMSA Foundation Director Vidal Garza Cantú; Nike CSO and Vice President of the Innovation Accelerator Hannah Jones; and UPS CFO Kurt Kuehn • 2014: Robert B. Carter, Executive Vice President, Information Services/CIO, FedEx Corporation; Global Water Challenge (GWC); Tamara "TJ" DiCaprio, Senior Director of Environmental Sustainability, Microsoft • 2015: NRG Energy and CEO, David Crane • 2016: Siemens and CEO Joe Kaeser with special honors to Christiana Figueres and Douglas Tompkins  • 2017: Urs Hölzle, Google, Renewable Energy Buyers Alliance (REBA), and honorary award to Dr. John B. Goodenough  • 2018: Lisa Jackson, Apple, The Task Force on Climate-Related Financial Disclosures (TCFD). 
CEF MEMBERS
3M, Allegheny Technologies, Amazon, Apple, Aptiv, Bank of America, BASF, Bloomberg LP, Boeing, Bose, CBRE, Chevron, Cisco, Clorox, Comcast NBC Universal, Dell, Dow Chemical, Duke Energy, Ecolab, Enterprise Holdings, The Estée Lauder Companies, ExxonMobil, Facebook, Fidelity, Ford, General Motors, Google, HanesBrands, Honeywell, HP, HPE, Hyatt Hotels, Ingersoll Rand, International Paper, JetBlue Airways, Johnson & Johnson, JPMorgan Chase & Co., Kaiser Permanente, Kimberly-Clark, Lockheed Martin, Marriott International, Mastercard, McDonald's, McKinsey & Co., Microsoft, Morgan Stanley, NextEra Energy Resources, Northrop Grumman, NRG Energy, Oracle, Patagonia, PepsiCo, Procter & Gamble, Sealed Air, Siemens, TD Bank Group, Tiffany & Co., TPG Capital, Unilever, UPS, Verizon, VF Corporation, Visa, The Walt Disney Company, Waste Management, Wyndham Worldwide ###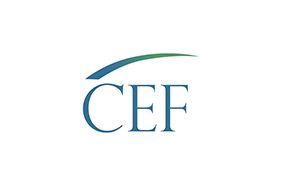 CEF
CEF
CEF is an invitation-only network of leading executives from Fortune and Global 500 companies driving sustainability strategy and innovation worldwide. Members include Fortune and Global 500 companies from diverse industries with combined revenues of $4 trillion. CEF provides a year-round safe, neutral space for influential executives to exchange best practice, collaborate, and innovate. The diversity of executives, coupled with the cross-industry nature of CEF, creates a world-class platform to accelerate sustainable business problem solving and innovation.
More from CEF