Published 06-03-19
Submitted by University of St. Michael's College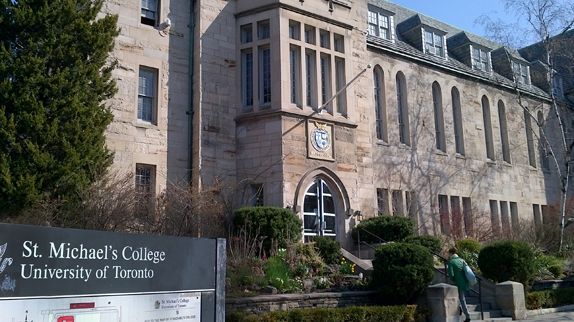 University of St. Michael's College in the University of Toronto
Sustainability, Social Responsibility and related ESG job opportunities are on the rise. Millennials and Gen Z  want purpose in their lives.  And sustainability and social responsibility is transitioning to be strategically embedded in organizations.  New skills and practices are in critical demand for today's CSR & Sustainability jobs.
Companies are Embedding Purpose, Responsibility, Sustainability
According to a May 29, 2019 Gallup report Millennials want meaning in their work. They want to work for organizations with a mission and purpose. The emphasis for this generation has switched from paycheck to purpose — and so must organizational culture, products and services. Meanwhile the Next Generation CSR/Sustainability Jobs and Competency Development studies conducted by University of St. Michael's College, Strandberg Consulting and The Conference Board of Canada's Corporate Responsibility and Sustainability Institute  indicate that Sustainability and Social Responsibility practices are actively transitioning. A survey of 156 CSR/Sustainability Professionals across North America indicated that:
68% are developing a medium to long term sustainability/CSR strategy, including goals and targets.

68% are improving their company's value chain & external operating environment thru external collaborations and tackling impacts that they can influence.

50% are working with stakeholder collaborations on shared value initiatives.

46% are embedding sustainability at the enterprise level & into functional, business unit & departmental level strategies and mandates.

41% are developing customer engagement tools & initiatives to improve customer sustainability performance and add value to business segments.

38% are advancing innovation to address sustainability barriers.
Apply Now - Graduate Certificate in CSR & Sustainability Delivers Critical Embedding Skills and Practices 
The Graduate Certificate in CSR & Sustainability delivers the new skills and practices that are in critical demand for today's jobs.    In this "work as you learn" program, active practitioners and thought leaders guide participants through:
One-on-one mentoring, with a subject matter expert, throughout the  13 months of the program;

An Action Learning Project related to your company or professional development;

Gap assessments, critical thinking and application of embedding practices for CSR/Sustainability; and

Practical, real world application of CSR and Sustainability change management frameworks through ExperienceChange™ Simulation.
Apply now to the 2019/2020 Cohort of the Graduate Certificate in CSR & Sustainability to gain the skills you need. 
Join participants from Sysco, The Body Shop, Aviso, BMO Financial Group, Concordia University, Red Cross and Nature Conservancy, Foundation for Atlanta Veterans Education & Research and many more.  Become part of a Community of Practice in CSR/Sustainability for professional development, sharing and networking.
Check out the program schedule, past graduates, testimonials and latest news. Module 1 will be held in Toronto, Canada, October 23-25, 2019.  Module 2 and 3 will be held May, 2020 and November, 2020 respectively. 
The second intake Application Deadline is June 30th, 2019.
About the University of St. Michael's College Corporate Social Responsibility Program
The University of St. Michael's College (USMC), federated within the University of Toronto, offers a transformational CSR/Sustainability program that creates space for people of shared values to explore, interact, develop and grow. It empowers a community of changemakers to develop the skills and support needed to impact a thriving global future.
The CSR/Sustainability Education Council continuously ensures that this program is relevant and experiential.  CSR/Sustainability Leaders from a broad range of industries from insurance to mining,  including: The Co-operators, BMO Financial,  Scotia Bank (ret.),  Vermillion Energy, Centerra Gold , ESG Ledger, Conference Board of Canada,  and Rotman School of Management (University of Toronto) provide advice and input.
For More Information Contact
Kathryn A. Cooper, Program Manager, Certificate in Corporate Social Responsibility & Sustainability
Phone: (519) 855-9491
Website: https://www.csr-stmikes.ca/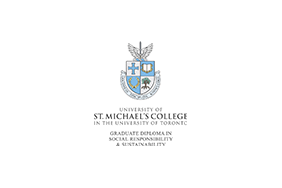 University of St. Michael's College
University of St. Michael's College
St. Michael's is a recognized leader in undergraduate, graduate and lifelong education. Its highly acclaimed Certificate in Corporate Social Responsibility is a unique executive education program developed in collaboration with the Conference Board of Canada. Founded over 150 years ago, the University of St. Michael's College is federated with the University of Toronto. Its faculty bring to current CSR issues the understandings that they have gained not only from the perspective of business but also from a tradition that includes the study of literature, philosophy and ethics. The goal of the program is to engage participants in a process of weaving together the major strands of CSR in a way that provides a time out from customary corporate activity. Alumni have called the result "transformational". Since 2003 St. Michael's has collaborated with an innovative technology company, ExperiencePoint to produce and distribute ExperienceCSR, a web based business simulation . In the simulation, which is offered as part of the Certificate program, participants advise a multinational technology firm on revising its corporate strategy to meet a myriad of critical environmental, community, employee relations, human rights and financial objectives. Through the application of sound CSR principles, participants help the corporation align its operations to its articulated values and, consequently, satisfy stakeholder interests and ensure long-term profitability. (www.experiencepoint.com)
More from University of St. Michael's College