Published 05-30-19
Submitted by Engage for Good
Campaigns that eliminated food waste while reducing hunger, increased bystander CPR efforts, helped protect children with autism who wander and held candid conversations about unconscious bias – all while building stronger businesses - were among the initiatives honored at the 17th annual Halo Awards. 
Twenty-four category-specific winners were selected out of more than 150 entries by Engage for Good at its annual conference.
In addition, REI Co-op and the National Park Foundation each received a Golden Halo Award, Engage for Good's highest honor, for their long-records of achievement at the intersection of profit and purpose.
Case studies of each winning campaign and profiles of the Golden Halo Award winners can be found at http://engageforgood.com/halo-awards
"We're delighted to honor these companies and causes that are working together to effectively engage consumers and employees while building business and making a social impact," said Engage for Good President David Hessekiel.
Please join us in congratulating this year's Halo Award-winning campaigns: 
Consumer Activated Corporate Donation Category
GOLD: Buy A Lady A Drink: Stella Artois & Water.org
SILVER: Day of Inclusion: Special Olympics Canada & Tim Hortons 
Consumer Donation/Crowdfunding Category
GOLD: Dark Star Cho'Gath Global Fundraiser: Riot Games & multiple NGOs
SILVER: The Literacy Project: Pizza Hut & First Book 
Digital Category
GOLD: #CreateForACause: TikTok & Best Friends Animal Society
SILVER: Play Pink For The Cure: Zynga's Words with Friends 2 & Susan G. Komen 
Education Category
GOLD: Hands Only CPR: Anthem Foundation & American Heart Association
SILVER: #BestSchoolDay: Ripple & DonorsChoose.org 
Employee Engagement Category (Group Volunteering)
GOLD: PPG's Colorful Communities Program: PPG & multiple charities
SILVER: Anthem Volunteer Days: Anthem Foundation & multiple charities 
Employee Engagement Category (Skilled Volunteering)
SILVER: Digital Career Accelerator: Google & Goodwill
GOLD: Connecting Expertise With Opportunity: General Mills & Partners In Food Solutions 
Environmental Category
GOLD: Zero Hunger, Zero Waste: Kroger & Feeding America
SILVER: Next Wave Plastics: Lonely Whale and a variety of member companies 
Experiential Category
GOLD: Scooby-Doo Doo Good: Warner Bros. & generationOn
SILVER: Grow with Google: Google & local community organizations 
Health Category
GOLD: Hands Only CPR: Anthem Foundation & American Heart Association
SILVER: My Special Aflac Duck: Aflac & Children's Miracle Network Hospitals
Inclusion Category
GOLD: Turn Up The Love: AT&T & The Trevor Project
SILVER: Day of Understanding: PwC - CEO Action for Diversity & Inclusion
Social Services Category
GOLD: Stirring Up Change: Williams Sonoma & Share Our Strength
SILVER: Vivint Gives Back: Vivint Smart Home
Video Category
GOLD: WestJet Thanks: Giving Hope: WestJet & Hope Air
SILVER: Stop Bullying: Speak Up: Cartoon Network 
About Engage for Good
Engage for Good, producer of the Engage for Good conference and Halo Awards, helps business and nonprofit executives succeed together by providing practical information and inspiration, opportunities to build valuable relationships and recognition for outstanding work that engage employees and consumers around social good and cause-related marketing efforts. Learn more at https://www.engageforgood.com.
Media Contact: Megan Strand, Communications Director, Engage for Good:  "¨360.977.3343
ms@engageforgood.com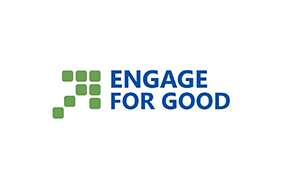 Engage for Good
Engage for Good
Engage for Good (formerly the Cause Marketing Forum) helps business and nonprofit executives succeed together by providing access to actionable information, valuable contacts and recognition for outstanding work through conferences, distance learning, online resources and customized services.
More from Engage for Good