Published 05-22-19
Submitted by Consumers Energy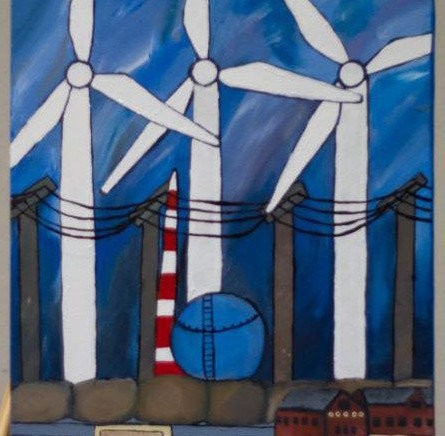 Ten Grand Rapids Public Schools students have been selected from a record number of entries in an annual art competition focused on energy-related subjects. The artwork will be on display this fall during Project 1 by ArtPrize through collaboration with the district and Consumers Energy.
Representatives from the school's administration, Consumers Energy and ArtPrize gathered today to celebrate a record 81 high school entries in the SmartArt competition, submitted with a theme of energy efficiency, renewable energy and sustainability. Media include oil pastels, pencil/charcoal drawing, painting and mixed media. 
"The students' artwork shows their knowledge of and commitment to more renewable and sustainable forms of energy," Chris Laird, Consumers Energy's executive director of West Michigan electric distribution, told students and others gathered today at the ArtPrize Hub. "Consumers Energy shares that commitment. Our Clean Energy Plan greatly increases the use of renewables and eliminates coal by to generate electricity by 2040."
This is the seventh year of the SmartArt competition, which stands for Students Making Art with a Renewable Theme.
The 10 finalists were judged by a panel of art professionals from Kendall College of Art & Design at Ferris State University, Grand Rapids Community College and Grand Valley State University. The top winner and the winner of a "people's choice" online contest will be announced Sept. 7 during the opening ceremony of Project 1 by ArtPrize, sponsored by Consumers Energy.
Project 1, running through Oct. 27, is the first in a series of multi-site public art exhibitions in Grand Rapids. ArtPrize has shifted to a biennial competition to make way for the Project series of citywide art commissions. The two formats will alternate years moving forward, with Project 1 launching this fall.  
The Top 10 entries will be displayed during Project 1 at the JW Marriot. The images will also be on a large banner hanging outside a Consumers Energy electric substation downtown at Fulton Street and Market Avenue.
The 10 finalists, along with their artwork title, grade, and high school are, in alphabetical order:
Jaheem Aubrey, Powering the Earth, 10th, Ottawa Hills;

Nate Beurkens, Crude, 9th, Museum;

Lux Howell, Present Projection, 11th, C.A Frost;

Emilia Jasinski, Save, 10th, City;

David Johnson, Two Different Worlds, 9th, City;

Cindy Mazariegos Barrios, We Are All In This Together, 10th, C.A. Frost;

Jack McKellar, What Side Will You Choose?, 9th, City;

Ruby Taylor, Fabric of Our Future, 9th, C.A. Frost;

Kamryn Wezeman, Energy Conscious, 9th, City;

Natalie White, Code Blue, 9th, City
"In the past seven years, SmartArt has provided hundreds of GRPS students the experience of being part of a nationally recognized art competition," said Teresa Weatherall Neal, GRPS superintendent. "It is impressive to see Consumers Energy blending art with sustainability and environmental stewardship."
The contest's top winner will receive a $1,000 college scholarship courtesy of Consumers Energy.
"We're thrilled that SmartArt will be part of Project 1," said Jori Bennett, ArtPrize executive director. "These creative, thought-provoking works and the students who create them continue to be shining examples of how ArtPrize and Project 1 can serve as a stage to celebrate the creativity and ingenuity of our city's youth."
Consumers Energy, Michigan's largest energy provider, is the principal subsidiary of CMS Energy (NYSE: CMS), providing natural gas and/or electricity to 6.7 million of the state's 10 million residents in all 68 Lower Peninsula counties.
# # #
Media Contacts:  Consumers Energy: Roger Morgenstern, 616-530-4364
Grand Rapids Public Schools, John Helmholt, 616-819-2149
ArtPrize: Jaenell Woods, 616-214-7921
# # #
For more information about Consumers Energy, go to www.ConsumersEnergy.com.
Check out Consumers Energy on Social Media Facebook | Twitter | YouTube

Consumers Energy
Consumers Energy
Consumers Energy is one of the nation's largest combination utilities, providing electric and natural gas service to nearly 6.6 million of Michigan's 10 million residents, in all 68 Lower Peninsula counties.
Our Growing Forward strategy calls for investing more than $6 billion in Michigan over the next five years. That includes significant investments in energy efficiency, renewable energy, environmental and customer service enhancements, and new power generation.
The investments make Consumers Energy one of the largest investors in Michigan and will help the utility maintain and improve service to customers, create jobs, boost the state's economy and expand the state's tax base.
More from Consumers Energy