Published 05-15-19
Submitted by FSG
Corporate leaders are increasingly seeking innovative solutions to social and economic problems—not only do they want to do good, but they also recognize that their stakeholders require and demand it.
To meet this demand, FSG recently released The CSR Strategy Roadmap: A Step-By-Step Guide for CSR and Corporate Foundation Executives to help corporate leaders better deliver on social impact and elevate their company's CSR platforms.
"I've seen CSR portfolios change dramatically in the past five years," said Co-CEO Greg Hills, who authored the report. "Companies are shifting from broad generosity to helping solve complex problems related to their business, such as the future of work, food insecurity, housing affordability, and social determinants of health. Achieving these aspirations for measureable societal outcomes requires structured strategy approaches as well as a heightened understanding of the root causes of inequities and injustices in our communities," said Hills.
To create the report, FSG codified its customized strategy tools and client examples from its 20 years of work advising CSR leaders. Having guided over 100 companies through corporate societal impact strategies, FSG offers unmatched pattern recognition in identifying potential breakthrough ideas and avoiding potential obstacles.
The Roadmap offers CSR executives and teams a clear guide for implementing and leading the necessary shift in CSR across three modules—alignment and visioning, strategy development, and measurement and learning—which can be used together for a CSR strategy overhaul, or independently, depending on needs. Case studies are drawn from a variety of clients, including Cargill, Sleep Number, lululemon, and the Toyota Mobility Foundation.
The entire report is available for download here: The CSR Strategy Roadmap: A Step-by-Step Guide for CSR and Corporate Foundation Executives
For more information contact: mark.russell@fsg.org
About FSG
FSG is a mission-driven consulting firm supporting leaders in creating large-scale, lasting social change. Through customized consulting services, innovative thought leadership, and support for learning communities, we help foundations, businesses, nonprofits, and governments around the world accelerate progress by reimagining social change. Learn more at www.fsg.org. 
###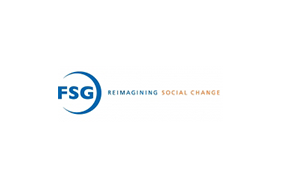 FSG
FSG
Your social impact work requires world-class strategy and insights. FSG has two decades of experience guiding business and foundation leaders and a deep understanding of how to create social impact.
More from FSG