Published 05-07-19
Submitted by U.S. Gain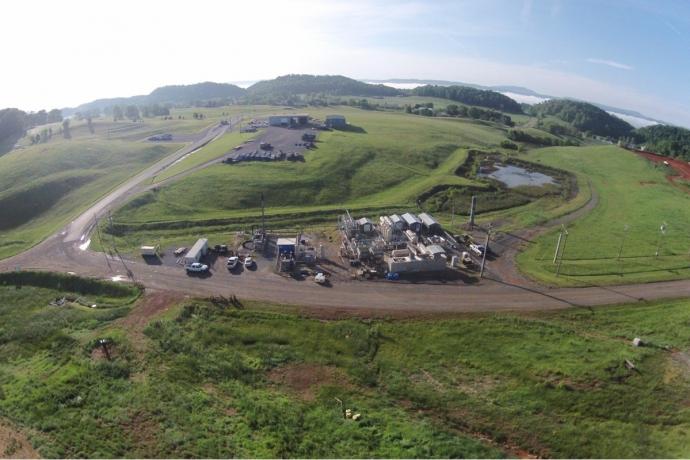 U.S. Gain, a leader in development, procurement and distribution of sustainable energy solutions, announces the completion of its sixth renewable natural gas (RNG) landfill development project located in Church Hill, Tennessee.
Methane gas from Carter Valley Landfill, which is owned by Republic Services, Inc.—an industry leader in U.S. recycling and non-hazardous solid waste disposal—is being captured and cleaned, and then converted to RNG for the transportation sector. Collaborative efforts from Tennessee Renewable Group (TRG), a leading developer and marketer of renewable natural gas production; Toro Energy, another leader in renewable gas-to-energy development; and U.S. Gain enabled success of this project. 
"Our involvement is uniquely tailored to meet the needs of each RNG development project, which is part of the value we bring to the table," says Mike Koel, president of U.S. Gain, a division of U.S. Venture, Inc. "In this case, we invested capital to support ongoing costs related to development of the Carter Valley Landfill and are pleased to see it cross the finish line."
The TRG/U.S. Gain project will generate enough RNG to fuel more than 80 class 8 trucks daily, displacing almost 1,500,000 gallons of diesel annually.   
"The Carter Valley project is a great example of redevelopment and utilization of smaller gas-producing landfills that had older technology installed," says David Mauney, president of TRG.
RNG is an ultra-clean, low-carbon natural gas alternative that can reduce greenhouse gas emissions up to 125% as compared to diesel. For energy purposes, RNG is chemically identical to pipeline quality gas, but is a product created by the decomposition of organic materials in renewable waste streams. RNG relies on the same infrastructure as fossil fuel natural gas, such as pipelines, gas compressors, refueling stations and vehicle engine technology. The key difference of RNG is its renewable characteristics verses geologic sources of compressed natural gas (CNG).
###
MEDIA CONTACT:
Stephanie Lowney
Marketing Manager, U.S. Gain
(920) 381-2190
slowney@usgain.com                                             

About U.S. Gain
U.S. Gain® is a leader in development, procurement and distribution of sustainable energy solutions™ that reduce emissions for a cleaner tomorrow.
As a vertically-integrated renewable natural gas (RNG) supplier, U.S. Gain is investing in development projects at landfills, dairies and wastewater treatment plants, expanding availability of the cleanest fuel and energy solution for leading companies, fleets and fueling station owners. With an in-house proprietary risk management system, U.S. Gain is able to generate and monetize renewable credits, maximizing values associated with renewable natural gas. With a history of successful renewable natural gas development projects, financial strength, compliance expertise and dispensing capabilities – U.S. Gain is the partner of choice for renewable natural gas development and distribution.
Over the years, U.S. Gain has also built their own network of GAIN Clean Fuel® natural gas fueling stations throughout the United States and Canada, of which are known for unprecedented performance and uptime. Well-versed in public and private station construction, compressed natural gas equipment and grant funding programs – U.S. Gain is a premier partner for companies seeking a new fueling station, station upgrades or general maintenance contracts.
As a part of U.S. Venture, Inc., a family-owned, Wisconsin-based company, U.S. Gain is committed to finding a better way for companies to succeed – both economically and environmentally. With experience you need and ethics you value, U.S. Gain is the partner you'll be proud to work with.

U.S. Gain
U.S. Gain
U.S. Gain is the very best choice for sustainable energy solutions that reduce emissions for a cleaner tomorrow. We proudly partner with forward-thinking organizations to satisfy their sustainability objectives through the use of compressed (CNG) and renewable (RNG) natural gas. Our 50+ station network, ample access to RNG and deep roots within the transportation industry allow for an efficient, profitable transition to alternative fuel.
As a division of U.S. Venture, Inc., we are committed to Finding a Better Way. This progressive way of thinking creates strong, lasting relationships and leads to innovative solutions that ultimately give our customers a competitive edge.
More from U.S. Gain