Published 04-26-19
Submitted by Keep America Beautiful

The week surrounding the 2019 Earth Day (April 22) has been a focus of activity during the annual Keep America Beautiful® Great American Cleanup®, as the national community improvement nonprofit rallies volunteers at cleanup and green-up events across America. Thousands of events have unfolded from coast to coast prior to Earth Day and hundreds more are scheduled for the weekend of April 27-28, and throughout the remainder of the spring Great American Cleanup program period.
Prior to and on Earth Day, Phoenix Mayor Kate Gallego marked the 10th anniversary of Keep Phoenix Beautiful's Earth Day Phoenix, joining KPB's President Tom Waldeck for a ceremonial tree planting. Keep Austin Beautiful Day, a county-wide day of service, spanned more than 100 sites in the greater Austin area. More than 200 volunteers from local companies worked with Keep Massachusetts Beautiful on a Boston Earth Day cleanup. Keep Philadelphia Beautiful and Green Philly were joined by former Philadelphia Eagles' star Connor Barwin and a host of volunteers to clean up Smith Playground in South Philadelphia. Nearly 2,000 volunteers joined Jersey City, New Jersey, Mayor Steven Fulop for the 4th annual Jersey City Cleanup on April 13.
"Many hands can make a sizable impact on a local level. Volunteering for the Great American Cleanup is a great way to become a community changemaker," said Helen Lowman, president and CEO, Keep America Beautiful. "We all play a vital role in creating more socially connected places to live. If you haven't yet participated in a Great American Cleanup event, Keep America Beautiful Month is a great time of year to help make your neighborhood cleaner, greener and more beautiful."
Keep America Beautiful, with the support of its affiliates and their volunteers, social and civic service organizations, municipalities and government officials, and Great American Cleanup national sponsors will surpass many of the achievements of last year's 20th anniversary Great American Cleanup, including 68 million pounds of recyclables collected; 24.7 million pounds of litter collected; 9.4 million volunteer hours logged; more than 55,400 miles of roads, shorelines and waterways improved and beautified; and nearly 21,300 public spaces cleaned.
Local hands-on volunteer events and education programs will renew public parks, trails and recreation areas; clean, enhance and protect shorelines, beaches and waterways; remove litter and debris from roadways, storm drains and public spaces; reduce waste and improve recycling; and plant trees, flowers and community gardens.
Here is a snapshot of Great American Cleanup events taking place this Earth Week and beyond:
National sponsors of the 2019 Keep America Beautiful Great American Cleanup include the Altria Group, Dow, The Glad Products Company, Niagara Bottling, Inc., Northrop Grumman Corporation and Sazerac Company.
About Keep America Beautiful
Keep America Beautiful, the nation's leading community improvement nonprofit organization, inspires and educates people to take action every day to improve and beautify their community environment. Established in 1953, Keep America Beautiful strives to End Littering, Improve Recycling and Beautify America's Communities. We believe everyone has a right to live in a clean, green and beautiful community, and shares a responsibility to contribute to that vision.
Behavior change – steeped in education, research and behavioral science – is the cornerstone of Keep America Beautiful. We empower generations of community and environmental stewards with volunteer programs, hands-on experiences, educational curricula, practical advice and other resources. The organization is driven by the work and passion of more than 600 Keep America Beautiful affiliates, millions of volunteers, and the collaborative support of corporate partners, social and civic service organizations, academia, municipalities, elected officials, and individuals. Join us on Facebook, Instagram, Twitter and YouTube. Donate and take action at kab.org.
###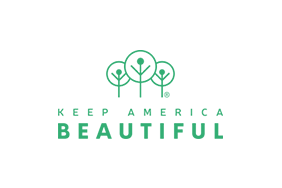 Keep America Beautiful
Keep America Beautiful
Keep America Beautiful is the nation's leading nonprofit that brings people together to build and sustain vibrant communities. With a powerful national network of community-based affiliates, we work with millions of volunteers who take action in their communities to transform public spaces into beautiful places. Through our programs and public-private partnerships, we engage individuals to take greater responsibility for improving their community's environment.
For more information, visit kab.org, follow us on Twitter, like us on Facebook, discover us on Pinterest, or view us on YouTube.
More from Keep America Beautiful