Published 04-24-19
Submitted by Consumers Energy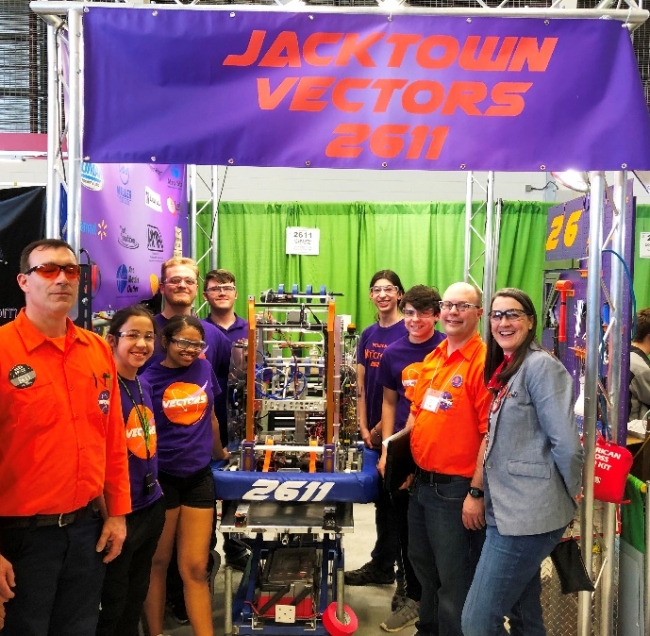 Consumers Energy is excited to sponsor the FIRST Championship for high school robotics students, a marquee event that brings teams from across the globe and tens of thousands of visitors to Detroit -- and a showplace for the next generation of STEM (science, technology, engineering and math) talent here in Michigan.
Over 90 high school teams from Michigan are taking part in the four-day world competition at Cobo Center and Ford Field, which runs Wednesday through Saturday. Students compete with robots they have designed and built for a competition that puts them on a path to careers in the energy and other high-tech industries.
"Consumers Energy is excited to sponsor and participate in the FIRST Championship because it's fun and opens so many doors for students right here in Michigan," said Patti Poppe, president and CEO of Consumers Energy. "Michigan is leading the way for robotics, with over 500 high school teams – more than any other state. FIRST has cracked the code on getting students excited about STEM."
The FIRST Championship is free and open to the public. It takes place at Detroit's Cobo Center, with the championship matches at Ford Field. For more information and the schedule, go to www.firstchampionship.org/detroit.
In 2018, the Consumers Energy Foundation contributed more than $450,000 to support STEM programs, including FIRST teams at elementary, middle and high school levels across the state. Poppe also is chairing the local Michigan Executive Committee for this week's championship, and employees are supporting the committee and competition.
"At Consumers Energy, we know how important STEM careers are, because this talent powers many areas of our company, and the future looks even brighter for these types of jobs," said Roger Curtis, Consumers Energy's vice president of public affairs. "We are thrilled to help nurture students to develop their innovation, engineering, decision-making and team-building talents."
Consumers Energy, Michigan's largest energy provider, is the principal subsidiary of CMS Energy (NYSE: CMS), providing natural gas and/or electricity to 6.7 million of the state's 10 million residents in all 68 Lower Peninsula counties.
###
Media Contacts: Brian Wheeler, 517-788-2394, or Debra Dodd, 517-545-8711
For more information about Consumers Energy, go to www.ConsumersEnergy.com
Check out Consumers Energy on Social Media Facebook | Twitter | YouTube

Consumers Energy
Consumers Energy
Consumers Energy is one of the nation's largest combination utilities, providing electric and natural gas service to nearly 6.6 million of Michigan's 10 million residents, in all 68 Lower Peninsula counties.
Our Growing Forward strategy calls for investing more than $6 billion in Michigan over the next five years. That includes significant investments in energy efficiency, renewable energy, environmental and customer service enhancements, and new power generation.
The investments make Consumers Energy one of the largest investors in Michigan and will help the utility maintain and improve service to customers, create jobs, boost the state's economy and expand the state's tax base.
More from Consumers Energy